Why Would I Choose Milwaukee Tools?
Milwaukee have been a trade brand for a long time, since 1924 in fact, and are one of the world leaders in Lithium Ion technology which is no better represented by their Trademarked M12 and M18 tools. The brand simply oozes strength and, when teamed up with companies like Screwfix, offer the trades and serious DIYers the opportunity to work with tools that will not let them down.
Screwfix have struck an exclusive deal with Milwaukee on this particular drill and it has to be said, they are on to a winner.
On-site Test of the Milwaukee M18 CBLPD Brushless Combi Drill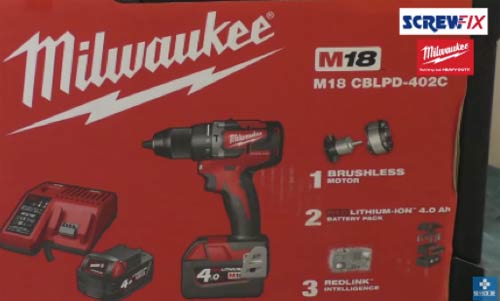 As the video shows, we took the CBLPD to a site where we were opening up a doorway between two bedrooms to create one bedroom and a dressing room.
As soon as the drill came out of the box it was obvious it was Milwaukee, even with our eyes shut. The robustness of the body, the feel of the handle and no nonsense trigger, the strength of the motor all go together to give you the reassurance, even before you have started, that this drill is not going to let you down; and it didn't.
We used the drill to drill through a timber frame right into blockwork behind to allow us to fix the door frame. It was almost a knife through butter.
The drill did not stumble once and the powerful battery just gave you the feeling that you could almost keep drilling forever.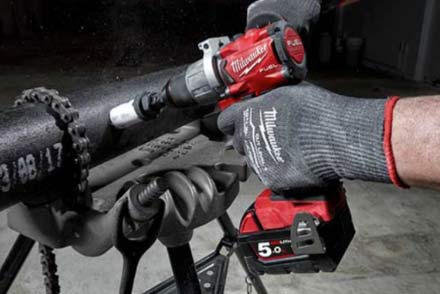 The battery clips into the drill body in the typical Milwaukee, no-nonsense way. There is no play, they cannot be any loss of power and, most importantly, the battery cannot drop out and get damaged.
A strong hook allows you to wear the Milwaukee like a sharp-shooter so there no need to forget where you have put it down on a busy day.
The double sized screwdriver bit that comes with the Milwaukee, clipped into a tight holder, is ideal for most sized cross head screws and, let's face it, if you are trying to tighten a slotted screw with a powerful drill/driver you are always going to be in trouble!
The reverse gear, very bright enclosed space light and variable speed trigger are all pretty standard on combi drills but they all feel somehow more trustworthy on this Milwaukee beast. The two speed box allows the user to slow down for drilling through metal for example and offers a very strong gearbox within which the torque settings are very precise.
You can see from the video that the hammer is a fierce tool and each setting is as robust as the next.
All of these features are also massive benefits and when they are coupled with a 3-year warrantee and TWO (yes two) 4-Amp/hour batteries, the value is stunning. No wonder Screwfix wanted exclusivity on this baby.
DIY Doctors opinion on the Milwaukee M18 CBLPD Brushless Combi Drill
Brilliant value for money, I'm certainly hanging onto mine tightly. It would not surprise me if those who bought this epic offer from Screwfix, did not switch over to Milwaukee for all their kit.
The Doctor's Rating
Reviewed by: Mike Edwards

(5 out of 5 stars)