On Site Test of Super Strength PVCu Cleaner
We chose a length of gutter and facia board on a trading estate that quite obviously had not been cleaned for years. The mould was thick and the dirt was thicker! This was a great test for the PVCu cleaner and we sprayed a section a few minutes before the camera started rolling.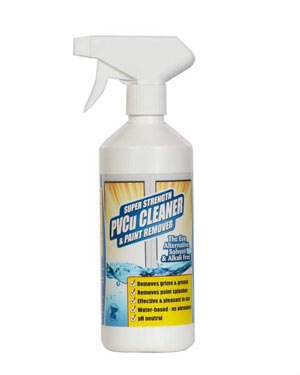 Applying the Super Strength PVCu Cleaner
The trigger action of the PVCu cleaner feels very strong. It's obvious it will last and not fall apart in your hands. The nozzle has two settings. The first a direct jet of cleaner for getting behind things like hinges and gutter brackets. The second (Quarter turn to the right) a fine spray for reducing wastage and covering a larger area with one squeeze. While there is no indication on the bottle as to the maximum coverage one can expect, we would image it would last for at least two years of normal use in the home.
Removal of Paint Splashes and Mould
After only a couple of minutes we were able to use a rag and gently wipe away the mould on the gutter and facia board. There was no effort required and it felt like the PVCu cleaner had just lifted any suction the mould may have had. A few seconds and the section we were working on, was spotless.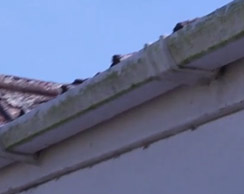 Super Strength PVCu Cleaner Health and Safety
The Eco Solutions PVCu cleaner is water based and solvent free. There is no danger from splashes on the skin although we would suggest washing it off when you have finished.
Benefits of Using Cleaner and Paint Remover
Very easy and safe to apply with no solvents to hurt skin or the surface
Two spray actions increasing economy of coverage
No solvent smells or headaches
Excellent for removing mould and paint splashes
No effort in wiping off and leaving a clean surface
Doc's Opinion of uPVC and PVCu Cleaner and Paint Remover
Sometimes PVCu gutters, doors, downpipes, facias etc get absolutely filthy. Maybe its because they are mostly white that they appear so dirty or maybe there is just some scientific attraction of PVCu to mould. Whatever it is they need cleaning fairly frequently to avoid looking awful and there is no doubt in our mind that it is the PVCu cleaner from Eco Solutions which will be our cleaner of choice from here on in.
The Doctor's Rating
Reviewed by: Mike Edwards

(5 out of 5 stars)