On Site Test of X-Tex to Remove Artex
Use X-Tex as you would a thick paint to coat over the wall or ceiling you wish to remove your textured coating from. Applying it liberally gives the best results and a 5-litre tub will go a long way. We prepared the ceiling by using a floor scraper on a pole to scrape off the deepest ridges of Artex as this makes the X-Tex go further.
Applying X-Tex to the Surface
We applied the X-Tex using a 4-inch emulsion brush but some decorators we know use a plasterers float or a wide scraper to apply a thick layer on the surface. The video shows how X-Tex can be applied with both a brush and a scraper.
Removal of Artex or Other Textured Coatings
Leave the X-Tex on the surface for about 40 minutes and then test a small area to se if the coating is ready to come off. The scraper you use should simply slide under the Artex which you can tap into a bucket for disposal. Leaving the X-Tex on too long can result is it soaking through to the layer underneath but careful removal should cause no damage. Our site test was done directly onto plasterboard which is the most temperamental of surfaces and apart from a couple of small "nicks" which can be easily filled, the surface was absolutely ideal for painting or plastering afterwards.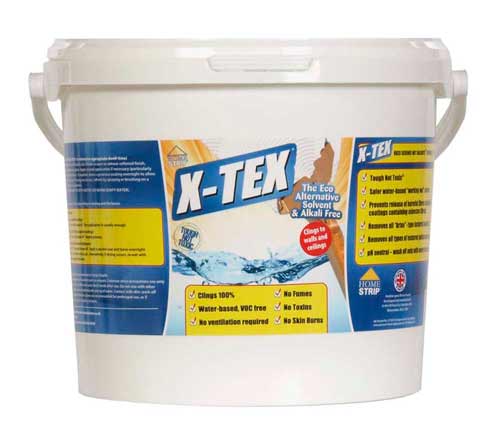 X-Tex, Artex, Asbestos, health and safety
We note here that Artex applied before 1970 very likely contains some asbestos fibres so if you believe that to be the case in your home we advise wearing a mask to remove the Artex. X-Tex is the best and by far the safest solution to removing asbestos based Artex as there is no dust and all of the asbestos contaminates are held in a stabilised way. Please ask you local council about disposal. When looking up and either applying or removing the X-Tex it is a good idea to wear some safety glasses as (although X-Tex is safe, drips into your eyes can be uncomfortable.
Benefits of Using X-Tex for Removing Artex
Easily and safely applied with no toxins or solvents to damage your skin or the house surface
No mixing required
No overpowering smell of solvent
Very easy application with no danger of damage to skin from drips.
Excellent for removing asbestos based Artex pre 1970
No dust and easy disposal in bucket
Doc's Opinion of X-Tex
This stuff is great. Artex was applied to thousands upon thousands of houses from 1970 to 1990 because it was so much cheaper and easier to apply than plaster. It covered a multitude of sins and required very little surface preparation. However, it is no longer in vogue! X-Tex makes short work of removing any textured coating, inside or out and is one of those products which does exactly as it says on the tub.
What Our Customers Say
PRAISE WHERE PRAISE IS DUE!!

Hello

I'm a 56 year old woman who has just managed, single handedly, to strip my whole living room ceiling of the loathed and detested Artex in just over 2 days, thanks to your fantastic product!!!!

Thank you so much for this brilliant stuff!! I would go so far as to say I have actually enjoyed the job, which I must admit I was dreading. But once painted on and left for the optimal time, it's an absolute pleasure to easily and quickly, scrape the Artex away.

Thank you again – I do not hesitate in recommending you to all my friends and family. Top marks.
Claire Cawley (Herts)
The Doctor's Rating
Reviewed by: Mike Edwards

(5 out of 5 stars)