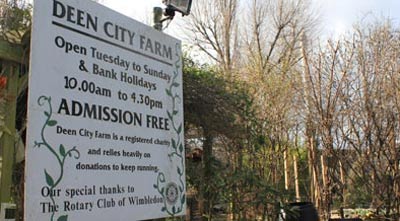 How is DIY Doctor involved with Deen City Farm?
DIY Doctor is very pleased to be able to help the Deen City Farm by offering building tools and products, which are left over from our continuous process of filming information videos on all the products available from our well-stocked DIY Superstore.
We have been searching for some time for a way of increasing public awareness, especially for youngsters, in the joys, financial benefits and practical uses of DIY and Building skills. A farm is a great place to start. With miles of fencing that either needs maintenance or rebuilding; outhouses, stables, offices and barns in constant need of repair; water required in every corner, electrical outlets always in demand, paths and footways needing repair and roofs kept watertight every single trade is covered in one place.
If anyone wants to learn building skills (which is what DIY is) there is no better way than getting your hands dirty and learning from the ground up….Confidence soon builds if you are working with an experienced person who can put you right on mistakes, and give you an understanding of why things are done the way they are. If you want to get involved with this project please contact Mike Edwards on mike.edwards@diydoctor.org.uk.
Although there is something for all ages at Deen City Farm, the focus is on educating youngsters of all abilities. As such much of the "teaching" is very visual with highly coloured paintings of plants, bugs and butterflies.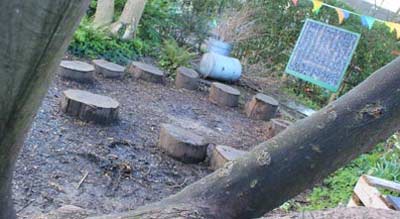 Being outdoors however, this painting tends to fade and get damaged by the elements, so it is not just DIY'ers we need, it's artists as well….If you are handy with a paint brush (or any other medium) and would like to offer your help and expertise, please contact Mike as above.
What is Deen City Farm?
Deen City Farm is a registered charity, an education resource for all ages, a community project, an exciting and interactive visitor centre, a work experience centre and many, many, other things. In fact, it is probably easier to list the things that Deen City farm does not do, than those it does!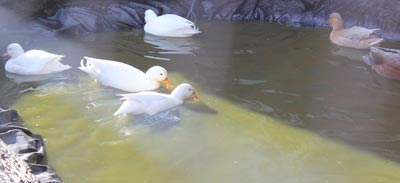 What does Deen City Farm do?
With only a handful of paid staff members, and entrance being free (as well as some of the activities), the farm relies on donations, sponsorship, proceeds from cafe and shop sales, and its army of volunteers to offer fantastic help to the community regardless of background or ability.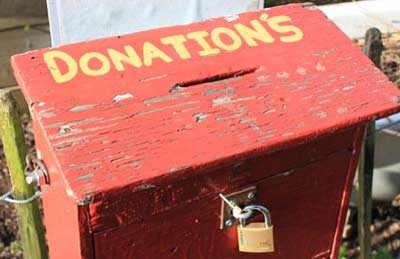 Where is Deen City Farm?
Deen City Farm is set at the edge of a thriving industrial estate just outside Wimbledon at:
39 Windsor Avenue
Merton Abbey
LONDON
SW19 2RR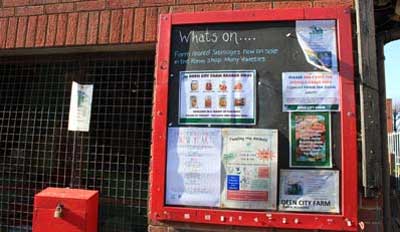 What has Deen City Farm got for me?
Weekend, weekday, after school and school holiday visits offer something for everyone. Just choose from the huge list below.
Young farmer days give an amazing opportunity to live the life of a farmer for a day. Combining education, fun and hard work you can get to know (and pet) the animals, and see what it would be like to be a farmer
Farm Club a great after-school activity every Thursday from 4-5.30 for ages 8-12 years.

A Row of Wheelbarrows at Deen City Farm

Discover the farm holiday programme to give the youngsters a fun-packed day (or week!), working and playing with the animals as well as enjoying nature trails, planting seeds, making cakes and smoothies while learning about the origins of the ingredients
Own a pony days offer a full day of horse-related activities. From the hard work of mucking out, to the joy of riding and grooming, this day will give endless enjoyment as well as an understanding of the animals' needs

Horse in the riding school stables at Deen City Farm

Pony Club meet up with other pony-lovers to play games and swap stories, make friends and enter competitions. Every Friday – very popular so call the farm to put your name down!
Riding lessons and pony rides (including riding for the disabled). Pony rides are available for youngsters between 2-7 years old providing they can fit into a hat. Available midday on Wednesdays and every weekday during school holidays, 3pm at weekends
Stable management lessons find out more and study for exams in horse health and care including tacking-up and bandaging

Mucking Out at the Stables at Deen City Farm

Pet boarding and Livery services if you are going away and need an experienced caring home for your animal then speak to the team about boarding services and livery on a working or full loan basis
Farm tours see what goes in to keeping the animals fit and healthy, and find out a bit more about farm animals, pets and even more unusual creatures such as alpacas and owls!

Barn owl in flight

Incubator scheme a great educational tool to show the life cycle of chickens. Run across three phases during the year the kit comes with all the equipment you need, plus fertilised eggs and full instructions
Volunteer programme gain work experience and confidence in a responsible environment whether you want to feed the chickens, tend the growing garden or look after the ponies there are lots of jobs you can do to help, and you can make friends too. Places available from 12 years and older
Green Fingers – garden tours find out what makes a garden grow, when to plant and harvest, how to encourage wildlife into the garden and what to do about weeds

Some of the volunteers built this 'flower bed' – Creative thinking is encouraged as is a sense of humour

Working with Community Mental Health Teams
Farm shop and cafe find meat produced on the farm, gifts, books and toys, sandwiches, snacks and cakes as well as freshly made tea and coffee of course
Environmental workshops learn how to reuse and recycle from composting to making a roof out of bottle tops there are ways you can reduce waste and have fun at the same time

Fizzy bottle community project – Recycled materials make up this cob house with its mosaic floor and plastic bottle roof

Team building and corporate volunteering days get out of your suit and into some wellies, get a team together to help build something practical for the community. Form some stronger bonds with colleagues as you problem-solve and get creative
Room hire for parties there is a classroom area that can be booked for children's parties, and you can also incorporate pony rides and animal encounters too!
Parent and toddler group full of toddler toys and a warm friendly welcome, from 10.15 until noon on Wednesdays, on a first come first served basis

Many of the activities at the farm are free – Like this bike surgery held once a week on Thursdays

Free Bike surgeries held on a Thursday, come and find out how to mend your own bike
How do I contact Deen City Farm?
General enquiries: 020 8543 5300
Education officer (Farm club): 020 8545 2173
Parties/bookings: 020 8545 2170
Riding School: 020 8543 5858
Pony club, pony rides, horse riding, stable management lessons, 'own a pony' days
Email: info@deencityfarm.co.uk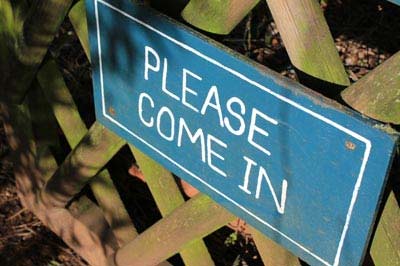 Click here to see what DIY Doctor has been doing at the farm and our agenda for the future. There are great videos all about the farm.
If you have any questions as to how you can help the farm with your DIY skills, or if you are in a position to help with building tools or materials, please contact Mike Edwards on mike.edwards@diydoctor.org.uk