DIY Doctor is sponsoring Deen City Farm which is an educational facility that provides a working example of a farm in the heart of the urban environment. People of all ages and abilities are free to enjoy the farm and it has a policy of being as accessible as possible to anyone who would like to visit.
To find out more about Deen City Farm visit our sponsorship page
Building Bird Boxes for National Nest Box Week
DIY Doctor's first project was to oversee a bird box building workshop for all ages on 14th February 2014, which was the start of the British Trust for Ornithology's National Nest Box Week aimed at encouraging birds into our gardens by increasing the number of nesting sites for birds.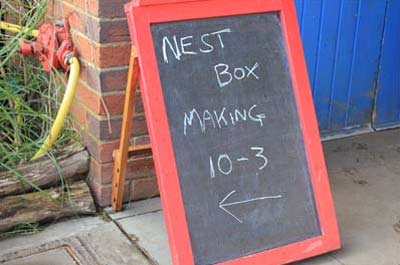 We arrived early to meet the farm's Operations Manager Simon Lynn and were treated to a tour around the farm and riding stables. There was a huge amount to see, and even though the weather was poor the farm was full of life, with lots of visitors, volunteers and horse riders streaming through the farm all day.
See our video at the foot of the page to have a tour of the farm and its facilities.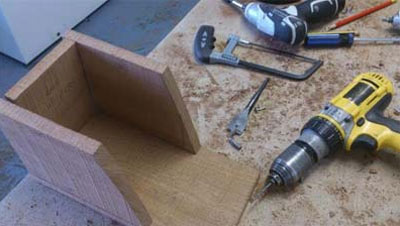 DIY doctor supplied most of the tools for the day's workshop. This is one of the ways we are helping to sponsor the farm. When we have finished with tools for product reviews and instructional videos in our online toolstore, the DIY Superstore, we are able to pass on the tools for a full and happy life on the farm.
In the workshop we gave Simon a whole bunch of tools to help the farm, and got on with cutting the timber to the sizes required so people of all abilities could either screw a pre-constructed box together, or make one from scratch.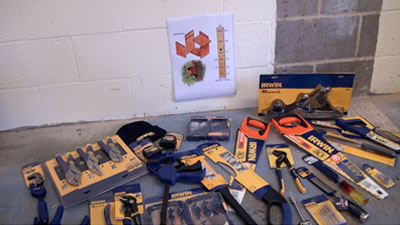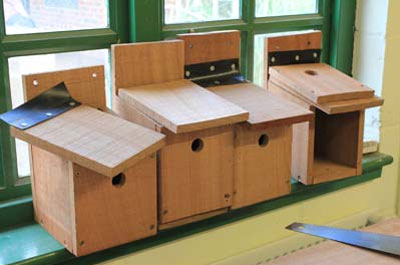 Bird Box Building is Great for DIY Beginners
Nest Boxes are ideal for this sort of workshop because it gives people with little or no experience of building anything, a chance to use simple tools like a hammer, screwdriver and saw. Some of the children took to using tools like a duck to water and mums and dads also found the confidence to 'have a go'.
The nice thing is a bird box can be quite a rough construction and still be a great home to a bird. It just needs to be roomy enough for the species you want to attract and the timber should be at least 15mm thick so it insulates against extremes in temperature. See mote information about birds, and nest boxes in our special project on how to build a bird box.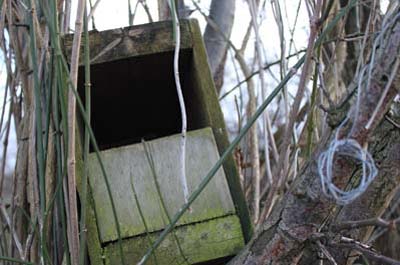 In came the public!
We had a great time teaching youngsters and adults alike; to saw timber, drill holes, use a screwdriver and hammer in the tacks. The sense of achievement was great. There were no unhappy faces on the day and everyone left with the bird box they had built, vowing to return to the farm very soon.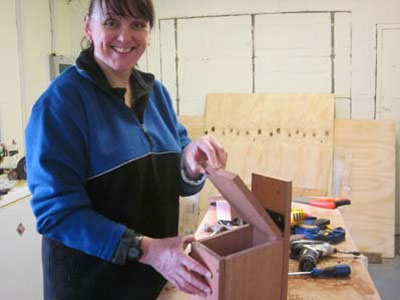 Hopefully we will get some pictures of the nest boxes in place – with feathered inhabitants too. If you came to the workshop (or even if you didn't) and have pictures to share please do send them into us or you can share them with us on our Facebook Page, Google+, Pintrest, or even rather appropriately on Twitter!
What's Next?
Our next project is to rebuild the sign at the entrance to the farm which, like many other things, has suffered badly at the hands of the recent storms. If you are in a position to help in any way, please get in touch with Mike Edwards on mike.edwards@diydoctor.org.uk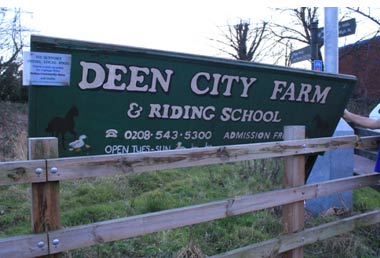 We need willing hands to:
Dig post holes
Provide 2 – 100mm x 100mm fence posts
Print a new sign for the farm
Use carpentry skills to put it all together
Of course we can do all of these things ourselves but if anyone would like to get involved in this great project there is no better place to start than at the front gate.