Fitting Shutters To Windows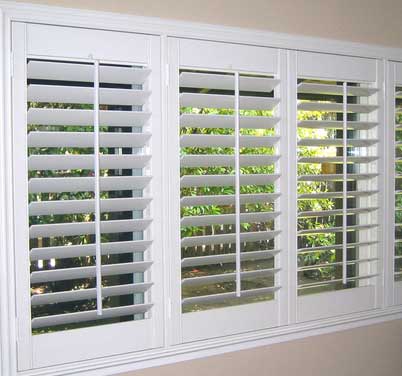 Shutters have become very popular in the UK for a number of reasons, they are decorative, they shade homes from hot sun and provide privacy without the need for naff nets. Shutters can also be used to provide extra insulation and security in your home.
When we visited Grand Designs last month we were pleased to drop into Diamond Shutters and meet Kevin Addinton who spent time discussing the options they have available and explaining the different choices you have if you are considering fitting shutters to your windows.
Interior and Exterior Shutters
Shutters are usually made from wood, metal or composite materials, and they come in many different colours either painted finishes or woodstain to suit the customer's décor and taste. Shutters can be fitted to the outside of a house, and exterior shutters are usually solid, although fitting louvered external shutters can look charming on the right house. Internal shutters were traditionally solid pine in Victorian houses, but these days most internal shutters are louvre shutters, also known as Plantation Shutters. The louvers come in different standard sizes – 47mm, 63mm, 89mm and 114mm, and the choice of size will depend on the size of the window and on personal preference.
It is also a matter of personal preference where the shutters are fitted. The choices are to fit them to the inside of the window reveal, on the edge of the reveal, or even on the outside of the reveal.
You can choose whether to have the shutters made and fitted for you or you can fit them yourself providing you are a moderately able DIYer. We have projects that will help you fix your shutters and battens to masonry on the main website in our How To section.
The company who supplies your shutters will probably prefer to come and measure the windows themselves to ensure the measurements are accurate, but if you are confident in measuring for shutters yourself then you can see how to do it in our earlier blog on How To Fit Shutters.
The main problem you may experience is that while shutters are made square your windows may not be perfectly square, particularly if you live in an older house. One way to overcome this is to fit the shutters onto a frame. You can then make sure the surround is square before you try to fit your shutters. This can be easily achieved by scribing and fitting battens to the inside your window recess.
Diamond Shutters have a wide range of shutters in a number of different finishes to suit whichever room you want to fit them, you can get some inspiration by visiting their gallery to see examples of their standard and bespoke shutter sizes and shapes.
Shutter Styles and shapes
Full height shutters are exactly what they sound like – they comprise of a pair of shutters which fit either side of the window and are a high as the window.
Tier on tier are two (or more) pairs of shutter on top of each other allowing you to open or close part of the sections to suit the weather or to suit your privacy requirements.
Tracked shutters – these are intended to allow you to have shutters on a length longer than 2 m span, but they can also be used for wardrobe doors or as a room divider. They concertina along the track so they take up very little space when they are folded back.
Café shutters come about half way up a window and help to provide privacy, leaving the top half of the window open to the light.
Shutters can also be made in other shapes such as round, half-round and triangular, and can be fitted to windows and doors and even to conservatory roofs.
Shutters make a stylish and more durable alternative to window blinds and they are easily maintained by regular dusting and wiping with a damp cloth occasionally.
If you wanted to find out more about the products we saw at Grand Designs Live in London Last Month you can check out our blogs on Capsule Jellyfish Tanks, and on Roto Roof Windows for more design-led ideas for your home.