Having some extra room in the house by creating a conservatory can save you a great deal against having an extension built.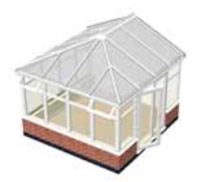 Planning permission is a little more relaxed on conservatories and for he main part they are considered to be temporary structures which fall within the permitted development guidelines of planning control. There are some conditions on this and for a full list of the conditions about planning permission for conservatories you can click this link.
Some of the main conditions are listed here and these apply to Orangery's and porches also.
No part of the conservatory to be higher than the highest part of the existing roof.
You may not add a conservatory which takes up more than half of the land around the original building
The highest you can go with a single storey conservatory is 4 meters
As you can see it is unlikely you will need to break these rules but it would be very sensible to seek approval from the planning department of your local council, just to be on the safe side.
Getting a low specification conservatory is not ideal and to really make the best use of a conservatory all year round we would suggest a minimum specification such as the one found on the pages inside.
If you are providing the base and the dwarf walls for your conservatory you will need to see our pages on this type of constructions as well as our pages on laying bricks and also how to correctly mix concrete.