What are the benefits of the Light'n'Shade Louvre Roof from Gilkicker Ltd
The main benefits of the Light'n'Shade system are as follows:
A Light'n'Shade roof can be made to any size and in a wide variety of shapes to fit around bay windows, chimney breasts, downpipes, etc
The Light'n'Shade louvred roof is absolutely ideal for verandas, terraces, decking, patios, courtyards, balconies, roof gardens, barbeque areas, outdoor kitchens
A Light'n'Shade roof system can be easily installed, with the minimum skills level, on any lean to frame or a free standing frame. This means the system can be used adjacent to an existing building or on a structure positioned anywhere around a property
Similarly the Light'n'Shade system can be fitted with LED lights, external heaters and other electrical equipment. The cabling can be run through the hollow section louvre beams.

Using a Light'n'Shade roof system to shade from the sun

The Light'n'Shade roof system also protects from the rain when it is closed

The Light'n'Shade system being installed on the video is a manual system operated by drawstrings. The system can also be operated by using a hooked janitor's pole or it can be mechanised by installing a small electronic motor which is operated by infra-red remote control. More information is available from Gilkicker Ltd, the parent company of Light'n'Shade

Gilkicker roofing systems

Although the vast majority of Light'n'Shade systems are supplied with powder coated aluminium louvres (which give maximum shade when required) systems can be supplied with polycarbonate (see through or opaque) louvres. Also, both aluminium and polycarbonate louvres can be used on the same roof. This is ideal for when shade is not the major issue but maintaining light through an adjacent window on an adjoining building is a priority. Both the translucent and opaque polycarbonate louvers are available in a range of tints and colours
A Light'n'Shade roof can be supplied in any RAL colour and these can be seen at www.ralcolor.com, additionally, the louvres can be coloured separately from the louvre beams and the brackets to give a contrasting colour scheme if desired. The RAL system is an acronym for Reichs-Ausschuss fur Lieferbedingungen and is the standardised system for colours used across Europe

Interlocking Light'n'Shade louvre roof open

A Light'n'Shade system is supplied to a customer manufactured to the size needed to cover the area required. All moving parts within the louvre beams are already fitted and require no adjustment on site
A full range of flashings and accessories are available with the system to weatherproof abutments to walls. The system can also be manufactured to work in conjunction with many different building features such as bay windows, chimney breasts, downpipes, soil pipes, ventilation and extraction flues etc
The Light'n'Shade roof system can be manufactured to allow light or shade in any one of four ways. It is important to consider the orientation of the louvre and their opening and closing direction so that sunlight or daylight can be maximised or the maximum amount of shade is realised. Gilkicker Ltd can advise and help with this if needed
Pricing Your Project
Your project is unique, we cannot price exactly for it here. You can however get a good idea from our price guidelines by clicking on the button below:
On-Site Test of the Light'n'Shade Louvred Roofing System from Gilkicker Ltd
Most Light'n'Shade systems are installed on timber frame structures such as pergolas but many have been installed on steel and aluminium frame structures, on brick piers and cantilevered from walls.
Where a cantilever is being considered it is necessary to get an engineer to assess that the wall of the building being used is adequate to support the roofs dead load and the extra loads imposed by wind and snow loadings without pulling the outer leaf away from the inner leaf in a cavity wall situation or damage a timber frame construction.
The system we trialled on site, as seen in the video, is a simple rectangle which suits most people's needs. We found the secret to the Light'n'Shade systems weather integrity are the curls along both edges of the louvres.
These are similar to the interlock of a clay roof tile. When the louvres are closed they interlock with each other which means that no water can pass through the roof to the area underneath.
We found that the louvres need to be fully closed to be weather tight although some degree of weather protection is given if they are left slightly open.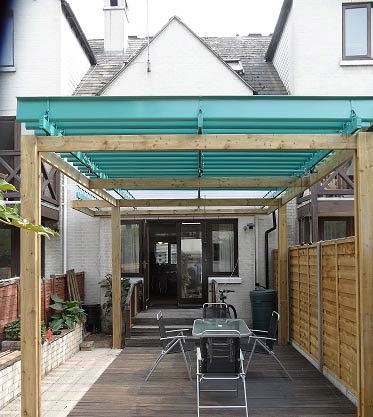 Once the rain shower has passed and the roof was opened, the same interlocking curls in the louvres acted as small gutters which carried the surface water off to the edge of the roof to drain away.
This could be done into an external gutter or onto a lawn or gravel area. There were no drips into the area underneath the system after the rain shower when the roof was opened.
We think the system is great. When patio umbrellas have blown inside out, gazebos are buckling with the pressure and awnings have twisted in the wind, the Light'n'Shade roofing system is still there doing its job ready for the next burst of sunshine. This system really deserves the 5-stars we have given it.
As mentioned above, it is extremely difficult to publish individual prices for the Light'n'Shade roofing system as each job is different and potentially needs (for example) fixing in a different way. E.G. To concrete, patio slabs or brickwork. We have therefore created a guide price which we can email to you if you click this link.
Additionally, you can download full installation instructions for the Gilkicker system here.
The Doctor's Rating
Reviewed by: Mike Edwards

(5 out of 5 stars)