Using the Irwin Quick Grip Quick Release Clamps
We had the assistance of Irwin's own demonstrator for this series tool reviews which was a great benefit as he provided an indepth insight into each tool including the Quick Grip Clamp.
We tested the clamps in a real-life situation by clamping a timber to a workbench and using the clamp to make sure the timber stayed stock-still while we sawed into it with (coincidentally, an Irwin Jack saw). This clamp would be ideal for carrying out any cutting and sawing of timber as shown on this project.
Useful Features of the Irwin Quick Grip Clamp
The clamps jaws are adjustable for clamping surface which are not square to each other and the jaws reverse to allow the clamp to be used as a spreader as well as a clamp. A really useful feature for (for example) sliding tight fitting shelves into a shelf unit.
The clamp was easily applied with a couple of squeezes and unlike many other clamps there was no over squeezing to ensure the ratchet clicked into place. The timber was solidly help against the worktop and sawing was safe and effortless as a result.
Releasing the clamp was beautifully easy with a soft press on the release trigger it was free. It didn't stick and was off in less than a second. A great tool for the carpentry or metalwork workshop. This really is a well built, strong clamp which will out perform many clamps on the market. If you would like to find out more or even purchase the Irwin Quick Grip Clamp check out our DIY superstore.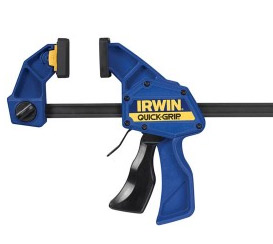 Special Features of the Irwin Quick Grip Clamp
This essential clamp for any toolbox comes with the following special features:
Quick change system allowing clamping or spreading
135kg clamping pressure
Swivel jaw allowing clamping of uneven surfaces
Heavy duty construction
Protective pads on jaws to protect working surfaces
With it's range of well thought out and designed features and the fact that it can be used to clamp and spread items this is a great addition to anyone's tool kit and a must-have asset for any job! The fact that it can also apply up to 135kg of clamping pressure and ensure that no surfaces are damaged due to it's soft pad jaws it well deserves solid 4 out of 5 stars.
The Doctor's Rating
Reviewed by: Mike Edwards

(4 out of 5 stars)