Whether you need pruning advice or fancy creating your own amusingly-shaped hedges, our guide below covers all the basics.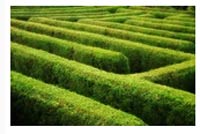 What is Topiary?
Topiary is the art of shaping and training plants into set shapes or forms. Whether it's a ball, a cone or a squirrel, a shaped hedge or specimen is known as topiary.
The term topiary actually covers more than just shaped specimen pieces. Parterres – clipped box hedges planted in swirling patterns or geometric designs – also come under the topiary umbrella. Mazes are sometimes included in the term, as are knot gardens – different coloured box planted in patterns to look like the hedges are tied in knots.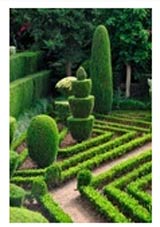 You can see wonderful examples of topiary at Levens Hall in Cumbria, Knightshayes in Devon, Hidcote Manor in Gloucestershire and many other stately homes around the country.
Pruning Mature Topiary Specimens
Topiary needs to be trimmed at least once a year to keep its shape. If you have examples of topiary in your garden and you want to keep them looking neat and trim, it's a good idea to invest in a pair of topiary shears – hand-held trimmers that look a bit like old-fashioned sheep shears.
June is the best time to trim your topiary. Until you get the hang of it, just take a little off at a time, stepping back often to make sure you are getting the shape right. You can either trim by eye, or use a template to help you. For trimming balls, you can use a length of wire made into a hoop that you can move over the ball as you go.
Cones should be trimmed from the centre out, working around the plant as you go. You can use three canes and some garden wire to make a wigwam over the plant, which will help you to keep the shape if you're having trouble.
Spirals and animal shapes are a little more complicated to prune, but you'll get used to it soon enough. Just don't take off too much at once, and remember to keep stepping back to look at it from a distance – you'll find this really helps. Get someone to help you if you're really worried about it – a second pair of eyes often helps.
Creating Your Own Topiary
If you don't have any topiary in your garden but you want some, why not start your own specimens? The best plants to use for topiary are box and yew, but privet, shrub honeysuckle (Lonicera nitida) or even golden leylandii can be used for a faster growing hedge.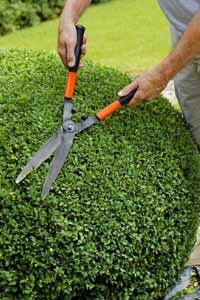 Start by deciding on the shape you want to make. Lots of template frames are available to buy, from simple balls and pyramids to amusing animals. A frame will make the job of training and trimming the hedge a lot easier for you. Try to choose a frame and plant of matching size, so you don't have to wait too long before you can start trimming your hedge to shape.
Once you have your wire frame and chosen plant, you need to plant out your young hedge in the desired position, be it in a pot or in the ground. Fix the topiary frame over the plant, securing it with pegs. You want to give the plant some food to encourage good, vigorous growth, so feed with an all-purpose fertiliser such as Growmore, and put some mulch around the base to make sure it doesn't dry out.
Some frames are just simple wire outlines, while others are filled in with chicken wire. If your frame is filled in, you might need to encourage the branches of the hedge to grow through the chicken wire, by poking them through with a cane or pencil once they are big enough. Once the branches stick out past the frame, you can start to trim them. Once you start trimming, the ends of the branches will grow denser and soon start to look better.
Quick Fix Topiary
If you're too impatient to wait for a hedge to grow, you could try training an ornamental ivy to grow around a frame, creating a 'false' topiary. The wire frame can be filled with moss to give instant solidity, then a fast-growing, pretty ivy can be planted next to the frame and trained to grow over it. Small-leaved ivies work the best, as they show the shape of the frame off well. You may need to fix the stems of the ivy to the frame with wire here and there, and you'll need to clip it now and then to keep the shape.