The feed-in tariff or FIT was an initiative introduced by the government back in 2011 and was designed to help accelerate the uptake of domestic renewable energy such as solar panels, hydroelectric and wind turbines.
For anyone that qualified, the government then paid them for the renewable energy that they pumped back into the grid.
Unfortunately as of the 31st of March 2019 the feed-in tariff scheme was ended for any new applicants but still remains in place for those that qualified for the scheme initially.
When the existing FIT scheme came to an end in 2019 this effectively removed some of the incentive to actually get a renewable energy solution installed but this then opened the doors for new initiatives that are now starting to gain some ground in the energy market.
In this project we look at some of these new initiatives and how they work.
What was the Feed-In Tarif Scheme and how did it Work?
As briefly touched on above, the FIT or feed-in tariff was a government derived scheme that was created to pay homeoweners for generating their own electricity through the use of renewable energy sources such as solar, wind and hydo.
For every unit of electricity that was generated a fee would be paid per unit depending on the unit price set at the time the FIT agreement was signed and sealed.
In terms of the payments themselves, they are broken down into 2 items:
Generation tariff: Fee paid per unit on the total amount of electricity produced
Export tariff: Fee paid per unit for electricity thats exported into the national grid, but this would only cover 50% of the total volume of electricity generated is you don't have a Smart meter
In the above information we mention the fact that you would be paid a unit price that's set at the time you signup for FIT payments but there are some additional factors that can affect how much you actually earn:
The volume of electricity you generate you actually use in your home
The volume of electricity your system actually generates
The type of renewable energy
When the scheme first launched back in 2011, those early adopters that signed up we lucky enough to get paid around a whopping 55p per kWh unit, but as time went on and more and more signed up and the technology got cheaper these payments dropped considerably down to around only 5p per kWh unit before the scheme closed in 2019.
Although the FIT scheme has closed to new applicants it's stil very much alive and kicking for those that originally signed up and it's still run and managed by Ofgem (information on the existing FIT scheme can be found here on the Ofgem site).
When it comes to actually who makes the payment to you, it's the FIT licensee (your energy supplier). Note that the energy supplier has to be a licensee of the FIT scheme before they can pay FIT payments.
As we have stated, the FIT scheme was only geared towards those that generated renewable electricity. For those running renewable heat sources such as solar water heating, air source heat pumps, ground source heat pumps etc there is the Renewable Heat Incentive scheme.
Similar to the FIT scheme, the RHI (renewable heat incentive) scheme provides financial incentives to those who adpot renewable heating sources and unlike the FIT scheme the RHI scheme is still up and running. Information on how to signup can be found on eth Which? website here.
For those signed up to the FIT scheme payments are generally paid once a quarter or over 4 months and continue for 20 years after initial signup or 25 years if signed before August 2012.
What new Scheme has Replaced the Feed-In Tariff?
As we have established above the FIT scheme is now no more but fear not, as we also stated at the top of this page there is now a new scheme up and running that has taken its place; the Smart Export Guarantee or SEG for short.
What is the Smart Export Guarantee?
Introduced on the 1st of January 2020 the SEG works in a similar manner to the FIT scheme in that licensed energy suppliers can make payments to homowners that generate their own renewable electricity that is then fed back into the grid.
As with the FIT, the SEG is available to those who generate renewable energy through:
Solar PV systems
Anaerobic digestion (AD)
It also has to be noted that all renewable sources other than Micro CHP but under 5mW in order to be eligiable for SEG payments and you must also have some form of export meter, although today Smart meters are more prefered as they take accurate measurements every 30 minutes and automatically send readings to your supplier.
How Does SEG Work?
In terms of how the SEG scheme works, your energy supplier or SEG licensee (must be registered on the SEG scheme, find a list of SEG suppliers here) will put in place a mechanism to measure the volume of electricity you send to the grid and then pay you a set price per unit for that electricity.
The energy provider must also then notifiy Ofgem that your installation is providing energy to the national grid.
One other stipulation is that the energy provider you are receiving SEG payments from must also ensure that the price they are paying per unit is always above a zero figure as occationally wholesale electricity prices can dip below zero.
Who can Apply for SEG Payments?
In order to apply for SEG payments you must have an MCS approved renewable energy system installed in your home. During the registration process you will need to provide your MCS certificate so the SEG licensee can confirm this.
As we have stated above the renewable technology has to be one of the following:
Wind
Hydro/water
Micro CHP
Solar PV
Anaerobic digestion
What can I Earn From SEG Payments?
As with any renewable energy source it's impossible to guarantee any form of output as there are so many vaiables; weather, climate, quality of system components, type of roof, angle etc.
Additionally SEG only covers electrical energy you send to this grid, the amount you actually send will depend on how much energy you generate and then how much of that generated energy you actually use and again this will fluctuate massivley.
If you are thinking that installing a solar PV, hydro, wind turbine system etc will be paid for by the SEG payments then you may be disappointed as in pretty much all cases this won't happen.
If income and payments are your top priority then when selecting an SEG tariff make sure you choose one that is paying the most for the energy you will be sending to the grid.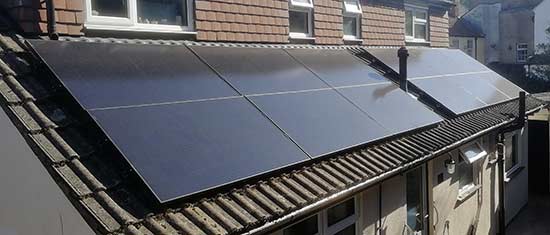 What Companies Offer SEG Payments?
When the SEG initiative was launched one of the stipulations for existing energy providers was that if they have over 150,000 customers on their books then they have to offer at least one SEG tariff.
For companies with less customers it's optional for them to offer this but quite a few of them do.
For a full and complete list of SEG suppliers see the Ofgem website here
Different Types of SEG Tariff
There are essentially 2 different types of SEG tariff; Flexible rate and fixed rate deals:
Flexible/Variable Rate: Payments for electrical energy vary depending on its value to the export system. In essence if demand is high e.g. during the evening then you may be paid more than in the day time when demand is low
Fixed Rate: You are paid a fixed rate per unit for the electricity that you send to the grid regardles of what time of day it is
The particular tariff you go for is entirely up to you, ultimately there probably won't be a great deal in it in terms of money earnt and with flexible or variable tariffs, if you can earn more during the evening then this will technically mean that sending energy from a storage battery to the grid that you may be better off using in your home than selling it.
In this scenario you will probably be dealing with the Social Energy Grid Trading Scheme. In short the Social Energy scheme is an AI (artificial intelligence) driven scheme that takes energy stored in a battery and trades it in a similar way to the the way in which stocks and shgares are traded.
The system sells the energy you have generated back to the grid for the highest price it can and buys back energy from the grid when it needs to for the lowest price possible.
This is a fairly new scheme and one that is certainly gaining some ground but as with all things do your homework first as there are situations where this scheme can get expensive.
How do you Apply for SEG Payments
The first requirement to qualify for SEG payments is so have one of the above renewable energy technologies installed in your home.
One stipulation is that it must have been installed by a reputable and qualified company and also MCS certificated.
An MCS or Micro Generation Certificate Scheme certificate ensures that the system you have installed has been fully designed and commissioned to the high standards set by the scheme and that it only uses MCS certified products.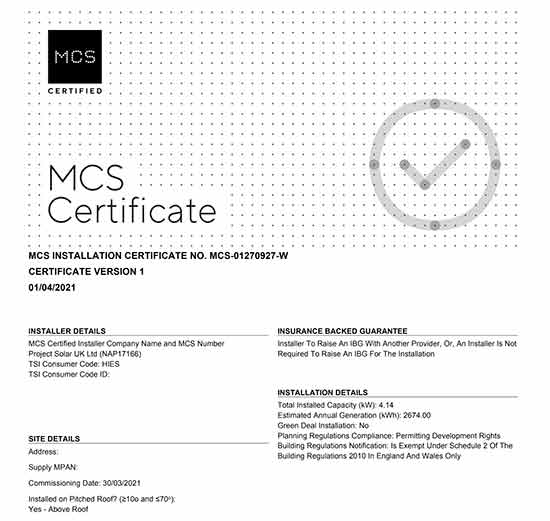 Once the points above have been covered you can then select one of the SEG registered energy providers from the list on the Ofgen site linked to above. Overall it's entirely your choice who you go with but make sure you do your homework and compare them all, fully reading any terms and conditions and legal points. in the majority of cases it will be the supplier that's paying the most per unit.
Once you have selected your chosen SEG licensee and signed up to their SEG plan you will then need to provide your MCS certicifate so that they know your installation meets all of the required MCS guidelines and they may also ask you to proove that you are the registered owner of the given renewable energy system.
One further requirement is that you will need to be able to accurately record how much energy you send to the grid. This can be done using an export meter which or faily old school or the prefered method of using a Smart meter as this will send readings to your supplier every 30 minutes.
So to summarise you will need the following when you apply for a SEG tariff:
An MCS certified renewable energy install such as solar pv, wind, hydro etc
Proof that you are the registered owner of the solar install
A smart meter capable of sending readings to the SEG supplier every 30 minutes
Most SEG suppliers will also ask you to complete an application form for them to process
If you have an anaerobic digester you mat also need to complete additional forms
If you have a renewable energy system and you generate your own electricity through either solar pv, wind, water etc then it is well worth signing up for an SEG tariff, especially if you are an on-grid system and you are already sending energy to the grid as without an SEG tariff the energy that's currently being pumped into the grid is going there for free!