There are essentially 4 main types of solar storage battery used today; lead acid, nickel, lithium ion and newer flow batteries.
Generating renewable energy through solar panels is both clean and once the systems paid for, essentially free, but if you are generating power during the day and there is no one there to use it, the system isn't as useful as it could be.
Although through the various FIT (feed in tariffs) and the similar it's possible to get paid for sending the power into the grid, but ultimately it's better if you can use it yourself.
With this in mind adding battery storage to a solar energy setup can be a great idea – generate free energy during the day and then use it in the evening and at night.
If you are liking the sound of this then read on below to find out all about the different types of battery storage and what to look out for.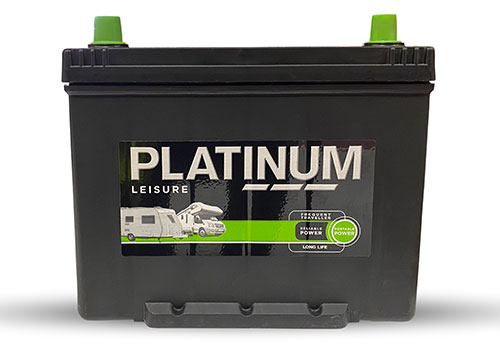 What are the Different Types of Solar Batteries?
As we have mentioned at the top of this page, there are 4 common types of battery storage that can be used with a solar setup; Lithium ion, lead acid nickel and flow batteries. Here follows a breakdown on each different type:
Lithium Ion Batteries
Lithium ion batteries have been around for a fair while now, but have only just really come into their own over recent years due to improvements in battery technology spurred on by the improvements in electric car technology and the many portable devices that are available today.
Due to these technological advances lithium ion batteries are on the whole much more efficient, compact and light-weight than other battery-types and also benefit from having a greater depth of discharge (more on this below) and also a greater lifespan.
Other benefits include the fact they can also deal with faster charging much better than other battery types, can also be easily moved with fear of damage or spillage of acid, have a higher density meaning they can store more energy and don't require any regular maintenance.
Advantages
Great efficiency
Compact, lightweight and moveable
Good depth of discharge (DoD)
Don't require regular maintenance
Greater energy density meaning they can store more energy
Longer lifespan than other battery types
Disadvantages
Can be more expensive that other batteries
Can be prone to thermal runaway and catching fire if not installed correctly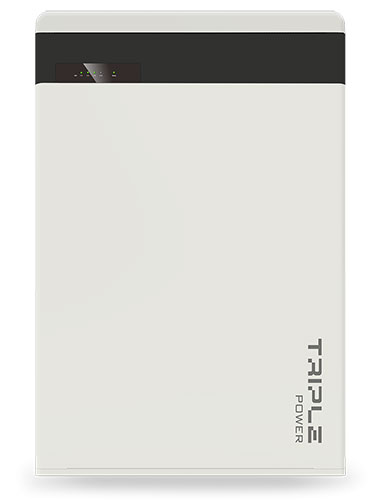 Lead Acid Batteries
Lead acid batteries are probably the oldest type of battery available today as the technology has been around for well over a 100 years. Due to this, lead acid batteries are a tried and tested storage solution and been developed along side solar and wind energy generators pretty much since their inception.
As lead-acid battery technology has been around so long it has been refined to be about the cheapest and most reliable battery storage solution there is.
In terms of types, they come in two different flavours:
Sealed Lead Acid Batteries
The safest and most maintenance free option in sealed lead-acid batteries is the valve-regulated version. During the charging process, gasses that are generated can cause a battery to hit its gas-generating limit, which in turn can cause these gases to be dispersed and also a loss of water.
These batteries are designed to help prevent this occurring and reduce the risk of toxic gas escaping into the atmosphere and also the need to top up any lost water.
Flooded Lead Acid Battery
These batteries are much like a traditional car battery in terms of their construction, essentially being a container filled with water (pure distilled water in this case), but in most cases a fair bit bigger.
Unlike sealed lead-acid and also lithium ion, flooded lead-acid batteries ideally need to be stored in a temperature controlled and well ventilated building away from any inhabitable areas as they are prone to releasing hydrogen gas and are very sensitive to changes in temperature.
They also have a relatively low lifespan and low recharge cycle life and their depth of discharge can be less than 60%
Advantages
Cheaper than other battery types
Tried, tested and very reliable storage solution
Easy to recycle
Disadvantages
Shorter lifespan than other battery types
Lower depth of discharge than other batteries, less than 60%
Can't be stored on their side
have to be installed in a well ventilated area
Can be very sensitive to temperature which can significantly decrease lifespan
Bulky and can take up a lot of space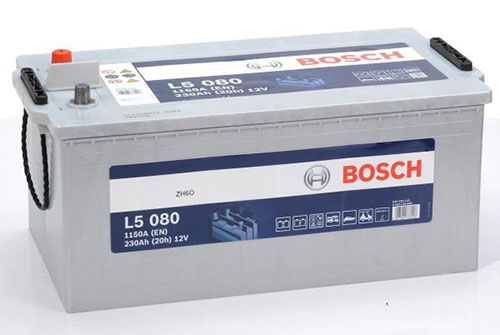 Nickel Batteries
Often referred to as nickel cadmium or Ni-Cd, again, this battery technology has been around for well over 100 years so it's a tried and tested storage technology in much the same way as lead-acid.
Over time with significant research, Ni-Cd batteries have gone from being fairly inefficient to having comparable storage and DoD figures to lead-acid
However nickel cadmium is a fairly old technology and suffers from one huge drawback, the fact that cadmium is highly toxic and due to this is in fact banned in numerous countries.
Another downside in respect to cadmium being highly toxic is that it's nigh on impossible to recycle once its reached the end of its life which in turn can cause severe environmental impact and due to these reasons cadmium or Ni-Cd batteries should no longer be seen as a viable storage option.
If you have ever owned an older Ni-Cd battery drill you will be well aware of one other substantial downside – battery memory.
In some cases, unless the battery is totally discharged and recharged from nothing it will remember the last point it was recharged from which effectively reduces the total amount of storage space available.
Despite the downsides they do have some advantages in that they are extremely durable and able to cope with extreme temperatures.
Advantages
Very durable
Great with extremes of temperature
Tried and tested storage technology
Disadvantages
Use cadmium which is extremely toxic
Suffer from battery memory that affects storage space
Other comparable storage solutions that are more advanced technologically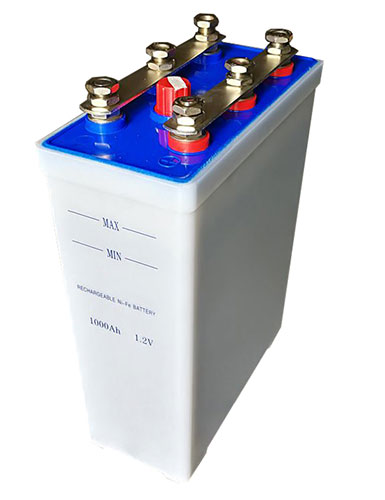 Flow Batteries
These are the new kids on the block in terms ofa solar storage solution and one that is still really in its development stages.
Their name comes from the way in which they operate – within the battery there are two individual chambers that have feature an electrolyte that's water-based (usually zinc-bromide) and this flows between the two chambers.
The chemical reaction that takes place during the charging process allow the battery to both charge and also discharge.
One of the best features of the flow battery is its DoD, or depth of discharge which is a staggering 100% meaning that that you can use all of the stored energy in the battery without the feature that it will damage it.
With this in mind and considering the fact that it is water based and doesn't rely on any toxic heavy-metals its pretty certain that this storage solution will become more wide spread as soon as the technology advances.
Advantages
Water based and totally non-toxic
Fantastic DoD figures, reaching 100%
Disadvantages
Domestic use technology still in early stages
Very expensive
Very large compared to other batteries due to low storage capacity and also low discharge/charge rates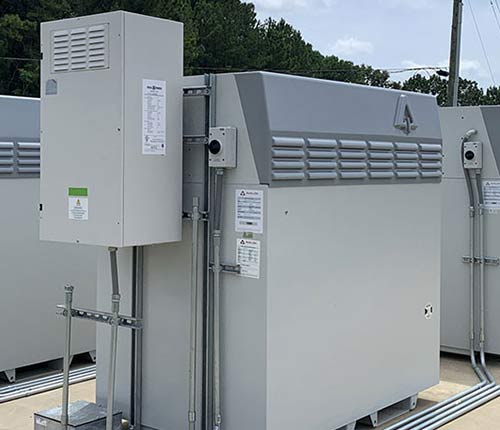 Different Types of Installation for Battery Storage
If you are considering a battery storage solution for your home then you will first need to decide how it's going to be used and in what order it's going to be connected up as this will decide whether you need an AC (current flows two ways) or DC (current flows in one direction) battery(s).
The reason for this is that if you are connecting into a solar panel setup, the electricity generated by solar panels is DC (direct current).
In a direct current DC system you would connect the battery directly to the solar panels and the electrical charge from the panels would charge the battery directly via a charge controller and the battery would then feed into an inverter which in turn then feeds into the consumer unit and then any appliances.
Using this method you wouldn't need to use an inverter to convert the charge for the batteries which is more efficient as some power is always lost during the conversion.
However the charging and discharging of the battery or batteries is less efficient and in most cases you cannot recharge them by drawing power directly from the national grid and it can also affect your eligibility for any feed in tariffs.
With an AC or alternating current system, an inverter coverts the electrical charge from the panels into AC current for use within the property and then converts it back in to DC current to go back to the battery, as batteries store DC power.
With an AC setup your meter (or in most cases smart meter) can measure the entire output of the system and therefore can accurately calculate how much power is fed back to the grid meaning that there are no issues with feed in tariffs.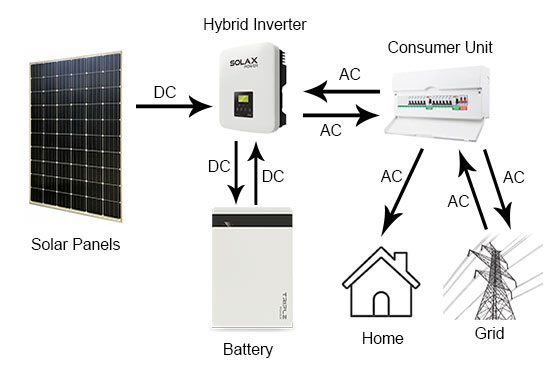 Today, many domestic solar setups that benefit from feed in tariffs or off peak battery charging utilise an AC setup.
The Dangers of Thermal Runaway
When using battery storage with a solar electricity system and for that matter any type of lead-acid, Ni-Cd or lithium ion battery, one danger to be aware of thermal runaway.
Thermal runaway is essentially where the temperature control of a battery charging device fails and the electrical energy is converts in to thermal energy.
Without getting too technical, during charging batteries produce heat that needs to be controlled. When this fails, more oxygen is produced which in turn creates more heat and the process becomes self sustaining to the point that the battery ignites or in some cases explodes.
This is obviously extremely dangerous so it is of high importance that batteries that require temperature control such as lead-acid and lithium ion are kept at a constant controlled temperature and charge rate to reduce the risks of this happening.
What to Look for in a Good Solar Storage Battery
As we have seen so far, every battery has it's higher-level advantages and disadvantages but now it's time to look at some the more important points in a little more detail so that when you are researching you have a like-for-like set of metrics you can use to compare batteries:
Battery Quality
As we have mentioned already above and as with any product available today, the age old adage goes; you get what you pay for and solar storage batteries are no exception here.
Generally the more expensive branded batteries tend to be of a higher quality, using better components and materials but the downside of this is that they always cost more (in some cases considerably more).
With this in mind it's also important to consider how your battery storage is going to be used e.g. although a top of the range 4kw battery might cost upwards of £3000, if you are looking for more storage capacity, for arguments sake 7kw you may be able to find lower quality battery or batteries that provide this for £2000.
Although you may loose some efficiency, lifespan and possibly even storage capacity with a cheaper battery, the money saved on the initial outlay compensates for this.
Efficiency and Round-Trip Values
This is quite a relevant metric in terms of battery comparisons. The round-trip efficiency of a battery has to do with the volume of energy that a battery can provide or output compared to the volume of energy that was used to actually store it.
To explain this a little further, if you had a 4kW solar panel system that was inputting 4kW into your battery but you could only actually get 3kW of energy out of the battery then the batteries round-trip efficiency would be 75%.
Essentially the better the round-trip figure is the more efficient the battery will be.
Depth of Discharge
We have already mentioned this metric above but haven't as yet explained fully what it means. The depth of discharge of a battery is essentially how much of the stored energy in the battery you can use.
In order to keep a battery in tip-top condition it's important that it always retains some charge as if a battery is fully discharged then this can damage it and significantly shorten it's life.
To explain further, if you have a 5kW battery and that battery has a depth of discharge (or DoD) efficiency of 90% then you should only ever use a maximum of 4.5kW to keep the battery in good condition.
Essentially the higher a batteries DoD figure the more of it's stored energy you can use.
Battery Lifespan
As with all batteries they become less efficient over time and their overall storage capacity drops due to the amount of charging cycles they go through (by cycles we mean daily draining and recharging).
With this in mind, most manufacturers guarantee their batteries for a certain number of years or a certain number of cycles and the capacity the overall storage capacity that will be left at this time.
With most decent modern batteries, they will be guaranteed for around 10-15 years and have a cycle lifespan of around 6000 cycles and hit around 70-80% at this point.
If it's found that a given battery is starting to fail during this guarantee period and it's capacity has fallen then it should be covered under the manufacturers warranty and should be replaced due to this.
One point to also be aware of is that as most guarantees only cover your battery for 10 or 15 years and most solar panel systems are guaranteed for 12-30 years, to get the best out of yor solar system for the remainder of it's life you will need to replace your battery or batteries once they have reached the end of their life, so bear this cost in mind!
Battery Power and Storage Capacity
The power and storage capacity of solar storage batteries is measured in kilowatt hours or kWh
In terms of storage, the kilowatt hours capacity of a battery will tell you how much it can store e.g. a 10kWh battery will be able to store 10kWh of electricity for your home or premises, but this doesn't necessarily tell you its power.
In basic terms, the power of a battery is measured in kilowatts (kW) and is how much electricity a given battery can deliver at any one time.
To expand further if you had a battery with a fairly low storage capacity, say 3kWh, but it had a high power output then it would be able to power many devices and appliances for only a short amount of time until the stored electricity had been depleted.
On the flip side to this if you had a battery with a high storage capacity, say 10kWh but only had a low power output it would only be able to power a few devices or appliances but for a much longer time.
What Types of Batteries are Best for Solar?
As we have discussed above there are 4 main types of solar storage battery available at present; lithium ion, lead-acid, nickel cadmium and flow.
In respect to which one is best for use as a solar storage solution is again a bit of an open ended question as every situation is different e.g. budgets, location, climate to name just a few.
If you had to absolutely pick an overall winner then in most situations this would probably be lithium ion as the technology is tried and tested, they are very efficient and reliable and have great DoD and power figures.
But on the other side of this they don't fare well in extreme temperatures so in this case nickel cadmium would be a better choice and if budgets are a concern then lead-acid might be a better option as they are cheaper.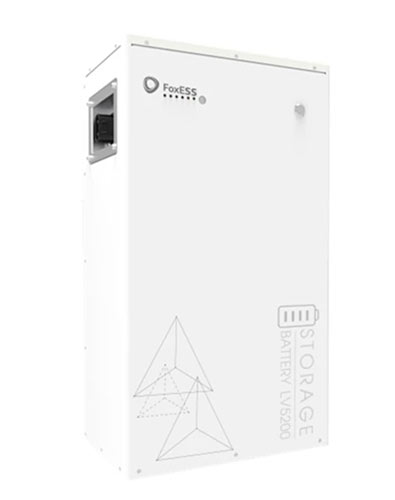 Is Battery Storage Worth it?
As with the above, the answer to whether battery storage is actually worth it really depends on how it will be used.
If you have solar panels and are out of your home for the majority of the day then without any battery storage you might not be making the best of the panels, unless they are feeding straight back into the grid.
By adding battery storage to your solar panels you can then storage the electricity they generate during the day and then use it throughout the evening and night time, reducing the electricity that you have to draw form the grid and thus reducing your electricity bills.
On the flip side to this if you are home for most of the day and work in the evening or overnight then you will be using the electricity generated by the panels during the day and might not necessarily use much of the stored electricity batteries would provide so in this case it may not be worth the expense.
However there is another angle to this with the Feed in Tariff (more about the feed in tariff in our project here) and also the newer Grid Trading provided by Social Energy.
Although the Feed in Tariff is not what it was (now only generating around 5p per unit) and the Grid trading technology is a fairly new innovation, both solutions offer an income for any solar energy that you don't use, meaning none of it goes to waste.
In an ideal world if you can reach the situation where you are generating and storing electricity you can use later in the day and any electricity that you don't use is then sold back to the national grid this is a win win situation, allowing you to reduce your total energy costs and earn a bit too.
Do you Have to have Solar to Have a Battery?
One question that crops up concerning battery storage now and again is that; do you need to have solar panels to have a battery? In short, no you don't.
You may be thinking; If I haven't got solar panels, what the point in having a battery? This is a very valid point and one that would make no sense a few years back, but with the emergence of tariffs such as the Octopus Go tariff it's worth considering.
The Go tariff is currently the best known of the "time-of-use-tariffs" and many more are projected to emerge over the coming years.
The concept of the time-of-use-tariff is similar to that of economy 7 and 10 tariffs, in that they encourage users to use more off-peak energy by making the unit price of electricity during certain times of day (normally between midnight and around 4-5am) much cheaper, in some cases only around 5p per unit.
So with this in mind if you have a battery and charge it from the grid using a time-of-use-tariff then you will be buyer your electricity at a much cheaper rate than normal and then can use it through the following day and if you have an electric car you can also charge it over night at a cheaper rate.
If you are considering getting a battery storage solution in place for either your solar panels or to make use of a time-of-use-tariff then this can certainly be a great solution, but bear in mind how it will be used and balance off the initial cost of the batteries compared to what they could potentially save you over their lifespan and this should give you a good idea of weather it will be of benefit to you.