Dealing with Japanese Knotweed has been a well publicised problem for many years now (although research in 2018 showed that only 1 in 5 of us could correctly identify it). It is an invasive species that grows so vigorously that it can damage pavements, roads and even buildings. It is incredibly difficult to get rid of and there is a whole industry of small firms that deal with and disposing of Japanese Knotweed professionally.
At the end of this project we go into more depth about this fascinating plant including some interesting facts and myths about Japanese Knotweed, but now we are going to jump straight into the import stuff:
What does the law say you have to do with Knotweed?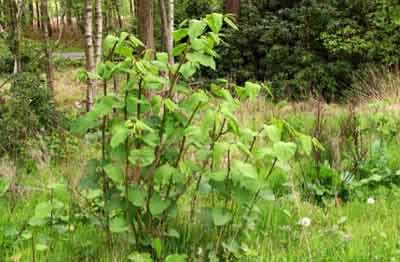 Current Laws About Japanese Knotweed
Japanese Knotweed is an invasive Species (DEFRA provide more information about Invasive Species here). This means that landowners have an obligation to prevent the spread and should actively engage in the eradication of Japanese Knotweed.
The plant itself and any soil that it grows in is classified as controlled waste. Like materials such as Asbestos, Knotweed needs to be disposed of in a specific way; details should be available at your local council waste disposal site or on their website. It is not recommended that you burn it yourself; we explain more about this later.
It is not an offence to have Japanese Knotweed on your land, however it is a criminal offence to plant or cultivate it (Section 14(1) and (2), of the Wildlife and Countryside Act 1981). You do not have a defence if you cannot prove that all reasonable steps were taken to stop it from growing in the wild or you had not planted it.
It is not a notifiable weed so you do not have to report it if you do find it. That said, it is no good to ignore it though – it won't go away if ignored but it will redouble as it is highly invasive!
However it is also an offence to try to hide it's presence if you know it there, say, you are selling your property. It must be declared on the TA6 form when selling as lenders typically want assurances that it will be eradicated before they will lend against homes with Knotweed.
Should the Japanese Knotweed encroach on to a neighbour's property, and you have not demonstrated sufficient steps to stop it, this might be considered a private nuisance under common law.
This could result in an application for a court injunction requiring you to "abate the nuisance", which might include claims for damages to property and any effect on the value of the property.
Recent Legislation affecting Japanese Knotweed
A recent appeal court ruling has set a precedent effectively allowing people to sue if knotweed is not controlled and it causes damage. This is the latest development in how the law is changing with regard to knotweed.
From 2014 an amendment to the Anti-social Behaviour, Crime and Policing Act 2014 referred to Japanese Knotweed and other invasive plants. These are the key points that were affected:
Japanese Knotweed is still not illegal. It is not an offence to have it on your property
You still have the same responsibilities for controlling Japanese Knotweed (and other invasive plants) as before, however if you do not and the plants are deemed to have a "detrimental effect of a persistent or continuing nature on the quality of life of those in the locality" then the this legislation could be used to enforce the control of the plants, ie, you will be made to deal with it at your expense
You can still control the plants yourself, however all the same guidelines for control and disposal of the Japanese Knotweed must be followed (see the section below about Dealing with Knotweed)
Controlling Japanese Knotweed is very difficult and can take up to 5 years to eradicate with herbicides, so if you are a neighbour to land with the weed on it, they will need to be allowed time to address the problem.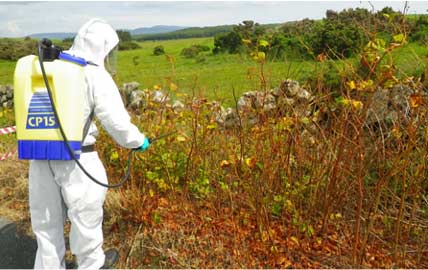 In a landmark ruling in July 2018 the Court of Appeal awarded compensation for damages (total of £30,000) caused by Knotweed spreading from a neighbouring property.
The case, brought against Network Rail by two neighbours who bungalows adjoined land affect by knotweed, sets a precedence for anyone that is affected by a neighbour that fails to make any effort to control the spread of Japanese Knotweed on their property.
The implication is that if you fail to take adequate steps to control knotweed on your land, which encroaches and affects a neighbour, you could be sued.
Can You Treat Japanese Knotweed Yourself?
The short answer to this question is, yes. However things are rarely as simple as that and with knotweed this is also the case.
While you can treat it yourself there are good reasons to use a professional firm. If there is any danger that it might affect a neighbour, you need to sell, or you are looking to borrow against your home you should use a professional firm as they will be able to provide you the paper trail you will need to prove you have acted properly to remove the knotweed.
They will be able to provide the ongoing insurance backed guarantees you need to make sure that the problem cannot come back to haunt you (even after you might have sold up and moved on).
The professionals will also have access to stronger chemicals than you are likely to be able to use so will be able to do the job quicker.
Given that it can take 3-5+ years to get rid of Japanese Knotweed, reducing this time could be an important factor, say if you are waiting to sell.
You can find a suitable professional in your area here.
Dealing with Japanese Knotweed – How to Control, Kill or Remove it
The options for dealing with Japanese Knotweed are relatively limited. If you do find it on your property you do not have to control it unless it is likely to grow onto someone else's property, when you are at risk of being prosecuted or given a community protection notice for causing a nuisance.
That said, it is a good idea to nip it in the bud early if you can. We suggest that you should attempt to stop it spreading if you find it; the problem will only become greater if you do not act.
Ultimately, you will need to either kill or remove it. There are good reasons not to remove it, which we cover further below, so typically it is treated with chemical weed killers to kill it.
There are clear guidelines available produced by the Environment Agency which outlines what must be done to stop the spread of knotweed that can be found here.
Controlling Knotweed
Japanese Knotweed will grow and spread over time, therefore in does need to be managed if it is present on your land.
It is advised that you put up signs so that people can see where the plants are and access is controlled to the area so that the plant is not inadvertently spread to other areas.
On a development site, Japanese Knotweed should be fenced with a 7 meter fence. Access to the area where the Japanese Knotweed grows should be restricted to people that are there to and are trained to deal with the infestation.
All vehicles in the area should be pressure washed before leaving the site, and you should not use vehicles with tracks.

Don't cut or strim Japanese Knotweed. If you do cut it, you must disposed of all the parts of the plant and you must also follow the guidelines stated here.
Don't try and compost Japanese Knotweed as it will propagate in the compost and you will only spread it further as it does not die in the composting process.
Cutting it will weaken it, but not kill it; the rhizomes (it's root like structures) will continue to live underground and grow back later.
You need to qualify for a special exemption as a business if you are to burn Japanese Knotweed, or any other invasive plant, however you can burn it privately as an individual assuming you have checked with the local council that it is allowed.
Even so, burning will often not kill it leaving you with another knotweed thicket growing in your bonfire patch!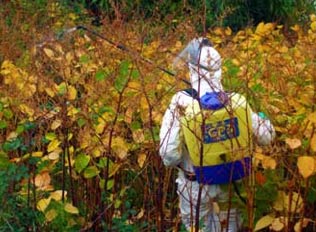 Removing Japanese Knotweed – Transporting Knotweed for Disposal
As we have alluded to earlier, digging up and transporting knotweed is not typically a great idea. It can greatly increase the chance of spreading it as it can grow from almost any part of the plant that you could inadvertently drop.
A company needs to use a registered waste carrier to transport the waste and whether you do it or a professional does, the waste needs to be enclosed inside a vehicle or in another way to ensure that it cannot escape.
The soil that is dug up with the plant will also be considered as contaminated waste and will need to be disposed of in the same way.
Before transporting the knotweed you need to confirm that the waste disposal site you are intending to take it to is licensed to handle it, and that they will be ready for you; they might need to make preparations to receive it to ensure that it is kept and handled separately to other waste.
Burying Japanese Knotweed
Burying Knotweed is not usually the most effective method of getting rid of it as it is incredibly resilient.
It normally grows in Japan where it can survive being covered with rock and ash thrown up by volcanoes.
If you are going to move it and bury it, see the information above about moving it. The site you move it to must be permitted to have knotweed buried on it.
To bury it in situ, where it is currently growing, you have to cover it with a weed membrane which will not allow it to grow through and then bury it in at least 5m (16ft) of soil.
If you cannot bury it 5 metres deep then you are allowed to completely wrap the whole knotweed plant and associated soil in the weed membrane and then bury it only 2 m (6.5 ft) deep.
It should not be buried with any other type of waste.
Burning Japanese Knotweed
Businesses that burn knotweed will need the right permits and to notify the local council and the Environment Agency before they can burn Knotweed.
As a private individual you should check with the council if it is allowed.
The biggest problem with burning is that part of the Japanese Knotweed plants, particularly the rhizome can survive to grow again. If this happens you will have to dispose of these parts and any soil, with all the associated problems described above.
If you can allow the plant to dry out as much as possible before burning then you will have a much better chance of burning it all.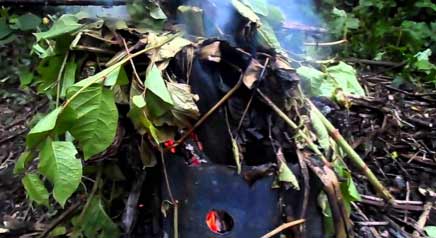 Chemical Controls – Spraying Japanese Knotweed with Weed Killer
Spraying is not quick, taking from 3-5 years in most cases to kill the plant but it is probably the least disruptive technique to get rid of Japanese Knotweed for good.
Always follow the safety advice when using herbicides (you can find information on the HSE website here, and the chemical you use will come with instructions).
There are specific rules to follow for companies that spay Japanese Knotweed, however if you are spraying yourself you only need permission from Natural England if you are in a protected site, like a Area of Special Scientific Interest.
If you are spraying near water, then permission will be needed from the Environment Agency – you can get more information here.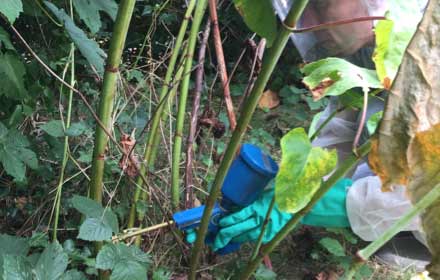 Use the strongest formulation of Glyphosate weed killer you can get your hands on. When you spray the plants they will dry back, and then the re-growth will probably have smaller leaves and be slightly stunted; you must spray this as the plant is not dead. You have to keep going until it dies.
Surprisingly, despite the fearsome reputation there had not been a rigorous academic study carried out about how to kill Japanese Knotweed most effectively until 2016.
This study by Professor Dan Eastwood and Dr Dan Jones from the University of Swansea, advocates a 4 stage treatment process spraying the plant at points in its annual life cycle when it is going to be most venerable to the weed killer.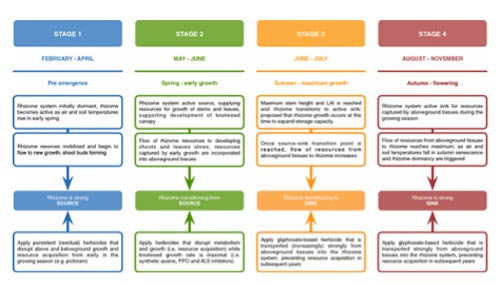 Taking this approach should reduce the number of seasons that are needed in order to get rid of your knotweed. The key thing is that you need to continue your spraying regime until the plant does not re-grow.
Japanese Knotweed and Mortgages
One of the biggest issues with Japanese Knotweed is that if you have it near your home it can prevent you from being able to get a mortgage.
Exact requirements vary between lenders, but if knotweed is present then you will need to have a management plan for the treatment of the weed at the very least, ideally back by an insurance backed guarantee.
In the worst case they might refuse to lend until the problem has been eliminated.
If you think that you have or might have Japanese Knotweed, then the first step is to have a survey to confirm this.
The company that completes the survey will be able to offer guidance on the treatment as part of the survey.
The closer the Japanese Knotweed is to the house the bigger the problem; if it is within 7 m (23 ft) then action will be required before even considering lending.
If the plant is within this distance from buildings which are not habitable such as sheds and out buildings, then they might be more lenient.
Remember that it does not have to be on your property – it is the proximity to your home that matters.
Before lending, the mortgage provider will probably want to have a fully funded solution in place, ie, you will have to pay up front.
As a buyer, you'll want to get this from the seller anyway.
How Destructive is Japanese Knotweed?
It has a near mythical reputation for being able to destroy buildings within a 7 m radius. It can live nearly anywhere and is very difficult to kill. It will spread and almost any part of the plant will grow into a new one if allowed to fall into soil.
It was brought to Europe in 1850 and it was a immediate hit with Victorian gardeners. They planted it in gardens and parks all over the country, and despite it's invasive traits, first identified at the end of the 19th century, it was not until the 1990's that it stopped being sold in nurseries.
In the 2000's, mortgage lenders became aware of the potential risks and developed criteria for control prior to agreeing lending.
This plant grows on the slopes of volcanoes in Japan and therefore has a tough environment to try and survive in. It can be covered and has to survive and re-grow through rock, ash and even lava.
Much of this ability is due to the way the plant grows; it has a root type feature called a rhizome which acts a bit like a tuber (such as a potato) and stores food so that the plant can survive long dormant periods.
The rhizomes can be cut up and the parts will still grow into health plants.
There is no doubt that it is a very effective colonizer and is highly invasive. It crowds out other species dominating any area it is allowed to grow unchecked. But is all this hype true?!
A study by the University of Leeds and Aecom published in July 2018 has suggested that it is not quite as damaging as it's reputation would have us believe.
The evidence suggests that Japanese Knotweed roots rarely extend more than 13 ft and are typically found at about 8 ft, well short of the reputed 23 ft.
They also suggest that it is not as nearly destructive as we believe.
While this is interesting, there is no doubt that it is a highly damaging invasive species in the wild, and until further studies confirm this it is very unlikely that lenders will change their approach.
We no longer need to panic when we see the dreaded Japanese Knotweed, it is not as damaging as it's mythical reputation leads us to believe.
However the law has not changed, and if anything has tightened even more, so you should take steps to control Japanese Knotweed should you be unlucky enough to find some on your property.