Why Sow a Lawn From Seed?
If you are thinking why sow a lawn from seed rather than lay a turf lawn then the answer is usually cost. It is much cheaper to sow lawn seed than to buy and lay turf. It does take longer for grass seed to form a mature lawn, but if you want a large lawn then seeding a large area of ground will be significantly cheaper.
Grass Seed and When to Grow a Lawn
One of the most common questions we get when it comes to grass seed advice is about when to sow grass seed for the best results.
One of the great things about living in the UK is we have pretty good conditions for growing grass, we have long light days in the summer relatively mild weather throughout the year and a regular supply of rainwater to keep the grass seed moist after it germinates. This is important to avoid grass seedlings getting scorched by the sun.
So if you are asking search engines "grass seed when to sow" you need to think about where you are in the country to get the best results, but in fact lawn seed UK wide will germinate and survive during most seasons other than winter. If you live in Cornwall you might get away with an earlier or later sowing than if you live in Falkirk.
For the best, quickest, healthiest results with grass seeds, when to grow them is one of the most important considerations. Optimum grass seed germination is June, July and August, grass seed sown in autumn is more likely to thrive than a lawn sown in spring.
If you haven't managed to sow grass seed before October then it is best to wait until April the following year.
Once the soil cools down, the light levels reduce and the amount of rain increases the seed can just lay dormant and rot before it has a chance to germinate.
Depending on your circumstances, the easiest time to sow a lawn may be autumn because the soil is still warm from the summer (relatively speaking in the UK of course), the soil is more likely to be moist, and the sun is less fierce which can easily scorch grass seedlings if you forget to water the lawn.
If you spend summer holidays away from home you will need to consider what will happen to a newly seeded lawn while you are away.
Types of Grass Seed and UK Specific Advice on Each
One benefit of sowing a lawn rather than laying turf is that you can more easily match the characteristics of the grass to the growing condition of your garden and the use the lawn is going to receive.
Finer grasses are used in ornamental lawns which tend to include a mix of low-growing, fine-leaved slender red fescue (Festuca rubra) and bentgrass (Agrostis stolonifera). This is perfect for a lawn you can sit and look at, or for occasional use, but might not stand up to boisterous dogs and children playing on it.
If you have young children you might need a hardwearing lawn, more like a football pitch than a surface suitable for lawn bowls. Hardwearing lawns are usually composed of a mix of perennial ryegrass (Lolium perenne) and strong red fescue (Festuca rubra).
You will also find lawn seed mix for shade, so if you really want to grow a lawn in a shaded area then choose a shade tolerant variety.
Drought tolerant lawns can be created by including clover or microclover into the mix of grass seed, but his may not suit lawn purists who do not like to see a lawn "contaminated" with other species. However it is worth bearing in mind that there has been some interesting research into developing grass free lawns which are more drought tolerant, have greater eco diversity and it could be argued have greater year-round interest than grass lawns. Grass free lawns also need much less mowing than traditional lawns.
Most seed manufacturers will state the best site and use for the grass seeds they sell because they want you to be happy with your new lawn, and to get the lawn you want for your specific needs, so study the packaging before you buy.
Fast Growing Grass Seed for a "Quick Lawn"
Advances in agriculture have led to seed suppliers developing fast growing grass seeds that will quickly cover bare ground and become a thick lawn in a season.
Lawn seed can vary in germination time, and factors such as soil temperature, moisture levels and soil type can all have an effect, however if you want a quick lawn then you will need a variety that naturally grows quickly as well as the optimum growing conditions for grass seed.
Grass seed can take from 5 to 30 days to grow depending on the variety. Check the packaging for details of germination time, find one that promises fast germination and gives a the number of days you can expect to notice seedlings emerging, and be prepared to pay a small premium for the best lawn seed.
If even the fastest acting lawn seed isn't quick enough for you then you might consider laying lawn turf instead, and we have a project called Laying Turf (of course we do) which you might like to read here.
Turf lawns are definitely a quick fix for you garden and give the most instant results, other than laying artificial turf which we can also help with in this project, called How to Lay Artificial Turf (we think of everything at DIY Doctor).
Preparing the Ground for Grass Seed
Grass seed needs a good start in life to flourish. In order to get the best start for your lawn you need to prepare the ground for grass seed by clearing it of plants that might compete for nutrients, making sure it is well balanced with the correct nutrients for lawn seed to grow and free of big stones, roots and other obstructions which will affect the surface fo the finished lawn.
If your ground already has scruffy grass and other unwanted plants growing in it, you need to remove them.
If there are any plants you want to keep simply dig them out and resite them within the garden.
To get rid of unwanted plants you can achieve this by digging out and composting the unwanted plants, which is quite hard work if done by hand but you could use machinery to do this for you.
You can hire a digger or rotavator for large areas which need cultivating.
Alternatively you can cover the area with sheets of black plastic to exclude the light and kill the existing weeds, which does require planning and patience, or you can apply a weedkiller to kill off all the unwanted plants. This will also reduce the number of weeds that are likely to grow in your new lawn.
The weedkiller Glyphosate is a systemic weedkiller that will effectively kill anything that is in the ground, but while it is recommended by the industry, there are concerns about its impact both on humans and the environment so try and use a natural alternative if you can.
Nutrients for a Healthy Lawn
Adding nutrients to the soil for grass to grow more readily is a sure way to give your grass seed the best start in life. Nutrients for a healthy lawn are slightly different to nutrients required for healthy flowers or vegetables.
Before you sow a lawn take a soil sample and either test it yourself using a DIY soil testing kit, or, if you want to be more precise, send it off for analysis to see exactly what type of soil you have.
The most important information for having a healthy lawn is to understand the acidity and nutrient levels. When you are testing your soil you want to know the PH value, or acidity, of the soil plus the levels of Nitrogen (N), Phosphorus (P) and Potassium (K) in your soil.
The best PH level is 6-7 for grass. For the other macronutrients mentioned above, the optimum level of Nitrogen ppm level (parts per million the concentration of the element), is in the 20's. This should be around 70-100 pounds per acre.
For Phosphorus ppm should be between 40 and 100. For Potassium levels above 250 is best.
These figures will be highlighted in your soil testing kit, and you can then choose fertilisers which are higher in one or other of the nutrients to help boost grass growth by balancing the elements in the soil.
Once the test results are back, buy the improvements you will need. These might include:
Adding humus and other organic matter to heavy clay, sandy or nutrient poor soil
Adding a fertiliser – this may be a good idea even if your soil's nutrients are adequate as is
Adding lime to soil that's acidic (use only dolomitic or ground limestone)
Adding sandy loam top soil to soil that's mostly clay
Adding sand to a heavy clay soil (use only river sand – not builder's or coastal sand)
Adding a loam top soil to soil that's very sandy or to soil that's less than 4 inches deep
Lawn Seed Calculator
Lawn seed will spread once established so you do not need to be clinically accurate with calculating how much seed you need for your lawn, but for ease we have a lawn seed calculator below:
| | | |
| --- | --- | --- |
| Lawn conditions for grass seed | From | To |
| 1 square meter of bare ground | 30g | 40g |
| 1 square meter of bare ground with existing weed seeds to "out-compete" | 38g | 40g |
| 1 square meter of patchy existing lawn  | 20g | 30g |
Lawn Seed Spreader Guide
For best results you need a fairly even application of grass seeds. See the lawn seed calculator above, and aim to apply around 30-40g of seed per square meter of your lawn area. The easiest way to do this is measure the areas you need to cover and to weigh the right amount of lawn seed into a cup so you get the dosage right.
Shake the cup of seeds gently from side to side as you walk backwards over the prepared ground. You can do this in multiple directions if you like to ensure evenness. If you find it hard to sow thinly and evenly, you can add an equal amount of sand or fine grit to the seed in the cup.
If you have a large area to cover you can mark out the ground by pushing garden stakes at 1 metre intervals all the way around the border of your new lawn area and tying garden string between them in a "chessboard" pattern, touching the ground.
This will give you a series of 1 metre squares to sow your grass seed into, ensuring you get the correct amount of grass seed evenly spaced over your new lawn area. You can also buy a lawn seed spreader which will distribute seed at the correct level for you. You just fill it with seed and push it along the ground.
A Guide to How to Seed a Lawn
You can sow grass seed to start a lawn totally from scratch, it is also an easy way to fill a damaged area of lawn or where grass has grown sparse or is thin after you have had to remove areas of thatch or moss in a lawn. You can also add shade tolerant grass seeds to areas which have become more shaded over time leading to patchy growth, or to repair a patchy lawn damaged by heavy wear or waterlogging.
No matter how large or small the area of ground that you're seeding is, the method is the same. Use our handy step by step guide to how to seed a lawn to help you get great results in your garden.
For Seeding a Lawn, You Will Need
Grass seed – around 30g per square meter of your lawn to suit the conditions of your new lawn
Garden canes and string to mark out the area
A rake to prepare the ground for the grass seed
A turf iron, or petrol powered turf cutter
A good lawn weedkiller if you are intending to use chemical processes
Any soil improvements you might want (see list in "Nutrients for a healthy lawn" above)
A rotavator – you can buy or hire these
A garden hand fork
A lightweight roller, like a lawnmower's roller or a water filled roller (half-fill it)
A garden hose with a fine spray hose attachment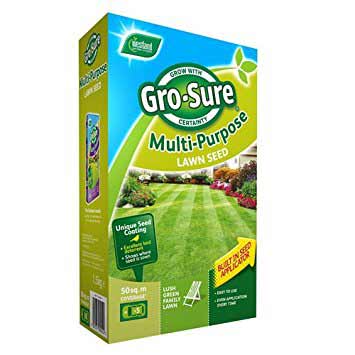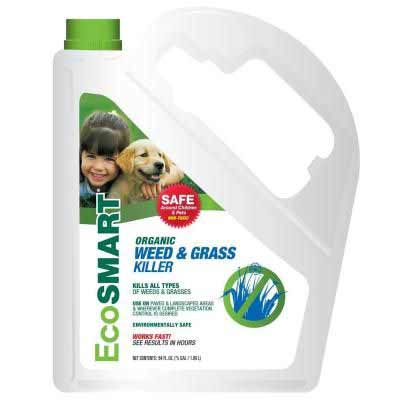 Seeding a Lawn
Step 1: Getting the Right Nutrients in the Soil for a new Lawn
For the best results when sowing grass seed you should make sure your soil has the right nutrients for a lawn, see "Nutrients for a healthy lawn" above, so take a soil sample before you do anything else.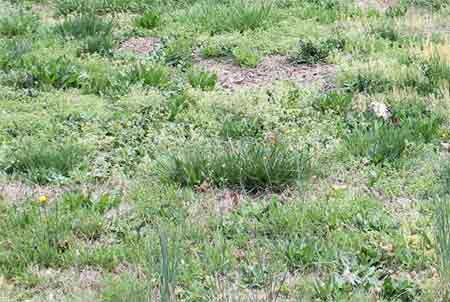 Step 2: Removing Weeds From a Lawn Area
If your ground already has plants growing in it, you need to remove them. See "Preparing the ground for grass seed", above. If your ground is totally free of plants, skip to Step 3.
Either dig over the ground, or if using weedkiller mix and apply according to the manufacturer's instructions and leave it to work.
Once your chosen method of weedkiller has had time to work (this is usually around 2 weeks for chemical weedkiller, but will vary with the weedkiller you use) cut the turf layer out from the ground using a turf iron or a petrol powered turf cutter (these can be hired).
Use the iron to cut squares of turf, and then lift the squares out and set them aside. You can put the old turf on your compost heap if you have one.
Step 3: Preparing the Ground for a new Lawn
Start from this step if your ground is bare. You will need to rotavate or double dig your soil – this can be done using a rotavator.
Make sure your ground is dry enough to rotavate, as if it's not it could smear on the rotavator blades and stop it working – the soil should be crumbly.
Rotavate the soil to a depth of 15-20cms. Do this from both angles to thoroughly cover the area (up and down and from side to side).
You may need to break up large clods of earth with a fork, and remove large stones and roots that get churned up. How thoroughly you do this really depends on how fussy you are about the lawn's finished appearance. Bear in mind though that it is easier to get it right at this stage than to disturb your new lawn later.
Step 4: Improving the Soil Before you Sow Grass Seed
Now's the time to add your soil improvements. This includes lime, sand or humus, and the addition of extra soil. Add the improvements to your soil as evenly as possible, in line with the advice on the packaging, and rotavate the area again to evenly distribute the material.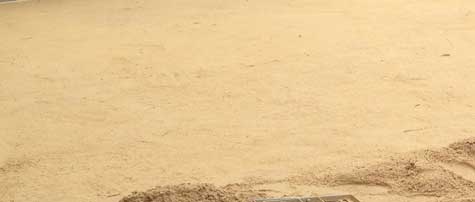 Step 5: Suppressing Weeds in a new Lawn
At this stage, if you really want to crack down on the weed seeds that will have been unearthed by the tilling (and you have time), you can spray the lawn area with another round of weedkiller and wait for that to take hold.
Alternatively for a more environmentally friendly solution you can sow more grass seed than you usually would to try and get it to outcompete the weed seeds.
Sowing grass seeds at a density of 40g per square meter will make it harder for weeds to compete for nutrients, light and moisture. This will still give sufficient growing area for the grass seedlings to survive.
Step 6: Heeling the ground for a new lawn
We're almost there – you're now ready to sow your seeds! Your ground needs to be moderately dry for this – we're looking for a moist, crumbly texture, not too dry and not wet. You can add your fertiliser now if you're planning on adding some.
The first thing you need to do is take your rake and gently go over the ground's surface to give a crumbly finish.
Next you need to do what is called "heeling". This involves you (and probably a friend) doing your best shuffly moonwalk over the ground. Start on one side, and walk backwards in half steps, shuffling as you go.
Do this in strips, as you would if mowing your lawn. This compacts the ground just enough to make it firm– now's the time to check your lawn area is really flat if you want it this way, and adjusting accordingly. Then, rake the ground over as you did before.
You can then "heel" it at the opposite angle if you're being fussy (at right angles to your last pass over the ground). You should finish by raking the ground over as you did before.
Step 7: Sowing grass seeds
Calculate the amount of seed you need and, as evenly as you can, apply around 30-40g of seed per square meter of your lawn area. See "Lawn seed spreader guide" above.
This may seem obvious but make sure you buy new seed or that the seed you are using is still within the manufacturers "use before" date. You do not want to sow grass seed that is not going to germinate, is poor quality or carries disease, so make sure you are giving yrou lawn the best start by using fresh and good quality lawn seed.
Lightly rake over the seeded ground and then use a lightweight roller to roll over the ground. Lightly water the lawn area with a fine spray on a garden hose to thoroughly water the seed in.
See "Watering your new lawn" below. It is a good idea to lay down some prickly twigs or other methods to keep birds away from your grass seed until in starts to sprout.
Watering Your new Lawn
It is important to provide enough water to allow the grass seed to germinate without washing it away.
You will need to lightly water the lawn area with a garden hose with a fine spray attachment, twice a day for the next two weeks after sowing, and around once a day for the fortnight after that.
Water twice a week in month two and once a week in the third month, though you should increase watering if the lawn showing signs of drying out, as it will be vulnerable to this.
Grass seedlings can soon dry out and scorch in hot weather, watering in full sun can also cause the young seedlings to burn so it is best to water early in the morning and in the evening.
Here is a handy watering guide for your new lawn but make sure you adjust it to suit the weather conditions in your area after you sow your lawn.
| | | | | |
| --- | --- | --- | --- | --- |
| Watering Guide | Daily | Daily | Every 3 days | Once a week |
| Week 1 | Before 10am | After 6pm |   |   |
| Week 2 | Before 10am | After 6pm |   |   |
| Week 3 |   | After 6pm |   |   |
| Week 4 |   | After 6pm |   |   |
| Week 5 |   |   | After 6pm |   |
| Week 6 |   |   | After 6pm |   |
| Week 7 |   |   | After 6pm |   |
| Week 8 |   |   | After 6pm |   |
| Week 9 |   |   |   | After 6pm |
| Week 10 |   |   |   | After 6pm |
| Week 11 |   |   |   | After 6pm |
| Week12 |   |   |   | After 6pm |
Mowing Your new Lawn for the First Time
Many people want to know how soon to mow a new lawn, after sowing their new lawn from seed.
It is important to start mowing your lawn at the right time because cutting the lawn encourages the even growth of the new grass shoots by taking off the tops of the fastest growing grass shoots giving light and nutrients to the shoots from the slower germinating seeds.
However it is important not to cut it too soon or you can disturb the roots.
Do not to cut the new lawn too short on the first cuts, the new grass will be delicate and the roots will not be well-established so to cause minimum stress to the grass, and to make sure it doesn't dry out, leave it about 3-4cm long when you mow.
You should start to see grass shoots within around 2 weeks – you can mow them when they're above 5cm. When you're mowing the new grass, mow at the highest setting so you only take off a maximum of 2cm, and mow the grass slowly, taking wide turns to be kind to it.
The roots will not be fully established at this early stage in the new lawn, so don't risk tugging at the plants.
You should also be gentle with manual weed removal, and not all weed killers are suitable for new lawns, so check on the packaging if you feel you need to use weedkiller.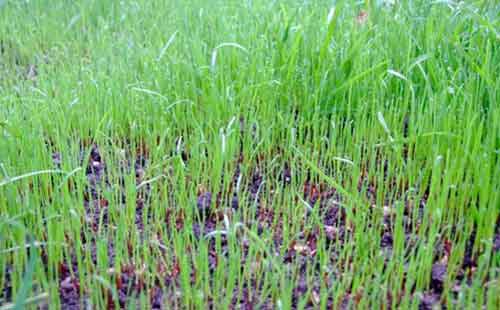 Mowing Your Lawn – Ongoing Care of a new Lawn
Grass soon establishes itself in a new lawn, once the roots have formed a dense mat in the soil it will quickly thrive, especially if you have got the condition and nutrition of your soil right for your new lawn, see those sections above.
You can start mowing your new lawn as normal when cutting it for the fourth time. This should be around week 10-14 depending on how quickly your grass is growing.
It is best to have a lawn mower that removes the grass clippings, this will reduce the need for raking and using a lawn scarifiyer, something you should try to avoid in the first season of growth to avoid damaging the root system.
When can I Use the Lawn?
You can start to use lawns with faster growing grasses within 8 weeks, but generally you should wait around 10 weeks. When you start to use it, only use it lightly for the first couple of months. We hope you enjoy your new lawn!