Building Regulations: Approved Document L - Conservation of fuel and power
L1A Conservation of fuel and power (New dwellings)
L1B Conservation of fuel and power (Existing dwellings)
L2A Conservation of fuel and power (New buildings other than dwellings)
L2B Conservation of fuel and power (Existing buildings other than dwellings)
It is considered by the Government that as much energy as possible must be conserved. To this end the regulations produce 4 booklets detailing how fuel and heat energy should be saved in both domestic and commercial situations.

Click on the book in the image below for an easy summary of the building regulations. This book is a must for those involved with any type of structural alteration. Even removing a wall in your home can require building regulation approval and with all home information available in Home Information Packs selling your home can be difficult if you do not have legal approval, where necessary, for work done on your house.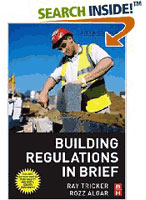 Please be sure to check on the Government Planning Portal website for updates to any Building Regulations before commencing work.