The purpose of Approved Document N is to deal with glazing and the safety aspects involved when it comes to impact, opening and cleaning.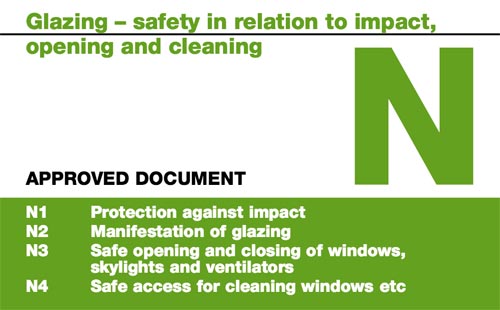 What this essentially means is that where windows and other glazed surfaces are present, they should be safe for any passing pedestrians or inhabitants of a dwelling in so much as if breakages occur then the resulting glass should be contained as much as possible, any risk of impact with a glazed surface should be minimised as much as it can be, windows and skylights should open safely and the glass itself should be possible to be cleaned as easily and safely as it can.
Each of the above points is broken down into four different sections as follows:
N1: Any glazing within a building that a user could come into contact with should:

If broken, break in a way to minimise and prevent injury as much as possible
On impact, resist breakage
Be protected from the possibility of impact

N2: Due to the transparent nature of glass it's presence should be made as obvious as possible to anyone moving around within the structure
N3: Any windows, skylights or ventilation points that can be opened should be made in such a way that this can be done as safely as possible
N4: Any window, skylight or transparent wall should be made accessible so that they can be safely cleaned
N1 – Impact Protection
The first point to deal with here is the "Critical Location". This refers to an area where the risk of injury is at it's greatest. When dealing with doors this is recognised as being glass panels and glass side panels in doors and glass that features at lower levels within walls and partitions.
When concerned with doors, the risk areas are identified as those between floor and shoulder height and those around the handles and push plates.
In the unfortunate event of breakage in this scenario the hands, wrists and arms are the most vulnerable followed closely by the body area as if a person puts their hand/arm through a glass area this my cause them to loose balance resulting in their whole body falling through, with many more injuries involved.
Where walls and partitions are involved the risks tend to be at a lower level. At these levels, children are at the most risk
When putting "best practice" into place and ensuring that in the event of breakage injury risk is as small as possible, the best solutions are to ensure that the results of a breakage leave only glass particles that are harmless or sharp edges are masked (conforming to BS 6206:1981), to make sure that any glass panels themselves are resistant to impact and will not break or to prevent contact altogether by cordoning off any exposed glass areas.
N2 – Glazing Manifestation
Section N2 of this approved document is concerned with identifying the presence of glazing in situations where it may not be obvious that it is present. Whereas section N1 above deals with what happens in the event of a collision, this section aims to avoid the possibility of anyone colliding
For example it is quite common place these days to see large glass screens and doors (such as bi-fold doors, patio doors etc…) in both domestic and industrial settings.
Due to the nature and style of some of these items, when positioned in situ, it is not always obvious that they are actually there which can mean if someone is rushing about and not necessarily concentrating on what's around them they can easily walk straight into a glass door, wall or partition.
To these ends it is vitally important that any transparent glass doors, walls or partitions are made apparent. Most manufacturers are aware of these issues and in light of this, construct their products to conform with the regulations. In respect to this the following types of door height glass do not need to be identified or manifested:
Glass doors less than 400mm in width between frames
Single glass pane door with glass in centre surrounded by a large and substantial frame
Glass pane door with a reasonable sized rail running horizontally through the centre that's between 600mm and 1500mm from ground height
Large glass double doors with a thin frame or no frame that has a substantial sized handle or push plate situated on each pane
The above is mainly geared towards doors and entrance points but you also have to be aware that large and transparent panes that form walls or partitions need to be indicated in a suitable manner. This can be achieved by adding pattern markings, solid or broken lines or company logos at a suitable height to indicate their presence.
N3 – Opening and Closing Safely
This section of the document deals with windows, ventilation points and skylights – in essence, items that can be opened. The regulations state that if this is the case then these items must open and have the ability to be adjusted easily and safely. With this in mind any means of control for these should conform to the following:
If there are no obstructions, any control unit should be no more than 1.9m above ground level
Where obstructions are present controls should be lower down and no more than 1.7m above ground level
Where obstructions are present and that obstruction is 600mm deep then controls should be lower again and be no more than 900mm high
Where a control cannot be positioned in a safe and accessible position then either manual or electric remote control should be put in place
As we are dealing with windows here certain elements of Approved Document K also come into play. It is stated that where there is a risk of falling through or out of a window that is above ground level then and opening windows should be restricted from fully opening.
N4 – Safe Cleaning
We all know that windows get dirty and with this in mind it also has to be ensured that any window can be safely cleaned. The regulations state that both sides of a pane of glass should be able to be cleaned safely where there is a risk of falling more than 2 metres.
This section of the regulations can be satisfied in the following ways:
Windows can be designed and constructed so that they open inwards and can be cleaned from the inside of the building. If this is the case then it must be ensured that the window can be fixed in position while it is in its reversed state
Where ladders are to be used to access the outside of a window a solid surface must be provided for the ladder to sit on. Ladders under 6 metres in length can use normal soil but for ladders over 6 metres (up to 9 metres) need to be fixed or tied (normally using eye bolts) at the top
Provision of a walkway at least 400mm wide and with safety barriers at minimum of 1100mm high or provision of an anchoring point for a sliding safety harness
The use of access equipment such as travelling cradle or ladder with fixing points for safety harnesses
Anchoring points for abseiling ropes and harnesses or recommended safety harnesses
If it is not possible to provide any of the above then scaffold towers can be used but again these need to be situated on stable ground and confirmed safe to use
As with anything relating to the building regulations, Approved Document N is no exception – you must ensure that you are referring to the most correct and up-to-date document!
With this in mind the above notes should only be used as a guide and you should always refer to the downloadable Approved Document N available from the Planning Portal website on the link at the top of this page for the most relevant building control guidelines.