This document in the building regulations series, similar to Approved Document K, is concerned with access to and around buildings. Unlike document K, Approved Document M has been produced to ensure that anyone, able-bodied, non-able-bodied, old, young etc…. can easily access a building and make use of the facilities within it, whether it is a dwelling or a place of work.
The basis of the document is to ensure that, for example, a person in a wheel chair can arrive at the building by car (either parking on the plot or outside it), easily exit the car and then access the building, in most cases, using a ramp that has been constructed within a certain pitch or elevation to ensure that they can travel up it with ease.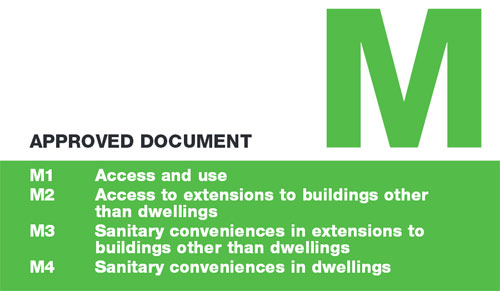 Accessing and Using a Building and its Facilities
The first section of the document deals with ensuring that anyone can get into a building and that essential facilities are available to them if needed. The following sections look at extensions and non-dwelling buildings and the supply of bathrooms and sanitary conveniences. The guidelines are broken into four sections as follows:
M1: It should be ensured that access to the building and its use is provided to a reasonable level
M2: When an extension is added to a non-dwelling building you should ensure that independent access is available
M3: Where a toilet or sanitary conveniences are to be provided in an extension to a non-dwelling property it should be ensured that they are accessible and can be used
M4: This point deals with toilets and bathrooms or sanitary conveniences and states that sanitary conveniences should be provided within the entrance storey (the area that contains the main entrance) where habitable rooms are present or the principal storey if no habitable rooms are available in the entrance storey. The principal storey is the area nearest the entrance storey with a habitable room
The above guidelines will apply in pretty much all cases but there are a few exceptions where they do not apply:
An alteration or extension to a dwelling
Any maintenance areas for inspecting the building itself or any fittings
It should also be noted that M2 does not apply when access to the extended area of the building can be accessed through the existing section and also M3 will not apply if conveniences are available in other parts of the building that can be easily accessed.
Accessing Buildings from Driveways and Parking
This is pretty much the starting point for anyone entering a building whether it's a dwelling or other and in most cases a person will start their journey into the property from either the kerb-side (property boundary) or from a parking space on the plot itself.
With this in mind it has to be ensured that anyone can get from their landing destination to the property easily. We will firstly deal with parking spaces on the property.
Whether a person parks on the property or passes across the parking area it must be ensured that they can do so, so access has to be available at all times and enough space should be allowed to exit a parked car (disabled parking bay if applicable) and pass any cars that are parked.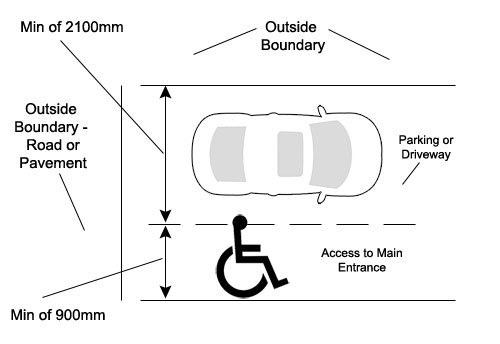 One of the most critical points to note is the surface material that a person will be travelling over. It must be ensured that this surface is even, smooth and firm e.g. smooth concrete or bitumen/asphalt.
The use of loose gravel, shingles, small stones or cobbles would most certainly not be suitable in this situation as they pose a considerable tripping hazard.
Approaching and Entering a Building
When we are referring to this stage in the journey we are looking at the point at which a visitor exits their vehicle (either at the kerb side or from a parking space within the boundary) and then makes their way to the main entrance to the building.
It is stated that this journey should take place via one of the following approaches:
Level Approach
This is, in most cases, always the preferred type of access and it should be as level as possible. Where an incline is unavoidable, it should be 1:20 (one in twenty) or shallower.
In respect to an example, an even and level approach to the main entrance of a building can be obtained over a three metre run where floor levels differ by up to 150mm.
Ramped Approach
This type of approach follows on where the above leaves off in that the gradient approach to a buildings main entrance exceeds 1:20 but does not exceed 1:15.
Where possible, the ramp should run directly to the main entrance in a straight line but if this is not possible then, subject to planning permission and agreement from building control, it can run parallel along the outside of a structures external wall.
Ramps can be a good compromise where level access can be provided but in some situations a user may have trouble dealing with ramps more so than they do with a flight of stairs or other access type.
Due to this there are certain constraints that must be adhered to, to ensure that a user can traverse the ramp, have the opportunity to stop and rest, have something to steady themselves and prevent falling, can realistically travel along it etc…. These considerations should be discussed with and between your architect and your local building control office.
Stepped Approach
In the situation where the gradient to access a buildings main entrance is over 1:15 steps can be used to take the place of a ramp.
When this is the case, any steps should be designed with the following in mind:
Clear width of at least 900mm with no obstructions
Any flights between landings should be no greater than 1.8m
Landing areas at the top, middle (intermediate) and bottom of flights should be at least 900mm in length. NOTE: The bottom landing can form part of a public footpath
All steps should feature suitable profiles to tread nosing's and rises between each steps should all be uniform and between 75mm and 150mm
The going of any steps should be no less than 280mm. For any tapered treads, this should be measured at a point 270mm from the inside of the tread
Where any flight of steps is over three continuous risers there should be a handrail at one side. The handrail itself should be grippable and be situated between 850 and 1000mm above the steps. It should also extend 300mm beyond the top and bottom of the steps
Aside from the above approach types there is also another type – accessing straight from a public highway or pavement. In this case you firstly have to ensure that the floor level of the structure is no more than 150mm above the level of the footpath or public highway and even in this case it is certain that any gradients up to the entrance will be greater than 1:15.
Where this is true the preferable solution is to provide suitable access to a side or rear door entrance whereby the user can then access the building.
If the above is not possible to achieve then a step can be used but you have to ensure that it is no more than 150mm high and that it is sited right at the door sill. In this instance you will also have to provide suitable access to the step.
When the main entrance is accessed via a ramp, you should ensure that a suitable threshold is supplied that allows the user to access the building easily and safely.
When dealing with doors you must also make sure that the opening width is enough for any wheelchair users to access the building and also have enough room to maneuver.
Moving Around Inside a Dwelling and Accessing Fixtures and Fittings
As providing access to a building is of top priority as it has to be ensured that anyone can get to the main entrance, once a person has entered it, their ability to move around inside falls under exactly the same rules.
All corridors and passageways should be wide enough to allow a wheelchair user to easily move around the interior and any obstructions that may be present such as radiators, fire extinguishers, seating etc…. should be sufficiently spaced to allow easy movement.
In terms of widths where obstructions are present and where doors to habitable rooms or toilets exist, the following table should be consulted (Below information conforms to Table 4, Approved Document M):
| | |
| --- | --- |
| Width of Doorway in mm | Width of Passageway in mm |
| Minimum 750mm | 900mm when approached head-on |
| 750mm | 1200mm when approached head-on |
| 775mm | 1050 When approached head-on |
| 800mm | 900mm when approached head-on |
Moving up and Down within a Property
Where stairs are unavoidable in the entrance to a property, it must be ensured that they meet the following requirements:
All flights should be a minimum of 900mm in width
There is a solid handrail that carries over the entire run of flight and also any landings in between flights. Handrails should be on both sides!
Any rises and goings are constructed inline with the guidelines stated in Approved Document K
When it comes to blocks of flats, the obvious choice here is to have a lift to transport people between floors. This is not always possible and in this situation, common stairs are the norm. When designing stairs of this nature, you should design them in a manner to suit ambulant disabled people and those with impaired vision.
Where a lift is present in the building for access to upper floors, it should be constructed in a manner that allows an individual wheelchair user (not accompanied by anyone else) to use it easily and safely. This also goes for any users with sensory disabilities. One obvious point here is ensuring that lift doors give sufficient time for a user to enter before closing.
In respect to lifts, requirements for part M1 will be met if:
Any landing area in front of the lift should be at least 1500mm wide and long
Door openings are at least 800mm wide
The lift car area itself needs to be at least 900mm wide and 1250mm long
All controls are between 900 and 1200mm above floor level and a minimum of 400mm away from the door
Floor level indicators should be adjacent to lift buttons that signify the selected floor
A signaling system is present that provides visual indication that the lift has been called to a given floor and the doors do not start to close before five seconds has been given to allow users to enter
The lift is providing access to more than three floors, audible and visible indication should be present to indicate what floor the lift has reached
In light of this, any stairs present in a structure containing flats will meet requirement M1 if:
All nosing's to steps are highlighted through contrasting brightness
Both landings, top and bottom, should be constructed in accordance to the guidelines in K1
All steps should be uniform in terms of nosing profiles and also rise (should not be more than 170mm)
The going of each step should be uniform and no less than 250mm. Where tapered treads are used, the tread needs to be measured from a point 270mm from the inside of the tread
Switches and Sockets Inside Dwellings
Light switches and sockets are essential within any property as most amenities today require some sort of power e.g. laptop computers, mobile phones, TV, lighting etc…. With this in mind it should be ensured that any switch or socket can be reached easily by anyone.
In respect to this, all switches and sockets should be located between 450 and 1200mm from floor level.
Sanitary and WC Provision within the Entrance Area
When it comes to supplying WC's and sanitary conveniences – the regs state that a WC should be supplied within the entrance way of the structure and within easy access from any habitable rooms, without the need to use stairs to reach it.
If there are no habitable rooms within the entrance area of the dwelling then it is suitable for the WC to be situated in the entrance storey or principle storey.
Additionally, if there is a bathroom located within the entrance area or storey then the regs state that it is fine for the WC to be located here.
When it comes to the WC itself, you will have yo make sure that it conforms to the following points:
The WC door will need to open outwards
It should be positioned so that a wheelchair user can easily access the WC
The width of the door itself will need to conform with Table 4 mentioned above as this will enable wheelchair users to access the area and allow movement
The space within the WC area allows wheelchair users cler access and movement space and any sinks located within the area do not cause an obstruction
When it comes to anything to do with UK Building Regulations, it is imperative that when referencing any points outlined within the regs that you are indeed referring to the correct information. With this in mind, please ensure that you download and refer to the official Approved Document M that can be downloaded from the Planning Portal website on the link at the top of this project page. The above information is meant as a summary only.