Fire doors are a very important safety feature of any home where doors of this type have been designated for use. This could be after a loft conversion has been approved, a new build over 2 floors, or an existing domestic dwelling over 2 floors has been approved for rental as a house of multiple occupancy. The definition of a fire door is a door assembly which has been designed to hold back fire and smoke for a designated period. It is quite simply a door to prevent the spread of fire giving you a chance to get out.
When the regulations demand that a fire door is fitted it used to be that a self closing device be fitted to the door. Legislation which came into effect on 6th April 2007 (AD B1) has removed the requirement for self closing devices except for doors between houses and garages.
They are clearly labled to make it obvious which one to use when specified. An FD30 will hold fire back for 30 minutes, known as having 30 minutes integrity. An FD60 has 60 minutes integrity. FRG30 or 60 means the door has 30 or 60 minute resistance using fire resistant glazing. Fire doors must meet British Standard 476.
All fire resisting doors should be a close fit to the frame with a maximum gap of 5mm. They must be hung on metal hinges (minimum 3 hinges per door) with a melting point of not less than 800 degrees Centigrade. Fire doors must be fitted with an effective self-closing device capable of closing the door tight against the frame and not allowing resistance from any latch or lock.
All fire doors providing 30 minutes or more resistance will be fitted with intumescent seals. These seals expand when hot to seal the gap between door and frame.

It is important to remember that a fire door should be kept shut. However, because of the required closers they are sometimes a real pain when the area is busy or your hands are full. In these situations there is a strong tendancy to prop them open with a nearby fire extinguisher, or a wedge. Obviously this is dangerous, not to mention illegal, but to overcome this problem retainers have now been introduced. These clever devices actually hold the door open until triggered to close, usually by a fire alarm or sensory device attached to an electro magnet. The most recent of these devices is called Dorguard and it is a very simple door retainer. It can be fitted in 5 minutes and "listens" for a fire alarm. When it senses the alarm, it releases the door.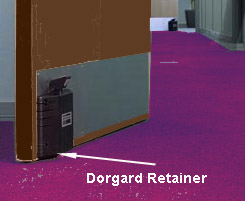 If you are interested in finding out more about fire retardant coverings such as paint then check out our fire retardant paints project for more information.