The word Artex was created by mixing two other words, artistic and texture and in 1935 Artex was launched on the home improvement market it began a phenomenal rise to popularity.
Artex can be used to create patterns on ceilings and walls while hiding imperfections in the surface. Its thickness allows it to be trowelled on, as well as painted and this thickness can be varied to create depth in patterns which can make any surface unique.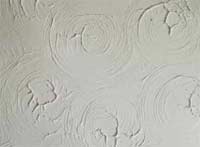 Artex made pre 1970 does carry the risk of containing asbestos and much care should be taken with the removal of this as this type of Artex was still being applied years later. If you have concerns there is a good artex forum on the money saving expert site and you can find out more about disposal of asbestos on the governments website
Artex cannot be used externally but similar methods of disguising poor surface are used outside such as external lime, pebbledash, render, stucco and rough cast.
Architectural mouldings
Also used as a cover-up in some cases, architectural mouldings are used in many areas of the home where one surface meets another and the joint needs to be disguised. Many years ago the trend was to make these mouldings as ornate as possible for use in classical buildings and today a trend is developing to return to this artistic use of plaster and lightweight mouldings.
Fibres are introduced into lightweight plaster to create light but strong mouldings which can be used as covings, picture rails, ceiling roses, architraves and dado rails. In some older properties, decorative ceilings and cornices were formed in plaster by hand in a sculptural sense. Today it is possible to reproduce these by taking rubber moulds or impressions of the original and using the moulds to recreate a lightweight version or to patch up any broken areas.
The use of glass reinforced polyester resin and glass reinforced cement has allowed architectural mouldings to be created outdoors also and many older homes have refurbished.