Whatever the term that you use to describe your architectural mouldings (spelt without the "u" in North America) it can be confusing to know what anyone is actually referring to. Wikipedia defines 'moulding' as "strip of material with various profiles used to cover transitions between surfaces or for decoration".
What is an Architectural Moulding?
We feel this definition is a little narrow and should be expanded to include cornices, picture rails, ceiling roses and possibly even corbels too. Therefore we think that a better definition of architectural mouldings is:
a moulded feature or any feature designed to look as if it has been moulded which is  fixed to a wall or ceiling for decoration, particularly including covering joins between different surfaces, such as the ceiling and wall.
The term moulding is a little misleading these days as the features are no longer moulded in plaster but are more commonly made from materials such as hardened polyurethane. We discuss the relative merits of the types of material in more detail below.
What are the Different Types of Architectural Moulding?
There are a wide range of different types of architectural mounding before you even get into the different styles and sizes. We will cover the main mouldings that you are likely to encounter briefly here. Please note that the same moulding might be called a different name in different parts of the world – we'll give you the British name, and where we know it we'll tell you the other names, particularly what it is called in North America.
Here are the most common types of architectural mouldings you will come across in Britain and Europe:
Coving or Cornice: We understand that these are known as Crown Mouldings in North America. They are a strip that covers the join between the ceiling and the wall. For guidance on fitting coving and cornice see this project

Cornice profile – Image courtesy of Davuka GRP

Picture Rail: This is often not strictly a moulding and this can be a metal rail. Its purpose it to hang pictures from and is common in stately homes. We have included it here because they can be in a moulded style

Picture Rail Moulding used to hang pictures – Image courtesy of abeatutifulmesss.com

Dado Rail: Or Chair Rail. These are mouldings that are fixed at around the height of a chair and would have traditionally stopped chair catching and scuffing the walls

A dado rail – Image courtesy of stuhle.info

Skirting: Or Skirting Boards can be called Base boards or base mouldings in North America
Architrave: This is the strips that cover the join between the door or window frame and the wall. Like the picture rail they are commonly not moulded in design but can be in some cases. Please see this project for information about cutting and fixing architrave

Architrave around a door – Image courtesy of Coving Direct

Ceiling Rose: This is the moulding that is positioned on the ceiling around the light fittings our any other fitting on the ceiling

A ceiling rose around a light fitting – Image courtesy of WM Boyle

Panel Mouldings: These are decorative details that are fixed to the wall often around panelling. There is enormous variation in design, and these are most commonly found in grand stately homes or smart hotels

Panel Moulding used to great effect – Image courtesy of Wainscoting Styles

Corbel: These are originally structural features that stuck out from walls to support elements on top of them, even the roof. They have developed into ornate decorative mouldings that are sometimes used as part of the interior design

Corbel Moulding used to accentuate an interior arch – Image courtesy of Katrina Bucao
As ever this is a simplification and there is a huge range of different mouldings for every situation that you can think of and many you cannot! There are a few points that do need further clarification before we cover the different materials used to make architectural mouldings these days.
The Difference between Coving and Cornice
When you ask the question, "What is the difference between Coving and Cornice?", you will get a lot of different answers, but essentially Cornice is more ornate and decorative than its plainer cousin, Coving.
While cornice has come to mean the more ornate decorative moulding at the top of the wall hiding the join to the ceiling, correctly is it all types and Coving is just one plainer design of Cornice.
Coving is properly a term used to describe a plain C-shaped moulding (in the style we now call Cavetto) which was very popular in the early part of last century. It became so popular that the term came to mean all manner of plainer Cornice.
In a similar way, architrave has come to mean any vertical or horizontal moulding around a door, window or opening. It was originally just the horizontal moulding at the top of an opening as it is derived from the Greek work meaning a lintel or beam.
The Different Sizes of Cornice or Coving Explained
Now that we have explained that coving is just a type of cornice, and how particular that type is depends on how pedantic you are about the term, we can explain how to size your cornice (or coving!).
The size of the cornice or coving is the measurement in a straight line across the front, or visible, side of the profile. There are 3 other key measurements:
The Projection: this is how far the cornice sticks out into the ceiling from the wall
The Drop or Height: This is how far the cornice drops down the wall
Length: this describes how long the section length is and how far along the ceiling-wall join it will cover
We explain in more depth how to measure up your cornice (or coving) before cutting and fixing here.
The Different Types of Material Used to Make Decorative Mouldings
Traditionally all architectural mouldings, as we have alluded to already, would have been made from plaster which made them very heavy and fragile. In short, they are hard to work with, particularly for a DIY enthusiast.
The job can be a lot easier using lightweight polyurethane mouldings and ceiling roses. These mouldings replicate the traditional shapes and patterns and are absolutely ideal when either trying to recreate the atmosphere in a refurbishing project, or creating a luxury feel to a new build.





These are the most common materials that have been used to make cornices or coving and other architectural mouldings:
Plaster – As described, this is the traditional material however it is heavy and fragile and therefore a very expensive option in this day and age. It can be very messy to apply wet
Paper Covered Gypsum – This is how the original Coving was made. It is lighter and a little less fragile, but has to be painted
Wood – can be cut to create plain cornices, or coving, and is easy to work and fix being light and robust. The scope and intricacy of designs is limited
Expanded Polystyrene – this is very cheap and light although very easy to damage
Hardened Polyurethane – This is the most common alternative to plaster as it is much cheaper, lighter and easier to fix, while offering a huge range of styles and designs
Traditional Plaster versus Polyurethane for Architectural Mouldings
Sometimes you have to use a plaster moulding. For example, if you have a listed build there might be no way around it, but if there is Polyurethane is a very viable alternative.
With Polyurethane, installing coving and cornices has never been easier. The mitres are the same and, as always, we strongly recommend you buy an extra length of your material to practice on. All trades take a long while to learn, coving is no exception. It is much cheaper to practice on an extra length than it is to throw the "finished article" away!
Polyurethane mouldings have been introduced specifically to make life easier, more varied and less expensive. The cost of a plaster moulding to recreate an ornate cornice or ceiling rose is so prohibitive that, apart from heritage run homes and palaces, we were in danger of losing the patterns altogether.
Here are some of the pros and cons of using Polyurethane mouldings:
| | |
| --- | --- |
| Pros | Cons |
| Can be used on any ceiling type and is easy to install – just stick it. | May not be allowed to be used in historic settings |
| Lower structural weight makes mouldings a posibility in sutuations not possible with plaster | Too perfect design and finish does not look like authentic plaster moulding on close inspection |
| Quick and easy install – installation possible with one person and 3 times faster than plaster. Can be installed immediately | Not as flexible and "workable" as Plaster, which is ideal for iregular spaces and gaps |
| Very accurate detailing and intricate designs possible | It is harder to get a truly unique design or pattern |
| Strong and durable | |
| Can be used anywhere – even humid areas e.g. bathrooms | |
| Can be lit or allow cabling to pass behind | |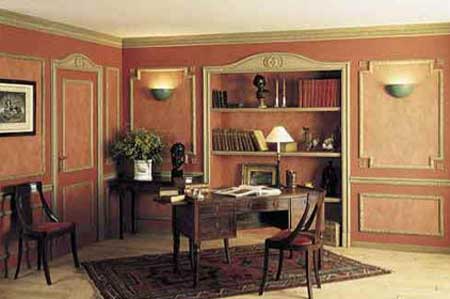 The image above represents just a very few of the features you can incorporate into your decorating. Even moulded skirting can be cut and fixed easily with an incredible bonus that the skirting is hollow backed to hide all the cables and wires you have clipped to the top of your old stuff.
Take an ordinary, flush interior door and turn it into a beautiful raised panel door just by sticking the panels on. Make a feature out of a well lit wall with panels and mouldings that, yes you've guessed it, just stick on. It could not be much simpler to get a classical look in the most tired of rooms.
How about coving which is lit from the back, or a ceiling rose which is simply screwed into place. Many companies make all this possible by supplying products which are easy to assemble and install, easy to maintain, easy to clean and as inexpensive as you could hope for when it comes to quality.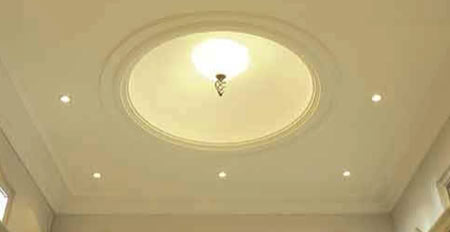 What about domed lighting in your bedroom? It isn't hard. Porches can be created using realistic columns, window shutters can be installed for a period look and practical privacy. Niches can be created to feature loved ornaments or pictures. The way is now open for the DIY enthusiast to create room decoration far beyond wood chip wallpaper and a dado rail.