This section covers important aspects of how to conduct your home improvement project and use the tools that you have safely. We focus on the dangers in working at height with ladders and scaffold. We also cover the work wear that is appropriate for various DIY tasks. Personal Protection Equipment (PPE) is considered "the last resort", but it should be used if there is any danger of an accident happening, particularly when working with Power Tools.
We have a separate section on other aspects of Safety [LINK to Follow] and DIY, where we cover how to work with electricity and what you should do to avoid carbon monoxide or what you should do if you suspect that there is asbestos where you are working.
For detailed instructions about using particular power tools you can see our section on Power Tools. There is also a section on Hand Tools which will provide more information of the tools you might choose to use.
While not specifically about safety we have a section which covers all the Building Regulations. You might find this useful to help you understand the principles that are expected of you with regards to any project you attempt. Following the building regulations will ensure that the building is safe and built safely.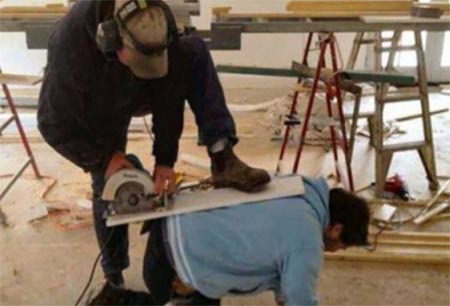 Top Tips for Power Tool Safety
Every tool will come with specific safety information and guidance. You should always read this and follow it closely. Pay attention to any precautions that are specific to that tool which you might not be familiar with.
Here are our tips for using power tools safely:
Wear appropriate clothing (see the project above for further details). Make sure hair is tied back and jewellery is removed. Avoid baggy clothes and choose sensible foot wear
Remember to use the correct PPE (Personal Protection Equipment) such as ear defenders for noisy tools and dust masks for dusty jobs. Eye protection is always a must
Keep your working area clean and tidy so you don't trip. Make sure a spark or hot tools don't ignite sawdust

Make sure you and those around you are safe when using Power Tools (Image: Mining Safety)

Make sure your working area is well light so that you can clearly see what you are doing
Use the right tool for the job. Power tools are designed to do certain jobs which they can do safely, attempting other jobs with them might be dangerous
Check and always use the guards that are fitted to your power tool
Make sure the power switch is off before plugging in. Give the whole tool a quick check over to make sure there is no damage before plugging in
Make sure you use the right type of plug in the right socket. No forcing a European plug into a UK socket
Do not use power tools when wet or in the rain, unless they are specifically designed to do so
If your tool if not working properly in any way, stop using it and get it repaired or replaced before carrying on

Wear the right equipment when using any power tool (image: Woodland Info)

Always turn off the tool and unplug it before making any adjustments to it, or swapping over accessories such as blades or discs
Always use the accessories that are supplied or recommended by the manufacturer
Check that all accessories are connected or fastened properly. Particularly make sure that cutting blades and discs are clean, undamaged or unbent
Hold the tool as instructed with a firm grip. If it is too heavy for you do not use it. It is very dangerous if you are not in complete control of your power tool while it is in use
Don't rush – take your time and leave plenty of time. Accidents happen when you rush
Don't over stretch or risk losing your balance
Remember extension cord safety if you are going to use one. Make sure the rating is sufficient, use an external cord when outside and always uncoil the whole cord to use it. Use an RCD
When you're finished you need to clean your tools and then store them safely in a secure, dry place, where if cannot be reached by curious children.