There are many reasons why a normal tube scaffold should not be put up in a DIY way. Scaffolding is not only a trade in itself but it is a very dangerous one and if a scaffold is not put up 100% correctly, the results can be fatal. Back in 2003/4, falls from height accounted for 67 fatal accidents at work and nearly 4000 major injuries…and yes….it could be you.
In 2005, regulations were brought in to cover working at height. However falls from height is still the top cause of workplace fatalities and again in the top three causes of injuring requiring over 7 days hospitalisation. Thankfully the numbers are falling; a decade after the new legislation has been introduced the number of fatalities due to falls is 46 per year but this is still unacceptably high.
It is not worth taking a risk!
Useful information resources: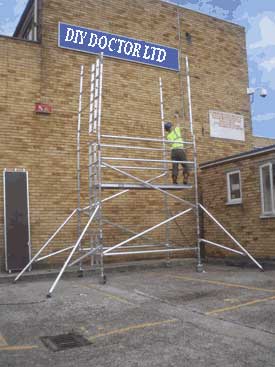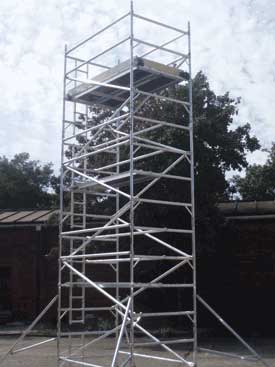 This project will concentrate on the use of tower scaffolds which can be used to gain access pretty much everywhere.
Working with a Scaffold Tower
Scaffold towers are easily portable and can be carried, in lightweight sections, directly to their place of use. Most have lockable wheels so once a job like cleaning out gutters is started, the scaffold can simply be pushed further down the line allowing safe access to all parts of the project. Always dismount the scaffold tower when moving it.
Please follow the comprehensive guidelines provided in the useful links above, but as a summary please ensure that:
The tower is level and on firm ground. Make sure the castor wheels are locked and the tower cannot move or wobble
Many towers have out riggers; don't take a risky short cut and use these. Follow the instructions for constructing your tower carefully
Never exceed the manufacturers limits, particularly in height
Don't use them in strong winds, or if parts are missing – the strength of the tower comes from all the parts and if one or some are missing it could weaken your tower dramatically
Reduce the height of the tower and remove all equipment (and people!) from the tower before moving it
Check for cables and overhead obstructions when moving
Buying a Scaffold Tower
There are many companies throughout the country that hire and sell scaffolding and tower access platforms, aluminium towers, podium steps and all other access equipment and you can find information on these companies by simply searching on the internet.
It is sometimes cheaper to buy enough scaffolding for your project and then re-sell it on once you have finished, so this is also worth considering this.
In the majority of cases these towers can be erected by one individual but we always suggest that two people (with, sometimes, a third person) are involved for safety.
It is important that all towers are designed specifically to comply with the requirements of (European Standard), the BS1139 (part 3) 1994 & HD 1004 and all towers supplied are warranted.
Scaffold towers come in a range of sizes, the taller the more expensive that the get. Towers typically range from 3 – 7 meters and can be constructed in a variety of configurations – please check the instructions before attempting this.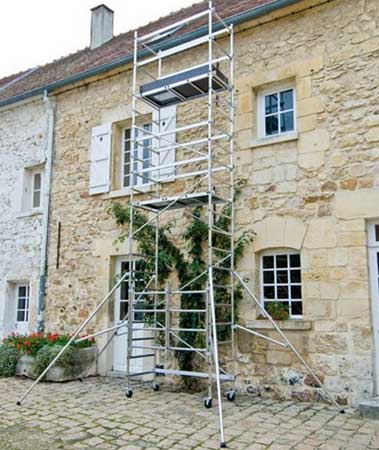 Alternatives to a Scaffold Tower
Multi Purpose Ladders
These are ladders that can be converted into a platform, although their height doesn't come close to a scaffold tower. These can also be used as normal ladders and step ladders so they are very versatile.
Access Platforms
This is similar to a stepladder but it is much more sturdy and robust so that you can stand of the platform at the top and work from it safely.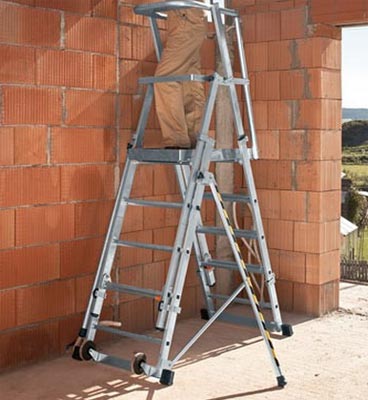 Scaffolding
Using scaffolding is another option; however we do not think that this is a DIY project due to the great risk of injury. We strongly advise that you use a professional firm (you can find one in your area on our find a tradesman page https://www.diydoctor.org.uk/find-tradesmen/).
Hiring Scaffold Towers
Scaffold towers of all kinds can be purchased but it is more usual, in a domestic/DIY situation to hire them. General hire rates for are below but they will vary across the country. The standard platform dimensions are 1.8m x 1.4m and the price increases the higher the platform. Standard heights and their weekly costs are listed below. These prices are valid in the South West of England for 2014/5.
| | | |
| --- | --- | --- |
| Working Height | Platform Height | Cost per Week |
| 4.2m | 2.3m | £62.50 |
| 4.7m | 2.8m | £67.50 |
| 5.2m | 3.2m | £72.50 |
| 5.7m | 3.7m | £77.50 |
| 6.2m | 4.2m | £82.50 |
| 6.7m | 4.6m | £87.50 |
| 7.2m | 5.1m | £92.50 |
| 7.7m | 5.7m | £97.50 |
| 8.2m | 6.2m | £102.50 |
| 8.7m | 6.7m | £107.50 |
A 5.1m high platform tower is usually the maximum height hired by DIYers as this will reach the highest domestic gutter. For a normal 2-storey house the gutter height will sit at between 5m and 5.5m so you may want to hire a slightly shorter tower to avoid bending down (or nose-bleeding as it's called in the trade) for any length of time.
Working at Height Legislation
Here are some do's and do not's about working at height from the Health and Safety Executive when working on a mobile scaffold or scaffold tower.
Using the Scaffold Tower
Do not use a scaffold tower in strong winds
Do not use as a support for ladders or any other form of access equipment
Do not use with any of the parts missing or any parts which clearly belong to other types of scaffold. Each tower is only at it's correct strength when all off the correct parts are connected together
Moving the Tower
If you need to move a tower you must always ensure:
The tower height is reduced to 4m or less
There are no tools, materials or people on any part of the tower
There are no wires, cables overhead power lines or telephone lines in the way of any movement
There are no obstructions such as bay windows etc…. in the way of movement
Movement can take place on solid (fairly level) ground and no scaffold leg will dig into a lawn or flower bed
That you pull or push the tower from the base section only
For more information about the Health and Safety requirements for scaffolding and scaffolding towers please have a look and scaffolding check list on the HSE website.