What are the Benefits of Cordless, LED Lights and Floodlights?
It is common to see, on just about every building site, miles of yellow, 110V cable trailing through scaffolding and doorways into houses and flats where trades are trying to get finishing work done to the light of bright, very hot, halogen bulbs. It is also common to see the rooms suddenly go pitch black as the bulbs blow due mostly to the heat they generate….. There is a certain irony in trying to change a fiddly light bulb in the dark don't you think?
On Site Test of FLOOD-IT Lighting Range
We took a range of FLOOD-IT lights into workshops and building sites for a couple of nights to check versatility and get some feedback from the guys using them. We also left a couple with our buddies in the Tool Hire Shop to see how the public reacted to the idea of a rechargeable garden or workshop light. The results were pretty conclusive. So much so in fact, that we actually used the 30W and the 50W beast as studio lighting to make the video you can see below.
Testimonials
Here are a couple of comments which made us laugh….
Tom (Bath – BA1) – My son and daughter were always complaining about the poor light we had above the back door as they couldn't find the lock with their key when they came in late. Having been asked to trial a FLOOD-IT 10W, PIRPRO/Prime with a solar panel for free lighting, I rigged it up next to the old light. When A*** came home he wondered what was going on when the PIR kicked in, but found his key pretty easily!…The downside was that the neighbour complained the next morning that it shone straight into her window …. I'll think a bit more carefully about where to put it when I install it for keeps! The solar panel charged it during the day and it's unbelievably bright when you need it. Ten out of ten for me!

Floodlights with a PIR and solar panel make outdoor lighting almost free

Louise (Trowbridge BA14)DIY Doctor asked me to test the 5W Essential cordless light from FLOOD-IT so I stuck it in the car intending to use it when I took the dog for a walk that night. We went up onto the White Horse in Westbury and parked the car in the big public car park. I let the dog out and grabbed the lamp. When I turned it on, I'm not kidding, it lit the whole field ! Amazing. It was like daytime as I put it on the ground and threw the ball for my spaniel….. However, it wasn't all good. As I was skirting the edge of the car-park, with the lamp shining my way, there was a shout of some very rude words, slamming of a car door and as the car drove towards the car park exit my floodlight showed up a young couple, looking very embarrassed, driving pretty quickly out of the gate

Rechargeable cordless floodlights with 3 hours working time
On a more serious note, here are two uses for the FLOOD-IT range which show just how versatile these lamps are; We used it on site and in the workshop, going through the full range. Brilliant is a great way of describing a very bright light ! While I have given these products 5 stars, I honestly don't think that the reflective glory of 5-starrs is as bright as even the 5W FLOOD-IT lamp.
The Full Range of FLOOD-IT Rechargeable Lights
All FLOOD-IT lights come with a 2 year warranty as standard.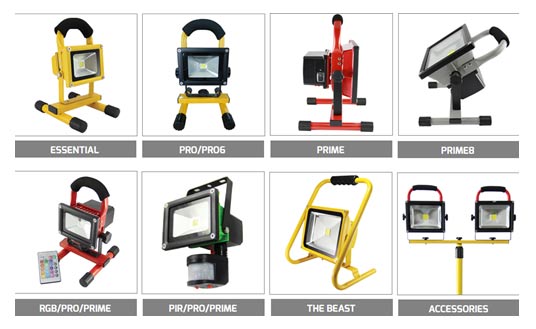 The Essential
The Essential is a 5W light which throws out 400 Lumens for 2.5 hours after a 3 hour charge. This light can be charged from a car socket and is absolutely ideal for camping, dog walking, in a vehicle breakdown kit or just on the shelf in the garage for an emergency.
Pro and Pro 6
The Pro is the probably the most versatile of the smaller, cordless work lights. It's as transportable as the Essential but has the added luxury of being able to add magnetic feet (optional extra) for jobs in the workshop or garage where its hard to get a light at the right angle for your work. With 10W of power it allows a huge 900 Lumens which is enough to light any workshop (or field!). Charge comes from the main charger or a car charger, both supplied.
The Pro comes in 5 colours with a further optional extra of an extended battery giving a whopping 6 hour battery life….. Hence the Pro 6. The Pro can also be connected to a solar panel (optional extra)
The Prime
The Prime is the next step up in terms of power. This rechargeable (mains and car)
lamp is 20W with a working time of 3 hours on a full charge. It is really bright and we would suggest, absolutely ideal for DIY workshops. This light is on trial by branches of the emergency services who are using it on search and rescue missions. A massive 1800 Lumens is made available by the Prime.
The Prime 8
The prime 8 is the very grown up version of the Prime. Still at 20W and throwing out 1800 Lumens the Prime 8 has the added advantage of a dimmer switch which, by dimming the lamp down, will allow you up to 30 hours use from one charge. On a normal charge and full power, this little beauty will stay live for up to 10 hours!
RGB Pro and Prime
Now here's a twist. A 20W rechargeable, cordless lamp with a remote control and continuous colour selection. Stunning! This light is excellent for events and festivals, can be colour coded for various safety aspects when working and will rotate the different colours on selection. How much easier is it going to be to find your purple friend at Glastonbury with one of these? The light gives a 4 hour working time on a full charge and emits 1800 Lumens to brighten your way.
PIR Pro or Prime
Fully adaptable with both Pro and Prime the PIR (Passive Infrared Sensor) with available connection to the optional solar panel, this light gives you advance warning of any movement on "your patch". A sensitive PIR lights up 900 Lumens using only 10W to do it. The 120 degree beam angle ensures that nothing escapes the searchlight ability of this cordless lamp.
The Beast
Now we move up into territory from which no darkness can escape untouched. The Beast is a 50W cordless lamp, chargeable from the mains (no car charging available) which ejects a staggering 4,500 Lumens for 4, full hours…This can be extended by use of the 3-stage dimmer and is ideal for garden parties even if your garden is the size of a football pitch!
DIY Doctors Opinion of the FLOOD-IT Range of Lights From Ekonomical
With a range of accessories, from magnetic feet to tripods which will hold 3 lamps and solar panels to make charging a hands free task, these lights really are something special. Their prices, compared to the halogen equivalents, are superb. By the time you have bought a few halogen bulbs which keep blowing, the FLOOD-IT range is even cheaper.
We have tested them on a building site, in a carpenters workshop and, as you can see from the video) even in a makeshift film studio. I cannot speak highly enough of the lamps and we hope that FLOOD-IT does really well from the innovation and quality of the products they have introduced.
It's also worth noting that they have a range of static, wired lights which, while we haven't tested them, we would expect to be every bit as good as the cordless variety.
The Doctor's Rating
Reviewed by: Mike Edwards

(5 out of 5 stars)