Unless you live in an off-grid property, in most cases, your home should have dedicated supplies of water, gas, electricity and telecommunications such as a phone line and broadband and possibly cable TV.
In some situations, utilities such as phone lines and electricity may be supplied by overhead cables but in a lot of instances they are supplied through a network of underground pipes and cables.
To ensure that any pipes or cables in the ground remain safe from damage, they need to be buried at a set depth depending on the type of utility it is.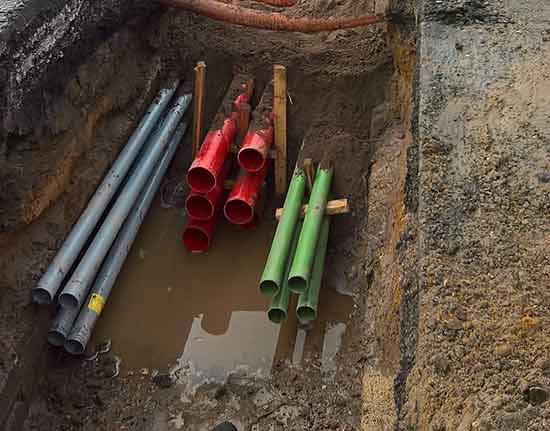 What are Utilities?
Utilities are essentially necessary services that include water, electricity, gas, phone and broadband that are supplied to a property by a utility company so that the occupants have power for cooking, lighting, heating and running appliances and water for drinking, washing clothes and bathing etc.
Also included under the "utilities" umbrella are sewage and waste water services.
Unless you generate your own power for free through solar panels, wind turbines or similar or have your own well or bore hole for water, all mains-supplied gas, water, on-grid electricity or telecommunication services are charged for.
Likewise, unless you deal with and dispose of your own sewage and grey water, you will also pay a utilities company to deal with your household waste.
There are quite a few different utility supply companies in the UK, some supply just one service, while others supply several services.
For most utilities, you will pay for the amount you use e.g. the volume of gas, electricity or water you use over a certain period but in some cases, charges are simply a fixed monthly fee e.g. phone and broadband or sewage.
When it comes to charges, in most instances you will pay for the volume of the given service you use, plus admin and other fees added by your given utility supply company. In some cases these fees will also include rental and upkeep of the supply network.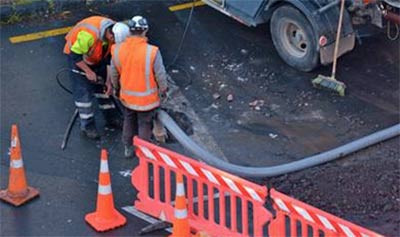 Can I lay my own Utility Supply Pipes and Cables?
When it comes to either gas, electricity or water, you absolutely cannot lay your own supply pipes as there are very strict rules on the type of pipework to be used, ducting, how the trench is formed, how a given supply is connected to the mains etc defined by the HSE (Health and Safety Executive) and OFGEM.
In pretty much all cases, to ensure a given new utility supply pipe or cable is installed and connected correctly, any work will need to be carried out by a qualified engineer.
Additionally, most mains gas supply pipes, mains water supply pipes and mains electricity cables will have been run under or near public land e.g. roads, footpaths, verges etc and you absolutely cannot go digging up a public road without the correct paperwork and qualifications to say that you can.
With the above in mind, if you did want to install a new gas, water or electric supply the best way to go about it is to contact your given supplier and arrange the works through them.
Be under no illusions though, it's going to be expensive, but they will have all the necessary contractors, licenses and specialists at hand to get the job done quickly, safely and line with any and all relevant regulations.
As we have stated above, digging on or around public land yourself is out of the question, but when it comes to digging on your own private land, this can in some cases be possible.
For example, if you were running a new gas main to your property, it may be possible for you to dig the trench for the new supply line where it runs over your own private land, this can in some instances save you a fair chunk of money.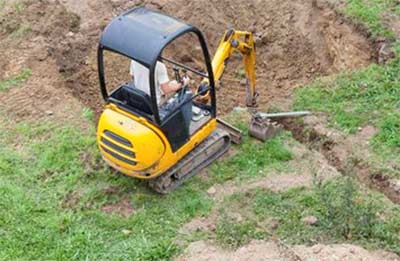 However, this can only be done to HSE guideline specifications and also any guidelines specified by your utility supplier.
One other pint to be aware of is that your utility supplier will also probably plan the route of the new supply line across your property for you.
It's important to note that in some case the utility supplier will insist that all works are carried out by their own engineers in which case this will probably also include any digging on your own private land.
If your supplier does agree to you carrying out any excavation work yourself, as said, specifications will be defined by them and the HSE, but in most cases, they will be similar to the following specs listed below.
How Deep Should Electric Cables be Buried in the Ground?
When running electric cables underground, they should be buried at a depth of at least 600mm and it should run in a way that it avoids any potential disturbance damage both now and in the future. Depths do vary slightly depending on the cable load and ground-type you're laying in:
Ground Type
Cable Voltage and Min Depth (mm)
 
Low Voltage (LV) Cable
11kv Cable
33kv Cable
Unmade Ground, Footpaths and Verges
450
600
1000
Roads
600
700
1000
Gardens
600
700
1000
Agricultural Land
1000
1000
1000
When burying electric cable, you should always use armored cable or SWA (steel wire armored cable) cable that's protected by a a steel outer coating. In the event that a spade or other object hits the cable, the steel coating prevents it from being severed.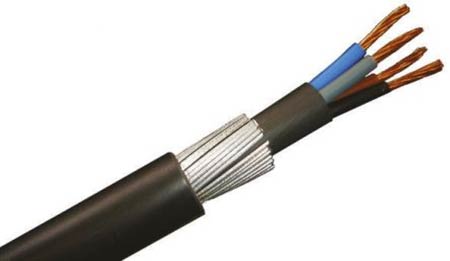 The steel coating should also be protected with a plastic or rubber coating to prevent any chance of corrosion.
In terms of the potential dangers of the protective armor, any issues are resolved by the fact that it earths straight back to the board, so in the event of any issues, the board would trip straight away.
It is possible to also use a non-armored cable, but when you do, it should be run inside a protective conduit or duct that provides the same level of protection as the armor in an armored cable.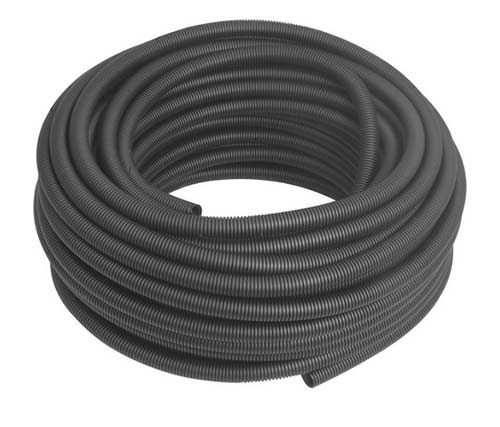 The cable itself should be laid in a trench with a smooth and flat base, with no sharp objects such as rocks, stones etc present.
The belt and braces approach when burying cable is to also encase the cable in 75mm of sand e.g. 75mm below, above and to the sides and then place electrical tape or a marker 150mm above this so that anyone digging in the ground will find the warning tape and be warned of the presence of the cable.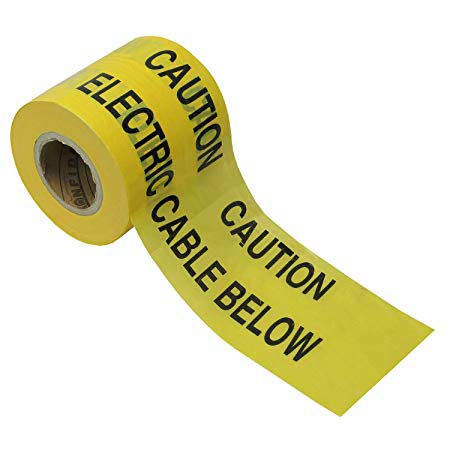 To complete all of the safety aspects fully, any new underground cables, for example, to run a new supply out to a garage outbuilding, the buried cable would be required to run back to a 30mA RCD, so if there is any slight issue, the RCD would then trip and cut power preventing any serious injury.
How Deep Should Gas Pipes be Buried in the Ground?
When running a gas main supply pipe underground the HSE specifies it should be at least 750mm deep in a verge or road, but 600mm deep for a footpath. In the case of a gas service pipe, this should be a minimum of 375mm deep on private ground and a minimum 450mm deep when laid under footpaths and roads.
Depth (minimum)
Type of Pipe
Verge / Road
Footpath
Private Ground
Gas Main Pipe
750mm
600mm
n/a
Gas Service Pipe
450mm
450mm
375mm
To explain the difference between pipes a little more, the gas main pipe is the main supply pipe that runs down your street supplying various properties, whereas a gas supply pipe runs from the gas main, up to your property and connects to your gas meter.
From the gas meter, supply pipework then runs into your home to supply your various gas appliances.
All gas supply pipes must be connected to a meter. The meter not only records the volume of gas you use so you can be billed for it, but it also regulates the pressure of the gas entering your property.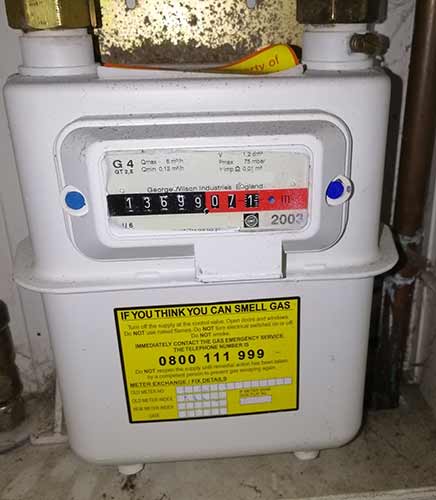 The pressure of gas in the mains pipework varies quite a bit depending on supply and usage and all home appliances require a regulated supply to allow them to operate correctly and efficiently. Irregular gas pressure can cause appliances to become faulty and potentially cause serious injury.
Both the gas main pipe and you homes particular supply pipe will be managed and maintained by the National Grid or an approved gas transporter. If you need to know who your local gas transporter is, you can download a factsheet from eth Ofgem website here.
As with electrical supplies, under no circumstances are you allowed to carry out any gas connection work yourself! That also goes for the installation of new pipework.
The same goes for any internal gas work, this should only be carried out by a Gas Safe engineer.
Again, it may be possible to do any trench digging and preparation work yourself where new pipework is to be run over your own private land, but you will need to discuss and agree this with the gas transporter that is performing the installation.
When it comes to the actual pipe that is used, traditionally this would have been cast or ductile iron but as these corrode over time, today polyethylene tends to be used.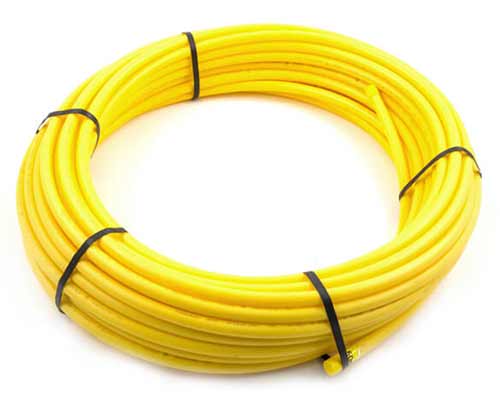 Gas supply and mains pipes are also normally coloured yellow to make them easily identifiable from other utility supplies.
There are also certain specifications that the trench the pipe will be laid in has to meet.
Firstly, the trench should have a smooth base, free from any sharp or jagged objects. If any are found, you may be required to dig down a further 75mm and refill with sand or a similar fine substance.
Gas supply pipes should also be laid at a slight gradient, running away from the supply destination and also in a straight line.
Once the trench is prepared a layer of sand is used to line the base for the pipe to lay on. Once in place, a minimum of 100mm of sand is then placed over and around the pipe to encase it and the trench is then backfilled with soil.
At a minimum of 75mm above the pipe, warning tape is then laid along the entire length of the run to warn of the pipes presence.
Additionally, if any other services are to be run near the gas supply pipe then there should be a minimum of 250mm clearance between them and the gas pipe.
How Deep Should Water Pipes be Buried in the Ground?
Blue MDPE pipe is used to supply mains water to homes and properties throughout the UK. When laying MDPE water supply pipe, it should be laid at a minimum of 750mm and a maximum of 1350mm below finished ground level.
When water supply pipe is to be laid near to other utilities supplies such as gas or electricity, it should be a minimum of 350mm away.
When it comes to digging the trench itself, aside from digging it to the correct depth, it should also be cut to a minimum width of 250mm plus the external diameter of the pipe itself.
Depth (minimum)
Type of Pipe
Min Depth
Max Depth
Min Gap Other Services
Trench Width
MDPE Water Supply Pipe
750mm
1350mm
350mm
250mm plus pipe diameter
Once the trench itself has been cut there are also guideline that need to be followed in terms of the bed preparation before laying any pipe.
As with other utility supplies, the bed of the trench should be level, flat and smooth and free of any rock, stone or similar hard, jagged objects. If this is the case, then it may be possible to lay your pipe directly on the base.
If this is not the case, then the trench will need to be excavated a further minimum of a 100mm and a bed of sharp sand laid for the pipe to rest on.
Once the pipe is in place in the trench it is then backfilled, firstly by a 100mm layer of sand to help identify the presence of the pipe and then clean soil.
To ensure the pipe is held firmly in place, the soil is then compacted every 300mm.
As is required of other supply pipes, marking tape is laid over the length of the pipe run at a minimum of 300mm above the pipe.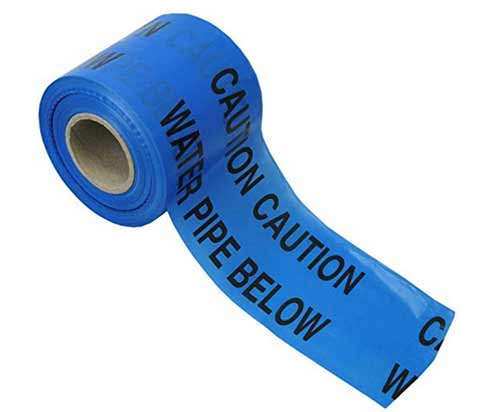 One final point to mention is that where a water supply pipe is to run beneath a structure, it needs to be run through sealed ducting.
How Deep Should Telecommunications Cables be Buried in the Ground?
There are several different types of telecoms cable; copper cables, fibre cable and cable TV cable. Copper and fibre cable should be buried 600mm beneath a road, 350mm beneath any hard surface and 450mm beneath a softer surface while cable TV cable should be buried at a min of 250mm under hard surfaces such as footpaths.
Depth (minimum)
Type of Cable
Road
Footpaths / Hard Surfaces
Verges / Soft Ground
Copper Cable
600mm
350mm
450mm
Fibre Cable
600mm
350mm
450mm
Cable TV Cable
250mm
250mm
250mm
As with other utility cables and pipes, any copper, fibre of cable TV cables should be run in as straight a line as possible with the minimum of bends.
Another important point to note is that when telecoms cables enter a property they should be laid at a depth of 450mm.
In line with other utilities, any and all cabling and work should be carried out by or through your telecoms provider e.g. if you wanted a new phone line installed, you would need to contact your phone provider and they would either carry out the line install for you or contract it out to another company, normally Openreach in the UK.
Any and all cabling will need to be installed in ducting. The ducting itself must also feature a draw rope so that new cables can easily be drawn through. Once the cabling is in place the ducting is then capped and sealed to prevent.
Sealing the ducting is of extreme importance. As the duct essentially runs a given supply cable into a property, if hazardous gasses get into the duct then if its not sealed then they could possible leak into the interior the property.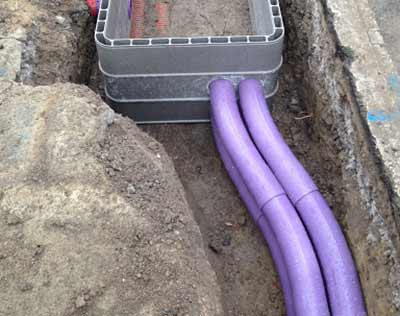 How Deep Should Sewage and Surface Water Drainage Pipes be Buried in the Ground?
In general there aren't any specific depth specifications for sewage and drainage pipework, in many ways the required gradient of 1:40 to 1:80 for foul water drainage and 1:100 for surface water drainage and the sewer you're connecting to will dictate the depth that any pipes are run.
However, the Building Regulations Part H document states that plastic drainage pipes should be a minimum of 600mm below gardens and fields and 900mm beneath roads and driveways.
When clay pipes are used, these should be a minimum of 600mm below ground level when laid in gardens or fields and a minimum of 1200mm below roads and driveways.
Depth (minimum)
Surface Water Drainage
Garden / Fields
Roads / Driveways
Gradient Fall
Plastic Pipe
600mm
900mm
1:100
Clay Pipe
600mm
1200mm
1:100
Depth (minimum)
Foul Water Drainage
Garden / Fields
Roads / Driveways
Gradient Fall
Plastic Pipe
600mm
900mm
1:40 – 1:80
Clay Pipe
600mm
1200mm
1:40 – 1:80
In the case that the required minimum depth cannot be achieved then the pipework itself may need to be encased in concrete to ensure it has adequate support. This is especially important where pipework runs under a roadway or driveway.
In terms of the trench width, this is normally stated as being around 300mm plus the width of the pipe being used.
As with other utilities, any drainage pipework should be run in a straight line and avoid any obstacles or potential dangers. Where a bend is required of more than 22.5° you will need to provide access via a man hole.
Under normal circumstances, UPVC pipework should be laid in the trench on a bed of aggregate of a uniform size, with particles being no bigger than 10mm in size. However, if using clay pipes you will need to refer to the manufacturers for their recommendations.
Pretty much any and all drainage work is notifiable work e.g. your local building control office will need to be informed of the work. If you have any questions regarding pipe or trench specifications then you should ask them and they should be able to advise.
When discussing anything to do with drainage it's important that the correct terminology is used for the particular type of drain in question:
Surface Water Drainage and Sewers: This type of drainage is responsible for removing rainwater from a surface. Above ground surface water drainage refers to mainly roof drainage e.g. gutters and downpipes where as underground surface water drainage refers to the underground or sewer that carries the water away
Foul Drainage and Sewers: This type of drain removes foul water from sinks, basins, baths, toilets etc. The above ground internal part of the drainage is referred to as sanitary waste pipework, whereas the below ground drainage that removes the waste is referred to as a foul drain or sewer
There is a distinct difference between a drain and sewer. In general, a drain refers to the drainage for an individual property and a sewer would generally service several or more properties.
A distinction should also be made in terms of ownership – when reference is made to a private drain or sewer, the ownership will fall under the property owner, whereas a public drain or sewer will fall under the ownership of the "sewerage undertaker".
If you would like to find out more about the different types of drainage see our foul and surface water drainage project here and for information on how to lay underground drainage see our project here.
Safety Considerations When Digging Around Underground Services
Before any digging or excavation work gets underway, certain plans and guidelines have to be put in place and adhered to.
Damaging any underground supply pipe or cable can be a nightmare at best, at worst, it can be potentially lethal especially in the case of electric or gas mains.
A given underground service supply pipe or cable essentially belongs to the provider that owns or manages a given supply network and a requirement in terms of their ownership is to keep records or where all pipes and cables run.
If you are embarking on a project that involves excavating the ground then you should firstly contact any relevant service operators and ask then for the pipe/cable plans for the area you're digging in. This should highlight the route the given service is running along in the area you're working in.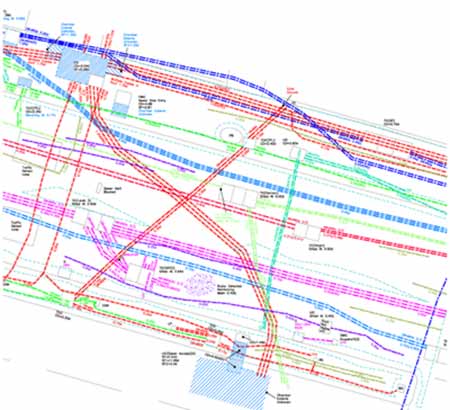 Another good indicator, especially with drainage is to follow the route of man hole covers. Drainage runs should run in a straight line from man hole to man hole and by lifting the man hole cover itself, you should then see any direction changes and the direction the pipe runs from that point.
If you suspect that certain supply pipes or cables are running in the area you're working in but you are unable to locate them you will need to use a cable or pipe locating device or service to pinpoint their exact location.
It is possible to hire cable/pipe locators and perform this work yourself or contract in a third party company to do the work for you.
If you are planning to do this yourself, be aware that not all detecting devices actually detect all the different individual service that may be present in the ground. Make sure the machine or service you use accounts for all types of services.
Once any and all services have been located in the ground, their entire route should then be marked using markers or paint of a specific colour for the service it's marking. The colours that are used should follow those stated in the National Colour Coding System for underground services.
Once any present services have been marked and identified, safe digging can normally commence.
Digging in and around any utility supply is risky and potentially dangerous if not done correctly. For full information and guidelines, see the Health and Safety Executive Document HSG47 here. It provides full details on everything you need to know.
Note: One very important point to note is that regardless of where a given plan or marker states that a particular service is buried at a certain depth this is not always the case!
In the past, we've found gas mains and electric cables buried in the ground just a few inches, so just because an official document states that a given gas main should be buried at least 600mm down on the site you're working on, don't assume this is true!
What to do if Underground Services get Damaged?
Lets face it, even if you take every precaution and follow every guideline to the letter, accidents do happen and as we have stated above, pipes and cables aren't always where they are stated they should be.
In the event that an underground service supply pipe or cable gets damaged:
If any casualties, leave them where they are unless they are in immediate danger
Call relevant emergency services, fire, ambulance, police etc
Ensure any bystanders are moved well clear to prevent injury
Call the service owner or operator and inform them of the damage
Cordon off the area with barriers, tape or other means of warning
Warn any nearby properties or houses of the damage
Do not attempt to make any repairs to the damaged pipe or cable
If you are dealing with a damaged gas main you will need to call the national emergency gas line on: 0800 111 999. Ensure that no one is smoking and that there are no naked flames
Warn any nearby properties not to use their gas services. In some cases, this can cause pressure issues within properties or gas in the air can leak into a given property.
In the event that an electric main cable has been damaged, do not attempt to remove severed cables from any machinery. If an excavator/digger severed the cable, ensure the driver/operator does not leave the machine until the cable has been isolated and is no longer live.
Even if the supply in question does not look damaged, you should always report a service strike to its owner/operator.
Although water may seem fairly harmless, under high pressure such as that in a mains water pipe (pressure = 1 bar or 15psi) it can be lethal so treat it as such.
Working in and around services and utility supply pipes and cables can be a minefield of issues, but as long as you take the necessary precautions and follow all relevant guidelines then any work can be carried out safely and efficiently.