Electrical safety is the number one consideration for anyone working on or around electrical circuits, whether you're a professional electrician working on domestic or commercial electrical circuits or a DIY'er simply changing a plug.
Knowing how to avoid any risk of electrical injury is not just for the pro's but should be second nature to anyone. With this in mind, in this guide we look at staying safe when working with electricity.
Rules and Regulations for Electricity
In order to ensure that only those with the necessary skills and knowledge to work on and around electrical circuits safely can actually do so the first edition of the BS 7671 Wiring Regulations were introduced in May 1882.
Following numerous accidents in both domestic and industrial locations that were found to be caused by poor installation, the Council of the Society of Telegraph Engineers, the original version of the IEE that later changed to the IET, were charged with producing a set of rules that would ensure that any and all installations were done to certain standards that would prevent any such accidents.
Over time as electrical installation practices evolved, so did the rules and the initial 9 rules in the first edition grew to many more.
Whenever major new rules were added a new edition of BS7671 was introduced and today we are now currently on the 18th edition, however if only a few editions or edits were required then an amended document was produced, currently today amendment 2 of the 18th edition.
When it comes to the actual goal of the regulations e.g. preventing injury, the main focus is on exactly who can do what. What this all boils down to is that only fully qualified electricians that are Part P registered should undertake any form of electrical work, period!
As a DIY'er this means that by law, you are not allowed to do any form of electrical work other than change the odd existing switch or socket faceplate or light fitting.
If you do choose to ignore these rules then it will likely invalidate your home insurance, meaning if anything happens then it won't pay out and it can also cause complications when trying to sell your home.
If you would lik to find out more about the BS 7671 Wiring Regulations, visit the IET website here.
Electrical Safety Statistics
To get an idea of just how dangerous electricity can be and how many lives it effects each year, here are some quite shocking statistics:
On an annual basis, globally around 1.2 million people suffer from an electrical-related injury – source: Health Electrical Services, 2022
In the workplace, over 1000 electrical accidents occur each year, of which 30 are fatal – source: Health Electrical Services, 2022
On a domestic level, faulty electrical equipment causes around 350,000 injuries annually, of which approx 70 are fatal – source: Health Electrical Services, 2022
Electrical faults account for nearly 20,000 domestic electrical fires each year – source: Health Electrical Services, 2022
In terms of accidental domestic electrical fires, around 71% where started by an appliance – source: Health Electrical Services, 2022, figures are respective of the period 2017-2018
Counterfeit goods are also a massive factor and contribute significantly to annual injury figures. It is thought that around 64% of those who ended up purchasing a counterfeit product suffered some form of electrical injury – source: Health Electrical Services, 2022
It is projected that around 30% of all counterfeit items were purchased from one of the many marketplace sites – source: Health Electrical Services, 2022
In terms of domestic electrical fires, around 53% were caused by an electrical hazard. Of this 53%, around 26% were caused by faulty appliances – source: Health Electrical Services, 2022
When it comes to the most dangerous area of the home, the kitchen accounts for more than 58% of electrical fires – source: Health Electrical Services, 2022
The construction industry has by far the highest number of electrical injuries and fatalities out of any other industry – source: Health Electrical Services, 2022
Of those suffering electrical injury in the construction field, the most common age range is from 36 – 45 – source: ElecSafety, 2022
Although the above figures are quite shocking, incidents have actually come down over recent years in some areas and it is thought that more awareness of necessary safety measures and precautions can be attributed to this.
A little known fact is that if you own your own home, you should have your full electric system tested and inspected every 10 years to ensure it is in full working order.
If you have just purchased a new property, if a full test and inspection of the electrics hasn't yet been carried out then it is a great idea to do so before you move in. That way once you are fully settled you can be sure that everything will work as intended.
However if you are a landlord then it is your responsibility to get any and all of your properties inspected and tested every 5 years.
Electrical Safety – What you Need to Know
When it comes to working on or around any form of electrics in your home, as said, it is absolutely essential that you know how to do this safely. As we have stated, on a DIY basis you are very restricted to what jobs you can actually do.
In respect to this, electrical jobs are broken down into 2 distinctly separate areas:
Notifiable: Larger more intense jobs that need to be installed correctly, tested and then the affiliated body of the electrician doing the work (NICEIC, NAPIT etc.) are notified in the form of a job completion certificate and in turn so are your local Building Control Departement. Includes pretty much all jobs such as new installs, re-wires, work in special locations and the similar
Non-Notifiable: Smaller jobs generally concentrating around repair, maintenance and replacement of existing items such as replacing a broken socket face plate, upgrading light switches, replacing existing light fittings, adding extra low voltage cabling. Despite this, some additions and alterations to existing circuits are also allowed, e.g. adding a spur socket, but many electricians would argue that jobs such as these should be tested and by proxy be signed off technically making them notifiable.
If you are in any doubt about what you can and can't actually do in terms of electrical work, always consult with your local authority Building Control office or indeed a reputable and qualified electrician.
When it comes to some common misconceptions surrounding electrical work, safety and rules and regulations, here are some of the most common areas we get asked about and some of the questions we get asked:
Before you start any electrical job at all, make sure the circuit you are about to work on is isolated in your consumer unit or fuse box. Also put a note up explaining why it's turned off so that no one accidentally turns it on!
Installing Electric Cookers and Showers: If installing as a new circuit this is notifiable work and should only ever be done by a Part P registered electrician. This is also the case when replacing an old or broken existing unit due to the vast range of different power consumption requirements of these appliances and the different wiring setups found in many homes. Although there may be wiring in place, it may not be big enough to cope with the power demands of the new appliance
Bathroom Lighting: As bathrooms are regarded as "special locations", in terms of any electrical work they are completely off limits to anyone that isn't Part P registered. When it comes to replacing an existing light, this can be done by a DIY'er, but the correct light for its location needs to be used. A minimum of IP44 rated for zone 3, or IP67 or 68 rated for other zones but your electrician will know exactly what to use
Work in Special Zones: As with the above answer, unless you are a Part P registered electrician with all the necessary skills and knowledge to carry out any work to regulations standard then you are absolutely not allowed to do any work in a special zone
Working on Lighting Circuits: If the lighting circuit is an existing circuit then you are allowed to change switch faceplates, light fixtures and add switches and light fixtures. But if installing scratch then only a Part P electrician can do this
Low Voltage Circuits and Safe Zones: As with other work mentioned above in a safe zone, unless you are Part P registered then you are not allowed to do anything
Adding Spur Sockets: You can technically add a spur socket itself as long as it's only one and you are spurring off of the main ring or radial and not an already spurred branch. If spurring off of a socket ensure the spur you are adding is the only one as you cannot add 2 spurs from a single socket. Despite this, as you are altering the earth path then technically many electricians would suggest this is notifiable works
Adding Light Fittings and Switches: Yes you are allowed to add additional light fittings and switches to an existing lighting circuit, but you are not allowed to install new circuits from scratch. Again as you are adjusting the earth path, some electricians would argue this is notifiable
Damaged Cables: If you inadvertently damage an existing electrical cable e.g. drill through one in a wall, you are allowed to replace that cable as long as you have the skill and knowledge to do so
Damaged Sockets and Switches: You are allowed to change any damaged socket and switch face plates as long as they are existing and you are not installing from new
Running Cables: You are technically allowed to run new cables for a new install, but this will really depend on the electrician doing the work. Sometimes it's nice for them to lay this job off on to someone else, as long as they are competent enough to do it, but as they are the ones signing their name to it, some prefer to do it themselves so they know it's done to standard
Although we have run through the most common questions we get asked in terms of what you can and cannot do on a DIY basis, although you may be tempted to have a go, unless you are absolutely sure you know what you are doing, it's best to leave it to the professionals.
If however you want to expand your knowledge a little more and gain a deeper understanding into the electrical systems in your home, read through the sections below.
Electrical Safety
Before starting any works, here are a few additional pointers to thin about.
Check all walls for wires and pipes before cutting out for any new cables and boxes. A detector such as the one below can identify cables in the wall.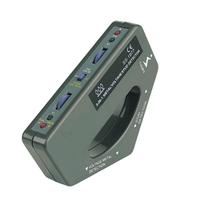 If in any doubt what so ever, always consult a qualified electrician. Don't be tempted to fumble your way through if you don't know what you are doing
As stated above but will do again, turn off the power and remove the fuse from any circuit you are working on
Make sure no-one can turn the power on by mistake. Leave a note explaining why it's off
Use only approved materials that are good quality. Don't be tempted to cut corners
How the Electricity in Your Home Works
An electrical supply will come to your home at a main, sealed fuse called a service head and from there will go to your meter via one large brown and blue wire (red and black in old colours). The meter measures how much electricity you use. At no time should you touch either the service head or the meter.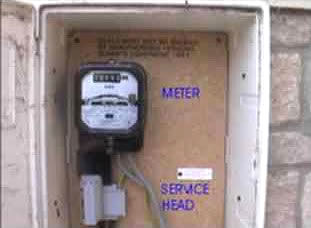 From here the electricity will go to your consumer unit, from where it is distributed around the house through various circuits e.g. socket circuit, lighting circuit cooker circuit etc.
Each of these circuits are protected against excess current that might cause overload and fire by either a re-wireable fuse (old-type fuse box) or more likely a miniature circuit breaker switch MCB in a newer consumer unit.
You will also find that your consumer unit will/should have what's known as a Residual Current Device or RCD. This is an additional safety device that's more sensitive than the MCB and will trip in the slightest instance of current fluctuation.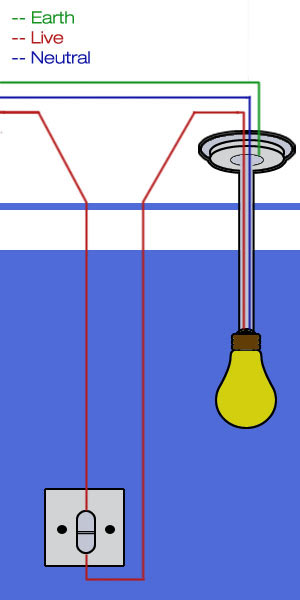 The amount of electricity available to you is measured in Volts, and the rate at which it flows along its conductors is measured in amps. The power required by any appliance is measured in Watts. The formula for working out the correct cable and fuse is; Watts / Volts = Amps (or watts divided by volts equals amps). Find out more in our working out volts, amps and watts project here.
A way to picture the volts is as the "potential difference" such as the height of a hill (metaphorically speaking), and the Amps are the rate that the electricity is "allowed to roll down the hill". Resistance stops or slows the rate of flow "down the hill" and this is measured in Ohms.
Remember your consumer meter does not actually measure volts or amps, it measures energy that is consumed which is the amount of Watts that are used every hour by all the electrical appliances you are using, generally referred to as kWh or Kilowatt hours.
The amount of electricity used (rather than electricity available – Volts) is measured in Amp/Hours. You can think of this as the "flow per hour" if we use our hill analogy.
Electricity flows along the live wire, feeding whatever is required and then returns along the neutral wire to its local transformer. The flow can be stopped by the insertion of a switch, which for all practical DIY purposes is placed in the live wire.
Switches, most often, will be linked from your ceiling rose through a separate cable, even though one of the wires in this cable is black it is still live.
Electricity will always find the shortest or easiest route and you may represent that route, so be careful!
Electrical Cables and how They Work
Unless your house was built after May 2004 then chances are you will have the old coloured wiring and/or a combination of old and new wiring colours as part of your electrical system. For more details about wiring colours and the safety consideration, see our project here.
Fixed wiring is done in cable. This consists of individual conductors (wires) sheathed separately, by insulation to prevent leakage. The earth or "ground" wire is normally bare. The wires are then jointly covered by the outer sheath.
The wires are colour coded, brown for live, blue for neutral and green/yellow striped for earth, where this is covered.
Modern cables are sheathed with PVC which has an indefinite life, older cables were rubber with about 20/30 years life.
If your home has these cables do not attempt electrical extensions with them.
When installed, bare earth wires should be covered with an "earth sleeve" which can be bought in all sizes at an electrical store or most DIY stores.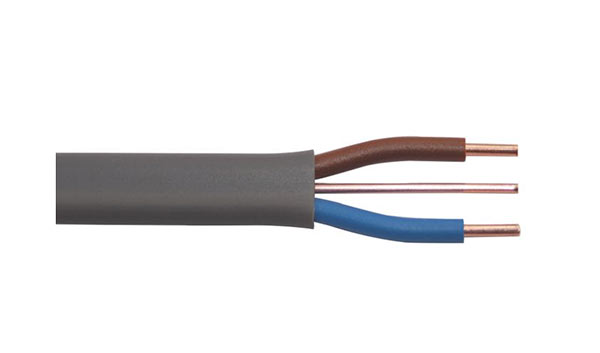 1.5mm is most common in lighting circuits. When installed it must not exceed 110m in length and carries a fuse rating of 5amps. (6 amps if used in conjunction with a miniature circuit breaker).
It is acceptable to run 1200 Watts on this cable, the equivalent of 12 x 100 Watt bulbs, but lighting circuits are normally run independently on each floor of your house. However with todays much lower powered LED bulbs it's technically possible to run more.
2.5mm (as above but larger) is usually used for the installation of power sockets on a ring main. The circuit uses a 30 amp fuse at the consumer unit (32 with a MCB). Cable length must not exceed 60m or 50m with an MCB.
Three core and earth is used to interconnect switches with more than one operation e.g. a 2 way switch used to control a single light from 2 locations such as a landing light from the top and bottom of the stairs.

Flex, is simply flexible cable and is used for connecting appliances. The colour coding is different using brown for live, blue for neutral and green/yellow stripes for earth.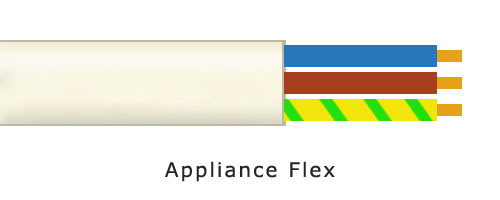 There are many more cables for connecting cookers etc. but these are generally run directly from the consumer unit and require a professional electrician for their installation.
What are Electrical Fuses?
Fuses are placed into a circuit as a deliberate weak point. If anything goes wrong within your circuit, the fuse will "blow" first.
With the modern MCB's in consumer units, the trip switch will go. BUT BEFORE YOU PUSH IT BACK ON, LOCATE THE REASON WHY IT TRIPPED. Most of the time it is because the circuit has been overloaded or there is an earth fault. If you are in doubt contact an electrician right away.
How Does a Ceiling Rose Work?
We have included ceiling roses in this section because it is the most misunderstood fitting of all. Many people think they can take the old one off, do not mark the wires, and connect a new fitting, blue to blue, brown to brown.
It is not that easy, because in the majority of cases your light switch will be wired to the rose, and in that case, at least one of the blue wires will be a switched live. Below is a diagram of a wired ceiling rose showing you what to look for when working with one.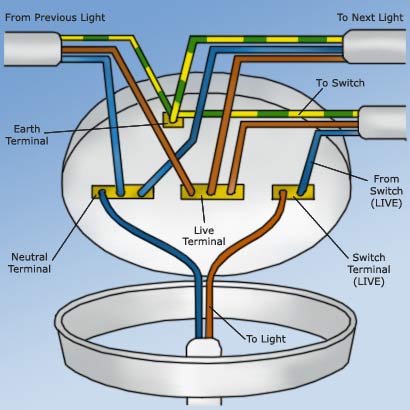 For full information on ceiling roses and how they are wired up, see our ceiling rose project here.
Working on and around electricity is extremely dangerous and if you don't know what you are doing or are unsure then don't touch it, leave it to the professionals regardless of how confident you feel.