A contract which outlines the responsibilities of the home owner and the builder is essential on any building work whether it's putting in a new bathroom or building a large 2-storey extension.
There are several different types of contract that can be used for building work, each with its own advantages and disadvantages and conditions for use, find out all you need to know about each type.
Why Use a Contract for Building Work?
The main point of a contract for building works is to define the goal of a particular construction job in that who is going to build it, what is going to be built, how much it's going to cost. It will also state who is responsible for what, the rights of each individual involved and if any issues, who is liable for them.
The majority of Builders and Tradespeople are honest guys who just want a fair days money for a good days work. A good contract should protect them as much as it protects the home-owner.
However there are any number of unscrupulous, rogue traders out there that will not think twice about landing a job by offering a very cheap price, then spending the next week "dreaming up" a list of extras, or additional "unforeseen problems" for which they will charge an arm and leg to overcome.
A well written, easy to understand contract will save you any of these potential headaches and the time and trouble it takes to resolve them.
To make your project run as successful as possible it is far better to understand every problem before it arrives.
Good builders will be able to look at the drawings, look round the site and understand the possible problems because they will have seen them all before.
There still may be unforeseeable problems but as long as you can both agree that a) they really were unforeseeable and b) the cost of overcoming them, the job can move smoothly along.
With the right contract and some foresight, builders and homeowners can contract to each other in a way which allows the project to move smoothly to a mutually satisfactory completion, and any hiccups along the way can be dealt with smoothly with no complications or bad feeling that could ultimately ruin the whole job.
Here is one simple article from our very own extensive contract, the Desired Outcome Building Contract.
Every material and product used during these works will operate in the way intended by the manufacturer. Manufactures recommendations for use will be followed at all times. Where a particular product or material is recommended to work alongside any other product or material, a similar product or material may be used providing it is of the same quality and its manufacture is intended to fulfill the use to which it is put by the workforce above. Materials will always be of a satisfactory standard for the work required.
The simplicity of this one statement reassures everyone who reads it. It may be blindingly obvious, but how many of us have complained about ordinary things not working properly but been unable to get any kind of help because the problem cant be pinned down to one thing.
The purpose of our own Desired Outcome Contract and also every other contract is to avoid any such incident from occurring and if it does, the resolution and responsibility for who this falls to will be clearly detailed, so there is absolutely no confusion.
Any decent builder will know that a well produced contract isn't just there to protect the homeowner from the builder but also vice-versa!
As well as cowboy builders there are also cowboy customers that will try every trick they can think of to discredit a builders work with the goal of reducing the final cost. Again if everything is set out in a contract this will also protect the builder.
If you have a builder lined up for a job on your home, but he is unwilling to sign a contract, then do not employ him, this is more than likely a recipe for disaster.
So as you can see when large sums of money are involved, to protect both parties e.g. the homeowner and the builder a contract is an absolute must.
Why are There Different Types of Building Contract?
The reason for there being so many different types of building contract is that essentially, in the building trade no two jobs are ever the same.
Although a given builder may have built 10 single storey rear extensions to the back of 10 individual semi detached properties over a number of years, although this is essentially the same job each will have been built over different ground, with different drainage layouts for different customers, with different neighbours in different streets.
Additionally each extension might have a different external and internal finish, one may be a kitchen while others may be bedrooms, bathrooms or any number of different room types.
Also the nature of the client may be different, most will probably be for domestic clients however some may be for businesses so the payment terms, completion targets, fixture and fitting requirements may be completely different.
With all of the above in mind, as you can see it's essential that there are different types of building contract to cover the huge range of different construction jobs there are.
Different Types of Building Contract
As we have mentioned above, there are quite a few different types of construction contract, however some are more relevant than others, especially when it comes to domestic construction work.
Here follows a selection of the most common types of building contract used here in the UK and also further afield.
JCT – Joint Contracts Tribunal Contract
The JCT contract was created around 1931 and is probably the best known and most widely used of all the construction contracts in the UK. They produce a range of different contracts to cover a range of different projects.
The standard JCT contract can be used for pretty much any type of construction job and comes in 6 different variations that cover both private work and local authority work and also versions that include quantities, estimates and other features and versions that don't.
Along side the main JCT contract there are 9 separate sub-contracts that can be used to cover alternate works outside the main contract that include such things as maintenance work, minor works, domestic construction e.g. extensions and any other projects that cost less then £100,000.
All forms of contract can be purchased straight off the shelf and can be used by anyone for essentially any building project.
To find out more visit the JCT contract website here.
DIY Doctor Desired Outcome Contract
This contract took us a total of two years of research to produce and is written by Tradesmen that fully understand the process of construction and once finished it was then fully checked by a host of legal professionals.
It may be very well to use a contract that has been produced by legal professionals that crosses all the T's and dots all the I's as far as the legal side goes, but if points are included that could potentially hold up or affect the project outcome then this is obviously not great.
By using a contract that has been produced by those that know exactly what order tasks have to be done in, who is responsible for what, what liabilities are involved and who's responsible for them, what rules and regulations need to be adhered to you can be sure that absolutely nothing has been left out and any and all parties are fully protected.
Our "Desired Outcome" contract offers the most simple but effective solution to every problem one could bump into during a Home Improvement project and best of all it's totally free!
To find out more and download your copy for FREE visit our Desired Outcome Contract download section here.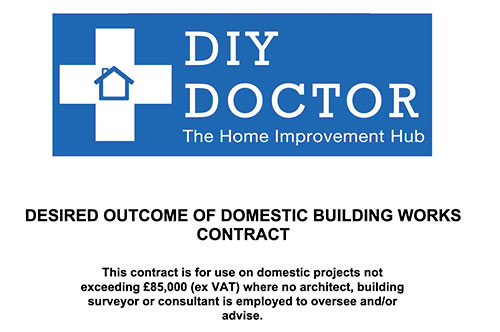 ICE
The ICE contract was developed and published in 1945 mainly for the ICE or Institution of Civil Engineers but was discontinued with the final publication being released in 2001.
In its 56 years of use it was the main go-to contract used by civil engineers and was ideal for pretty much all public or private works.
The main benefit of the contract for civil engineers was that it essentially but the engineer at the same level as the architect, allowing them much more control over a given project.
ACA – Association of Consultant Architects
The ACA contract was introduced by the Association of Consultant Architects with the goal of being a little more flexible than all the other types of contract in terms of the adjustments that can be made during it's production into a completed article.
One of the main features of this contract is that it contains all of the standard clauses that can be found in all the other contracts but with the ACA contract they can be easily customised by any and all parties involved.
To find out more visit the ACA website to find out more.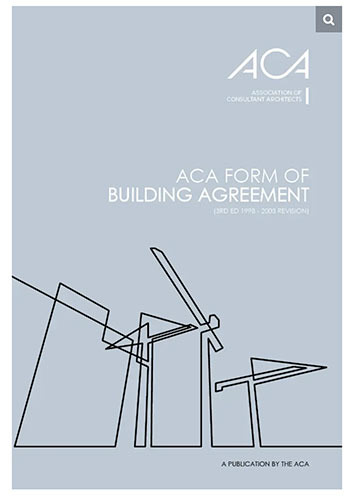 FIDIC – International Federation of Consulting Engineers
The FIDIC organisation is French in origin and was started in 1913 and originally only featured engineers from France, Switzerland and Belgium, however the UK joined the initiative in 1949 and today over 60 different countries are members.
The FIDIC contract itself is produced by the International Federation of Consulting Engineers and is aimed for use mainly by civil engineers that are employed by a given client, making the engineer the clients main agent. However many of their contracts are suitable for all areas of the construction industry.
Today FIDIC contracts are used for a great deal of large international construction projects as they are so well known and trusted by a huge number of international bodies and institutions.
To find out more visit the FIDIC website to find out more.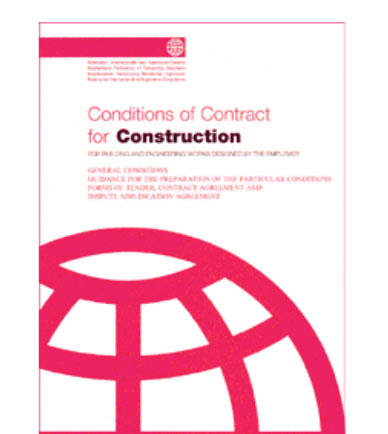 GC/Workd/1 (1998)
This particular contract known as "GC Works" has historically been the go-to solution for large scale government contracts.
The contract itself was presented as 4 separate volumes each, 7 versions of volume 1 covering scenarios with and without quantities, single-stage design and build, construction management etc., 1 version of volume 2 covering minor works, 1 version of volume 3 covering mechanical and engineering works and 1 version of volume 4 covering small works.
The 4 core volumes are also supported by a range of other contract documents covering a range of other scenarios such as sub contractors, tendering, parent companies etc.
GC Works contracts are no longer being updated and are being phased out form government use with more preference to use the easier to understand NEC family of contracts.
To find out more visit the NBS website here.
NEC Contract
The NEC family of contracts is now regarded as the go-to solution for pretty much all civil engineering projects whether large of small and have now taken the place of the GC Works and ICE contracts.
Known as the New Engineering Contract, it was first published in 1993 and is now on its fourth edition that was release in 2017.
The current most up to date NEC document forms the main body document to which contract options A – F are all taken and features all the essential clauses and options required.
The main reason why the NEC contracts are now favoured is that they are fully up to date with all the most recent construction and project management principles and to add are much easier to understand than many of the older offerings.
To find out more visit the ICE website here.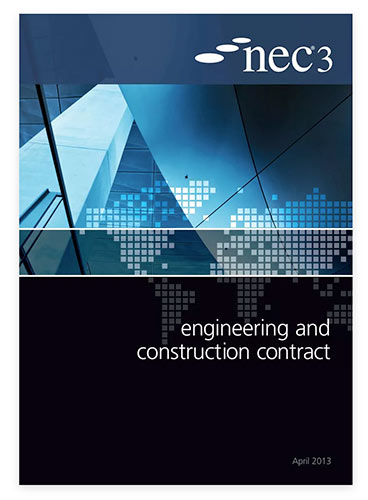 Other Forms of Contract
Aside form the main types of construction contract used in the UK there are other types of contract that you may or may not have heard of that can also be used in construction work, although many of these tend to be used in the US.
The most common of these contract-types are as follows:
GMP Contracts
The term GMP stands for "Guaranteed Maximum Price" and in essence they ensure that any projects covered by them have a price cap e.g. the quoted cost of the job is the maximum price regardless of what crops up during construction.
In general a contract such as this would only be used when the contractor doing the work is as sure as possible that nothing will go wrong and incur additional costs.
Benefits to this would be that with a price set in stone everyone knows what the cost is so financing is made easier. Additionally as the price is fixed the contractor can also look at areas to cut cost and maximise profit.
On the down side, any contractor entering into such a contract will want to be absolutely sure that all will go smoothly so contracts like this can take a long time to finalise and also if anything does go wrong then the contractor has to foot the bill!
Time and Materials Contract
As you may imagine from the name, the times and materials contract is geared around the time taken to do a job and the materials used.
Essentially this is a great contract for contractors and builders and it covers the cost of any materials used plus sets a pay rate e.g. hourly or daily.
As the builder is assured a wage and they don't have to cover material costs this is a big incentive, however some less reputable builders may see this as an opportunity to drag a job out to earn more money, however a common fix for this is to offer a performance bonus for completing on time.
Lump Sum Contract
The lump sum contract is arguably the most common form of contract used by builders the world over and is similar to a GMP contract is that it is essentially a fixed price contract e.g. the contractor quotes a fixed price for the job.
It's main benefits are that as the price is fixed the customer has a fixed cost to budget to and also any contracts written are pretty basic and straightforward. Additionally if the job comes in under budget then the builder will make more money
However as with the GMP contract this comes at a cost in that if any mistakes are made then it's the builder that has to pay the price for it!
Unit Price Contract
As you may guess form the name, the unit price contract takes a given construction project and breaks it down in to separate units and then each of the units is given an estimated price.
This type of contract is mainly used where prices are uncertain e.g. there are a lot on unknowns in terms of what may conspire during construction or the costs of materials required fluctuate greatly.
There are quite a few benefits to this type of contract in that the builder is covered all the way through and won't loose out if anything changes as they can update prices as the initial price was an estimate and the customer has a great deal of transparency in terms of how the whole job is priced.
The downside here lies mainly with the customer in that any unforeseen issues will increase the overall cost and in the volume of work can increase as the project progresses yet again increasing costs.
Cost-Plus Contract
With the cost-plus contract the customer essentially pays the builder for any costs accumulated (e.g. materials, labour etc.) during a given project plus a set amount on top as profit.
The amount of profit paid will be agreed upon by both the builder and customer however in most cases this is normally a percentage of the overall cost of the job.
This type of contract has several benefits in that changes to the overall project can be made as it progresses and the builder knows any costs are covered plus if any unforeseen issues crop up costs can be adjusted to account for this and the builder doesn't totally loose out.
On the down side, as the overall price is based on the costs that the builder says he has accumulated along the way then everything needs to be totally transparent for the customer to agree and if it isn't then relationships can quickly breakdown plus the builder will need some considerable capital or leeway with their suppliers to foot the total cost of the project until they get paid!
In essence a contract is essentially just an agreement between two or more different parties to cover a given project. As long as it's signed and agreed by all parties involved in can be written on a napkin!
However to ensure that there are no loopholes or unintended caveats in a contract it is vital that you have it checked over by a solicitor regardless as to whether you've written the contract yourself or used one of the official templates that we have mentioned above.