Basement conversions are increasingly popular. The key to success in this field is to make absolutely sure everything is waterproof.
All this means that once neglected, mouldy and dank basements can be transformed into wonderful cosy living areas.
There are two ways to waterproof an existing, underground basement. The first, and the one dealt with in this project, is done by lining the basement with waterproof membranes which allow for decoration and everything else you would expect from a wall! A cavity is left between the original wall and the membrane down which any water can pass, into specially constructed drainage channels and sumps in the floor of the basement. The water is then silently pumped away. Simple, effective, completely safe and much less expensive than you think. Read the brochure extract below and click or ring through to Basement Living for detailed information and quotes.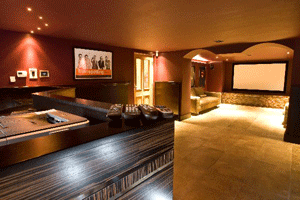 Conversions Using Membranes
When building a basement is it important to understand that every basement is different and as a result there are a number of options when if comes to cellar conversion waterproofing. There are two primary methods that are in common use; used-membranes and structural waterproofing, which is also known as tanking.
In this section we will explore the use of membranes, how they work and are applied. Using a high density polyethylene membrane creates an air gap between the wall and the membrane so that water can pass freely behind the membrane. The polyethylene membrane is fixed physically to the wall and this is either done with treated battens or some forms of framing solution. And then on to this the plaster boards can be fixed.
In might not be necessary to fit the battens, and in these cases it is possible to secure the membrane using specialist plastic plugs, or alternatively a wet plaster can be applied.
Which water proofing membrane that is used in your basement conversion, will be determined by 2 factors:
The finish that you require
The flow rate that is anticipated
There are a wide range of membranes available that will cope with all manner of needs, basement structures and water conditions. The introduction of British Standard 8102 (1990) "protection of structures against water from the ground" has resulted in a more use of damp proofing membranes in the UK and the increased range of specialist membranes on the market which are designed to address a number of issues such and basements that are liable to flooding at one extreme or just dampness, basements with contamination or salting problems.
These waterproof membranes are also used for more innovative projects such as barn conversions, lining tunnels, barriers for radon gas and lining turf or green roofs. Have a look at our project on how to construct a green roof for more information.
There are a wide range of membrane suppliers and the Wykamol Group is one of the leading manufacturers. They have an extensive range suitable for all manner of problems and situations.
As there is little or no preparation required for the membrane system it is very quick to install. When dry finishes are used the system is a "fast track" solution. Decoration does not need to be delayed and there is no drying process.
The Wykamol membrane system has been used successfully in many situations in the UK – from small domestic basements up to major waterproofing projects such as the London Underground stations. There is rarely a dampness or water ingress problem that falls outside the scope of the capabilities of the Wykamol system.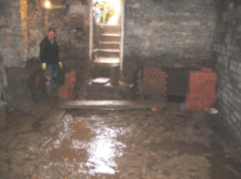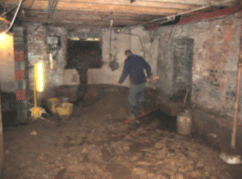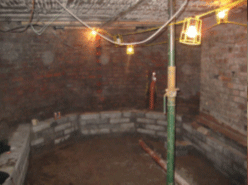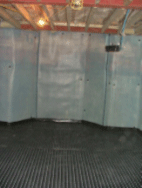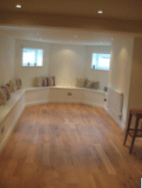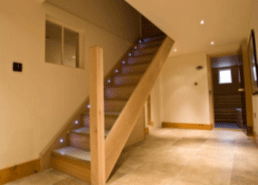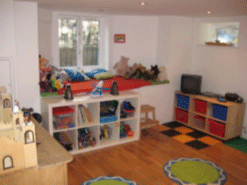 Why use Cavity Drain Membranes?
Polyethylene cavity drain membranes are the ultimate solution to basement waterproofing. In an ideal situation, water pressure should be removed from the building by lowering the ground levels and diverting water away from the property. As we all know, an ideal situation rarely occurs in the real world. Normally it is impossible to achieve the above due to the fact that the basement is completely below ground.
Cavity membranes create an envelope within the building on the negative side of the water pressure allowing the natural drainage of the ground water to enter the structure and be collected behind the system. This is then dealt with efficiently and silently out of sight.
Traditional structural waterproofing systems allow for the removal of plaster and render to prepare the surfaces for the application of a treatment./ This type of waterproofing relies totally on an adequate bond between the treatment material and the wall surfaces. In many cases, cavity drain systems can be fixed directly to the existing surfaces using special water sealed fixing plugs, saving time, mess and money.
Traditional cement based systems are not effective vapour barriers either and condensation problems can easily arise, in fact, can be created by these systems. Cavity drain membranes are not only water impervious linings, they also provide an efficient vapour barrier , combined with added insulation, making severe, damaging condensation unlikely.
Pressure created by water retaining systems such as cement based tanking inflicts stresses on a structure which can cause additional problems. These types of systems will only have a limited life and can affect other rooms or adjoining properties.
Cavity drainage membranes are unaffected by being in contact with wet surfaces. They are also complete barriers against salt contamination. Aggressive sulphate, nitrate and chloride salts are completely isolated from the internal, finished surfaces. Internal finishes to walls and floors can have added insulation performance. Correctly installed and with maintained drainage, the cavity drain system should last the lifetime of the structure.
Cavity drain membranes are………….
Lightweight
Quick to install
Non destructive to the structure
Insulative and sound absorbing
Conducive to a dry, high quality environment
The 21st century solution to basement conversion.
Contacting Wykamol About a Basement Conversion