With the ever-growing awareness of energy usage and conservation, depleting fossil fuel stocks and damage to the environment, the conservation of fuels such as gas, oil and electricity that we rely on every day is pretty much everywhere we go.
With this in mind it's no wonder that there are strict planning rules and regulations on what materials are used in home improvement and construction works to ensure that the energy efficiency of a property is at least maintained at its current level, if not improved upon.
To these ends, Approved Document L deals with the conservation of power and fuel. As this is quite an expansive subject, this document has been broken up into four parts so that each can be dealt with in full for both existing and new dwellings and also new and existing buildings that are not used as dwellings, they are as follows:
Part L of Schedule 1: Fuel and Power Conservation
In essence, this part of the Building Regulations ensures that when any alterations are made to an existing property or a new property is constructed (whether it's a dwelling or non-dwelling), that the following are achieved:
Heat gain and loss is limited through the use of thermal control elements and other parts of the fabric of the building and also through any ducting, pipework, space heaters or coolers and hot water systems
Any fixed building services should be as energy efficient as possible and have the ability to be controlled and also when installed that they are tested and adjusted accordingly to ensure that they no more fuel than is necessary considering the circumstances
In most situations when you are undertaking building or home improvement works you will have an architect that will draw up plans for planning permission and then also detailed drawings for submission to your local building control departement so that they can confirm that the work will comply with any relevant approved documents, rules and also any local stipulations that they may have.
Whilst drawing up your plans and putting the requirements for your job into a practicable and workable build, the architect will also pay attention to the materials that will be used and ensure that they meet energy efficiency rules and regulations etc….
Technically, it is possible to do all of this yourself – produce your own plans, liaise with planning and building regs, source all the correct materials that will meet the desired regs etc…. but without the knowledge and experience that is gained through years of working in this area, this can be a very long and arduous task involving a huge amount of research.
With this in mind, the following is a summary of the guidelines for each specific section of the Approved Document L:
Approved Document L1A – Conserving Fuel and Power in New Dwellings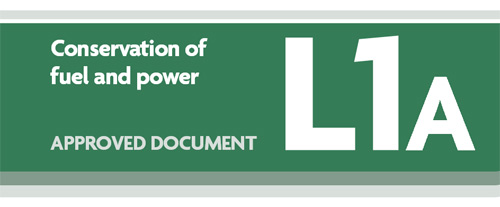 The following are the key requirements of document L1A. To ensure that these are met, compliance software should be used that will give an output report that building control can then assess for compliance.
Criteria 1
This part ensures compliance with regulation 26 and states that the rate of carbon dioxide emission or DER (dwelling CO2 emission rate) that is concerned with CO2 emission from the property must not be any greater than the TER (or target CO2 emission rate).
In addition to this the DFEE (dwelling fabric energy efficiency rate) that is calculated must be no greater than the TFEE (target fabric energy efficiency rate). This is stated in regulation 26A.
NOTE: This particular criteria is mandatory and therefore must be adhered to in all circumstances. However, the calculations produced during this procedure can also be used to provide information for the production of an Energy Performance Certificate.
Criteria 2
The guidelines set out in the criteria state that all fabric elements and services fixed within the structure should all reach a decent standard of energy efficiency.
It is noted that these particular rules are in place to ensure that there aren't any unreasonable trade-off's e.g. cheap insulation material that is not very efficient is not offset against an efficient renewable energy source such as a solar system, that would still produce the required level to pass, even though certain elements are not as good as they could be.
Criteria 3
This section is all about control over heat levels within summer months. It should be ensured that any temperature gains within the hotter summer months are controlled and thus there is no need to install counter-measures such as an air conditioning system.
It should also be noted that this section will need to be satisfied even if there is an existing air conditioning system installed.
Criteria 4
Here, the guidelines state that the overall energy performance of the property should be inline with the TFEE and TER set rates.
Criteria 5
These guidelines basically state that once any building works have been completed then the person that completed the work should provide the owner with suitable instruction on how to use any elements within it so that they can remain as energy efficient as possible.
Additionally, the owner should also be provided with any information pertaining to the maintenance of the property and any items within it to again, ensure that all runs as efficiently as possible.
Approved Document L1B – Conserving Fuel and Power in Existing Dwellings
Renovating or Replacing Thermal Elements
The regs state that where an individual thermal element is to be renovated, if this renovation amounts to a major job or over 50% of the surface of the thermal element itself needs to be renovated then the entire element will still need to comply with the rules set out in paragraph L1(a)(i) (limiting heat gain and loss through thermal elements and other areas of the fabric of the building).
Where a thermal element is to be replaced, rather than renovated, and the work involved amounts to a major job or more than 50% of the surface of the thermal element is to be replaced then as with the above, the entire element itself will still need to comply with paragraph L1(a)(i).
Energy Performance Improvements as a Consequence – Regulation 28
This part of Approved Document L1B is concerned with an already existing building that has a floor space than can be used that is over 1000m2 where any work being carried out is either an extension, the initial installation or increase in capacity of any fixed building services then you have to have energy assesment carried out to get an EPC.
It should also be noted that where paragraph 3 applies, all and any work should be undertaken as necessary to make sure that the building still complies with the rules set out in Part L of schedule 1. Additionally you should be aware that no items included in paragraph 2 need to be carried out if the work involved is not economically, functionally or technically possible to do. For full information on paragraphs 2 and 3, please see Approved Document L1B available on the link above.
Certificates for Energy Performance
This section of the regs applies to both new constructions and also alterations to existing properties where existing fixed services (heating, hot water, mechanical ventilation or air conditioning) need to be provided or extended.
Where the above applies, whoever is carrying out the work will also need to provide an Energy Performance Certificate (EPC) to the owner and also inform the local authority that the work has been undertaken and provide them with registration number for the EPC. This has to be provide no later than 5 days after the work is completed.
In terms of the EPC, it should:
State the asset rating of the property
Include the legal standard benchmark or reference value
Be issued by a certified energy assessor that is qualified to produce a certificate for the particular works that have been undertaken
The issuer must also produce a Recommendation Report of improvements that could be undertaken in the property (if any)
The issuer must also be valid and the certificate and recommendations must also be valid too
The certificate also needs to state a reference number that was entered on to the register for the data set that was used to produce the certificate
The address of the property (unless it is a portable property in which case the registered owners address needs to be stated)
An estimation of the buildings total, usable floor space
The energy assessors name
The energy assessors employers address (if self-employed, their trading name and address needs to be stated)
The date of issue of the certificate
The name of the assessors accreditation scheme to which he/she is a member
In some cases, certification for several units can be based on just one unit if they are all the same or very similar and all use the same construction methods, materials etc….
In the case of flats or multiple units within the same building, certification is excluded if they all share a common heating system.
When a property features some dwellings and some non-dwelling areas, certification for the non-dwelling sections can be based on a common certificate for all the non-dwelling areas.
Where you have multiple, single dwellings that are all based on the same design, size, construction methods, quality of energy performance and materials etc…. certification can be granted by an energy assessor providing they confirm that this compliance will indeed be guaranteed.
In respect to the validity of a certificate, it can only be classed as valid if it was entered on to the register not more than 10 years prior to the date it became available and that it has not been replaced by a newer certificate. It must also not contain any personally identifiable information.
Recommendation Reports for Regulation 29A
Previously, we mentioned that an energy assessor should also issue a "Recommendation Report" that covers and details any cost-effective improvements that could be made to the overall energy performance of a property.
The report has to include:
Any reasonable cost improvements to fixed building services that can be made to a property that run in conjunction with other major works
Any improvements that can be made to individual building elements that can be done without the need for major renovation
Information on how the property owner can access more in-depth knowledge on how they can improve theirs buildings energy efficiency and also for details on the cost of the recommendations
Details on what's involved in implementing the recommended steps
The issuer of the recommendations must also ensure that any improvements that they recommend are actually realistic.
Approved Document L2A – Conserving Fuel and Power in New Buildings That are not Dwellings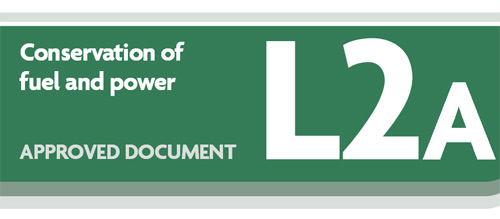 As with the other 2 sections above, this document also pertains to the core directives of Part L of schedule 1 as a whole and ensures that any heat gains or losses are limited and any fixed building services feature effective control, are as energy efficient as possible and when commissioned, are tested and adjusted to make sure any fuel use is reasonable for where they are installed.
The compliance for this particular document falls into five separate criteria that are in fact very similar to those for Approved Document L1A:
Criteria 1
The CO2 emission rate for the building (or BER) should be no greater than the target emission rate (or TER).
Again as with document L1A, this regulation is mandatory in all circumstances and the calculation data used in the process can be used to produce the required EPC (energy performance certificate).
Criteria 2
Any fixed building services and fabric elements used in construction should reach reasonable energy efficiency standards. Again, this rule is in place to limit the potential for any unreasonable trade-off's such as the use of materials with a poor insulation value traded off against the installation of a renewable energy source such as solar.
Criteria 3
This criteria ensures that the building will have suitable controls that can be used to reduce solar gain during hotter summer months and avoid the need to install less-than-efficient air conditioning systems.
Criteria 4
It must be confirmed that the building, once completed, will remain within the boudries set by the BER (building CO2 emission rate). This can be proven by following the guidance set out in section 3 of document L2A that is concerned with construction quality and commissioning.
Criteria 5
The final criteria states that provisions should be put into place to ensure that the building, once complete, continues to operate in as efficient manner as possible. In most cases this will be achieved through the builder/installed providing the owner with all the facts and information needed to operate systems such as heating and ventilation etc…. and that the owner is also aware of any maintenance items that need to be regularly looked at.
Approved Document L2B – Conserving Fuel and Power in Existing Buildings That are not Dwellings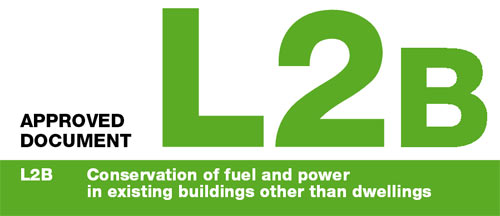 Many of the guidelines and points covered in this document are similar to those outlined L1B as again, we are dealing with an existing property but this time, a non-dwelling property. In respect to this the points that need to be recognised are as follows:
Renovating or Replacing Thermal Elements
When a thermal element needs to be renovated, if it is considered a major renovation or more than 50% of its surface will need renovating then it must be insured that the entire element complies with L1(a)(i) of schedule 1 where feasible.
If an individual element needs to be replaced and this is considered to be a substantial renovation or (if part is being replaced) over 50% of the items surface area will be replaced, again, it has to be ensured that this complies with L1(a)(i) of schedule 1.
Improvements to Energy Performance as a Consequence
As with document L1B, this section applies to paragraph 2 and to existing buildings with a total usable floor area over 1000m2 and involves in includes the following works:
The extension of the building
First provision of fixed building services
Increasing the capacity of any existing fixed building service
For paragraph two of this part of the document and where paragraph three applies, any and all work will need to be carried out to ensure that the entire still building with all the points set out in Part L, schedule 1.
As with part L1B, any works or requirements stated in paragraph two do not need to be carried out if they are not economically, technically or feasibly possible.
EPC – Energy Performance Certificates
The regs set out in these guidelines are very similar to those stated in document L1B (outlined above) and are concerned with the production, registration and presentation of the EPC certificate (Energy Performance Certificate).
It states that the person performing the work should:
Present the owner with a Energy Performance Certificate
Present the local authority with notice of the EPC and also supply them with a reference number for the certificate
Ensure that the EPC is supplied no more than five days after completion of works
Ensure that the certificate states the asset rating in the matter outlined under regulation 24
State a reference value such as a benchmark or legal standard
Only be issued by an assessor that is qualified to issue certificates for the type of building that the certificate itself relates to
Include a recommendation report of suggestions on how the properties energy efficiency can be reasonably improved
Ensure validity as stated in paragraph 9
Include a reference number for the registered data set that was used to produce the certificate, the address of the building in question (unless portable in which case the owners address is stated) and estimation of the total usable floor area of the building
It should also state the name of the assessor that created it, their employer (unless self-employed in which case their trading name and address should be stated), the date that it was issued and also the name of the accreditation scheme the assessor is affiliated with
As with document L1B, apartment blocks, or properties split into flats can be based but exclude situations where blocks, units or flats share a common heating system. In some situations assessments can be based on units where all are similar.
Where you have many individual dwellings that are all based on the same design, layout, construction, materials etc…. one certificate can be produced for all but this has to be confirmed by the energy assessor that this will indeed be the case and things will not change between properties.
An EPC is only deemed valid if it's details were added to the register within 10 years of the date it was made available and no other certificates have been issued since. It must also not contain any personally information pertaining to anyone involved e.g. the assessor, building owner etc….
Recommendation Reports
This refers to the report that an assessor will issue to the building owner containing information and pointers on how the energy efficiency of the building can be improved. These improvement measures should be both practical, cost-effective and feasible and should not involve any extensive renovations for them to be put in place.
The recommendations should also include information on how the building owner can go about implementing these changes and also it should detail how the owner can access more details on improving the overall energy efficiency of the building.
As with pretty much all building regulation related information online the above information is intended to be used as a set of guidelines only.
When planning or researching a potential home improvement or construction project it is imperative that you are referring to the most relevant and up-to-date information and to these ends you should always the appropriate approved document that can be downloaded from the Planning Portal website on the links above.