What are Building Regulations?
Building Regulations in the UK are Statutory Instruments (a legal term which denotes the way legislation is presented and passed in the UK).
Building Regulations define how a property should be built, in order to ensure safe standards. They encompass many rules about all areas of construction. As new products and practices are developed the Building Regulations are regularly updated to accommodate them and any new research findings.
Even if you are making additions or alterations to your own home, or carrying out a self-build project which is just for your use, you still have to comply with building regulations.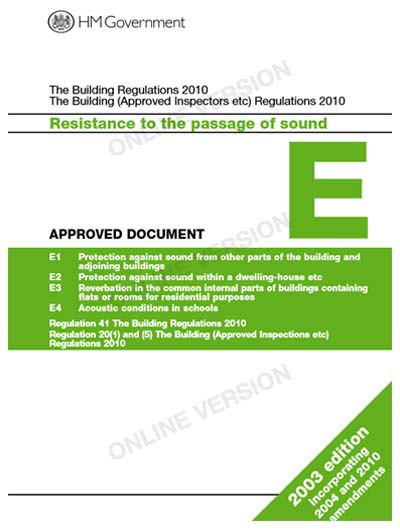 Building Regulations are not the same as planning permission – while planning permission is sought (and hopefully granted) to allow you to build the type of property, extension or conversion you want to carry out, Building Regulations specify how those changes must be carried out. They cover the type of materials that are suitable in a given project, as well as the way they should be applied to the job. Some work does not require planning permission; however it must still comply with building regulations.
Noise Nuisance
Unwanted noise, or noise nuisance, is a major cause of complaint to local councils. If you are having problems with noise nuisance you can find out how and where to report it in your area by using the .Gov website. Noise is a major source of dispute between neighbours and so it is vital that when building property it is constructed in a way that minimises transfer of sound.
Sound can travel through the walls, ceilings, stairs and floors of a dwelling. So they need to be constructed in a way which resists the transmission of airborne sound waves and any impact sound. Impact sound would include walking across the floor in a block of flats, or climbing stairs in attached properties. Sound waves would include radio, television, playing musical instruments and even singing in the shower.
Noise Complaints
Complaints about noise can be triggered by many social (or anti-social activities). One person's idea of noise nuisance may not be the same as another's. So while Councils have a duty to help prevent noise nuisance it is important to try to find a non-confrontational way of resolving the situation before it escalates towards using official channels and legal action.
Causes of Complaint
Noisy Neighbours
Neighbours may play loud music, television, or computer games while remaining completely unaware of how sound travels. Ironically if you are a quiet neighbour they will have no idea how their own sound is travelling, because they never experience the transfer of sound. Talk to them and if necessary invite them round while their music is on next door!
Barking Dogs
Dogs are a valuable deterrent to burglars, as well as being great companions, but where they are left on their own, or not properly controlled their incessant barking can be very disruptive for neighbours around where they live.
Burglar and Car Alarms
Who hasn't been affected by a noisy burglar or car alarm going off in the middle of the night? Obviously if they are doing their job and the instances are rare this is not really a problem you can do anything about, but if your alarm is faulty you should get it fixed.
Nightlife
Nightclubs and pubs should make reasonable attempts to make sure their clientele do not disturb the neighbours. This will also be reflected in the timings for music licences etc. If you find there are regular disturbances you should speak to the landlord to see what can be done. Private parties that are irregular and infrequent are just part of life, but if they are getting gout of hand, going on too long or are regular disturbances you can take action. Try negotiating with the neighbours first though, but leave it until the day after the event or it might get very heated.
Open Air Events
There are many music festivals and concerts in the summer months. These open-air events can be very disruptive to neighbours and may be restricted in the hours they can operate, and/or may compensate their neighbours for the nuisance cased to maintain good relations.
Building and Construction
Building and construction site noise can travel a wide distance, especially where there is piling or heavy machinery at work. Most councils will enforce a period where noisy work is not allowed. This is geared to allow people to get sleep at night. Typically noisy work is allowed Monday-Friday 8am-6pm and Saturdays 8am-1pm. For large civil contracts this is sometimes altered by consultation with local residents, and if there are a large proportion of shift workers in the area, these agreements may need to be altered.
DIY
DIY is basically building work carried out by amateurs. Just because you are Doing it Yourself it does not mean that the rules on noise pollution do not apply. Work should be planned to make sure noise is reduced during anti-social hours. So for instance don't get the drill out midnight, but you could use a paintbrush of course.
Industry
Industrial processes such as dry cleaners or factories should take steps to make sure that the sound from their commercial operations does not affect people in the surrounding area. This would include the kitchen extract of a local restaurant and air conditioning units in an office building.
Deliveries
If you live near shops or industrial areas you have a right to ask that deliveries are made during reasonable hours. If you are not disturbed by the newspapers being dropped off at your local newsagent, then no problem. However, if you have a local supermarket having all their day's goods dropped of by pantechnican at 4am you have a right to complain. Speak to the shop owner in the first instance to see if the deliveries can be rescheduled.
What Does Part E of the Building Regulations Cover?
Part E of the Building Regulations was initially introduced in 1992 and covers the reduction of unwanted sound transmission. This is identified as the passage of sound. It covers all walls, ceilings, windows and floors in the building.
The regulations are continually updated to take account of the fact that construction techniques have changed over the years. As new materials and construction methods have been introduced through research and development in the construction industry, the regulations are changed to reflect and rationalise them. The latest update to Part E of the Building Regulations was released on 6th April 2013.
All building regulation documents can be downloaded from The Planning Portal here
Building Inspection
'Pre-completion testing' of all new buildings has been a legal requirement since 2003. This means that the building inspector should see the methods of construction during the process of building, not just once it is completed. This allows the inspector to see that the work is being carried out in the correct way and using the correct materials to be compliant with the appropriate Building Regulations.
Compliance testing is carried out using a scheme called Robust Details. Robust Details is a series of checks which allow compliance testers (also called Building Inspectors) to ensure all homes are built to the necessary standards. Do not view the Building Inspector as an advisory, they are there to ensure that whatever you build will be safe to use, and can be resold if you should chose to move.
Part E of the Building Regulations is a vital part of the construction process to ensure both private and landlord-operated homes, and commercial properties keep sound within the room or space it occupies without polluting any other areas.
What Does Part E Mean?
In practical terms there are a few main elements that are required of work under Part E of the Building Regulations.
E1 – Protection against sound from other parts of the building and adjoining buildings
E2 – Protection against sound within a dwelling-house etc
E3 – Reverberation in the common internal parts of buildings containing flats or rooms for residential purposes
E4 – Acoustic conditions in schools
For most of you part E4 is not going to have much impact, and E3 will be of interest to only some of you, but E1 and E2 are certainly relevant to anyone building or renovating.
In order to design a common-sense solution to problems associated with the regulations during construction the following simple rules are applied:
Construction is to be capable of consistently exceeding the performance standards given in Approved Document E to the Building Regulations for England and Wales
be practical to build on site, and
be reasonably tolerant to workmanship
At the end of the page you will see the contents pages for Building Regulation E taken from the document downloadable from the Planning Portal. We have broken these down in the next section but if you want the whole information you can download Approved Document E from the Government's Planning Portal. The online version is free.
What Building work is Covered by Part E?
Part E of the Building Regulations affects the following Building processes:
New buildings, material alterations and renovation to existing dwelling houses (including bungalows), and buildings which contain flats or are being split into flats, or other dwelling-houses and flats created by 'material change of use'
Materials used in ceiling voids and roof spaces when used for residential purposes i.e. attic rooms and loft conversions
Reverberation in the common parts of buildings containing residential flats, including stairwells, lifts and rubbish chutes
Considerations governing room layout and building services design
Ceiling treatments
Doors, including internal and external doors and corridor doors where appropriate
Stair treatments
Floors
Separating floors, including the junctions between separating floors and other building elements, including the following types of floors:
Beam and block floors.
Concrete base with ceiling, and soft floor covering, or floating floor
Timber frame base with ceiling and platform floor
Concrete planks
Concrete beams with infilling blocks, bonded screed plus a ceiling
Timber or metal joist wood based board and plasterboard ceiling, with an absorbent material
Internal timber and concrete floors
Floating floors
Junction requirements for internal floors
Ceiling treatments on the ceilings below
Walls
Separating walls in buildings plus the junctions between these separating walls and other building elements, including corridor walls, including the following types:
Solid masonry
Cavity masonry
Independent composite panels, and plasterboard
Framed walls with an absorbent material
Masonry-between walls
Internal walls built of concrete or Aircrete block wall with a plaster or plasterboard finish on both sides
Internal walls including timber or metal frames with plasterboard linings, and with or without absorbent material
The plasterboard linings on walls
Requirements for cavity widths, and wall ties, in cavity walls
Junction requirements for internal walls
Do you need a contractor to help with building work? Let us help you find a reliable tradesman local to you.
We have included some images of the contents tables you will find in the Government's online copy of Building Regulations Part E, so you can see what is covered, in more detail (see below). Find out more about Building Regulations and Planning Permission in our other Project pages.
For Building Regulations advice in your area, contact your local council. Make sure you seek approval before you start to build.