Most accidents around the home happen when levels are changed via stairs, ramps or ladders. These items need to be designed in accordance with the regulations to ensure that the potential for any accident is kept to the very minimum.
In essence, the Building Regulations Approved Document K states that safety barriers should be provided to stop people falling from landings, balconies or other exposed heights and provision must be made to reduce the risk of impact accidents. It also states that any stairs need to be of a safe incline to actually climb up and that they are of an adequate height etc….
The rules that make up these regulations are not arrived at by accident and lots of research has been carried out over many years to make them what they are today. It is also important to remember that as construction techniques and technology change, the regulations change to so it's important to check them regularly.

The document in its current form is broken up into five parts that cover each of the essential areas involved in protecting any person from risk of any height related injury:
Section K1: Stairs, Ladders and Ramps – This part of the document deals with all aspects of stairs, ladders and ramps and ensures that any person within a given building can find their way around safely when passing between rooms and different levels
Section K2: Protection from Falling – This section of the document helps to ensure that when any person in a building is travelling up or down between floors that any and all access points (e.g. stairwells, landings etc….) are protected by handrails, balustrades or other required protective measures to prevent the risk of falling
Section K3: Vehicle Barriers and Loading Bays – This section is maily related to industrial locations or public parking areas (e.g. multi-storey carparks) but may in some situations apply to domestic builds or construction. It ensures that any areas such as multi-level car parks are correctly protected by barriers to prevent cars from falling off or any vehicle loading bays are surrounded to prevent persons or loading vehicles (forlifts etc….) from falling
Section K4: Protection from Collision with Open Windows, Skylights and Ventilators – This area of the document advises on how to prevent any injuries to any person travelling both internally and externally around a building. It sets out guidlines that states, essentially skylights, windows and other protruding objects must be installed in such a manner that if a peron walks into a room or around a corner they do not walk into any of these objects
Section K5: Protection against Impact from, and Trapping by Doors and Windows – The final section of the document sets out guidelines to ensure that any doors or windows that open and project within the property do so in such a way that anyone within the property does not walk into them
Building Regulations and Stairs
One of the most common points for discussion and in a lot of cases, confusion is when it comes to stairs and loft conversions or extensions. In the UK, mainly due to cost, loft conversions tend to be a bit more of a popular choice rather than extensions.
With a loft conversion you are already utilising the existing footprint of a property and essentially the shell of a room or rooms is already there.
When it comes to access and stairs, this will really depend on the current layout of the property. If it features an existing hallway that is not required for the property to still function correctly (e.g. if the property is a bungalow and won't block access to doorways etc….) then this is often a good place for a stairway.
The main goal of positioning the stairs is to avoid taking away space from any existing rooms e.g. the ideal place for the stairs may be in the corner of an existing bedroom, but by putting them there you then reduce the size of that bedroom and possibly even make it too small to be used effectively which means it would then be lost.
If the property is already 2-storeys and has a decent landing, quite often it is possible to get stairs up to the loft conversion that run above the existing stairs. This quite often helps to avoid head-height problems due to the initial requirements for the existing stairs that can often be a bit of a bug-bear.
On the subject of head height, in most cases this will need to be a minimum of 2m, both while a person is travelling up the stairs and also when they step off of the top step on to what would be effectively the landing. Head height once on the landing should also be a minimum of 2m.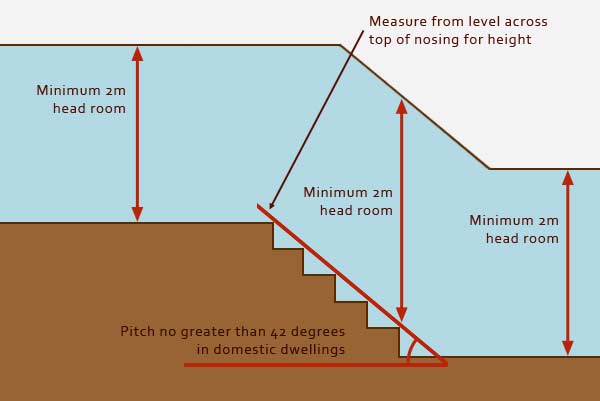 Although the 2 metre headroom is a stated requirement there can be some flexibility when it comes to loft conversions, particularly where there is a sloping roof. As a roof slopes down the height between it and the floor reduces the further down the slope you go. With this in mind it is possible to reduce the head height to 1.9 metres and 1.8 metres at shoulder height within half the stair width as can be seen below.
Different Parts of a Staircase
There are numerous different parts that make up a staircase, some are essential and feature in every type, regardless of its design or construction and some can be optional depending on where and how its being installed.
For example, banisters or hand rails may not be necesary if the stairs are going to be in an enclosed area, with full height walls either side as the presence of the walls themselves will prevent any risk of falling.
The main elements that make up a set of stairs are generally as follows:
Banister or Handrail: This is the part that you can hold on to whilst travelling up or down the stairs to aid with stability and prevent falling. They are normally situated on at least one side if not both (if over 1 meter in width). If on only one side it will normally be the open side as this is the area that presents the danger
Balusters or Balustrades: These are the upright sections that fill in the gap between the handrail and the diagonal base section that runs the length of the staircase and helps the form the actual stairs themselves
Newel Post: This is the large upright post normally situated at the top and bottom of the stairs that supports the handrail and gives it its rigidity. The one at teh bottom of the stairs is often called the Starting Newel while the one at the top is called the Landing Newel
String or Carriage: This is the section that runs each side of the entire staircase diagonally along its entire length. It forms the base structure and also supports the treads and risers
Tread: The clue is in the name with this part. The tread forms the section that you actually step on
Riser: These fill in the open sections between each tread, providing additional strength. In some cases you can have open risers but the treads will need to strong enough to cope with the lack of support
Nosing: This is the very front of the tread that sometimes slightly overhangs the riser below it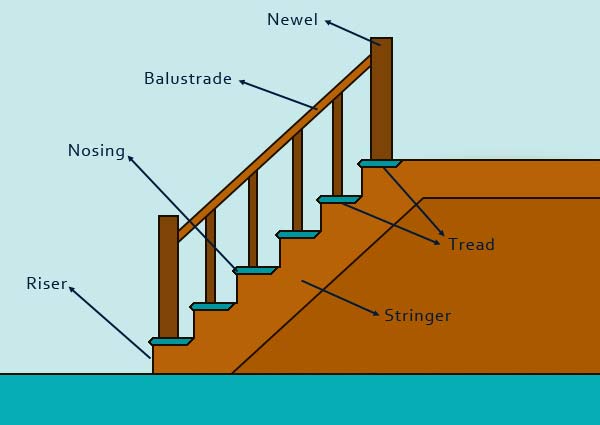 Types of Stairs
When it comes down to it there are essentially only a few different types of stairs commonly found within most UK homes – the standard straight staircase, the winder staircase and the spiral staircase
Straight Staircases: These really do what they say on the tin, run from one level to the next in a straight line
Winder Staircase: This type of staircase normally winds through a series of angles from one level to the next. Depending on where the stairs needs to end up will depend on whether it features one turn (single wind, normally 90°) or two turns (double wind, normally 2 90° turns for a full 180° turn)
Spiral Staircase: Again, these are pretty self explanatory and most will have seen a picture of this type, if not seen one in real life. The entire structure revolves around a circle and a given user will travel upwards in a spiral pattern around its circumference to the net level
Each staircase can come in a range of different styles such as those with European handrails, be constructed from a range of different types of timber such as Beach, Pine, Oak, glass and even stainless steel, wrought iron and other types of metal.
The above information is focused mainly towards domestic stairs but when it comes to stairs in the work place and within industrial settings the rules do change quite a bit. For tis reason we will not go into this in detail here so you will need to download a copy of Approved Documnet K (link found at the top of this page) for more details.
Additionally, the domestic information provided above is only a guide and for full details you will need to donwload the latest copy of Approved Document K. Regulations can also change from time to time so make sure that you are refering to the latest copy, downloaded from the Planning Portal website.
Staircase Landings
At present, the regulations state that every staircase must have a landing area at both the top and the bottom for safety and escape reasons. The landing itself must be, at minimum, as wide as the narrowest width of the stairs.
It can also incorprate the existing floor of the property e.g. the area where the stairs meets the existing ground floor and it must also be free of any form of obstruction and of solid construction.
With this in mind it can feature a cupboard where the doors open out, on to it, but again, these will need to be kept shut under normal everyday use. Additionally, the doors when open, should still allow at least 400mm of landing area.
When it comes to doors, in a domestic situation a door is allowed to open out on to a landing at the bottom only but again it should still allow at least 400mmm of clear landing space
Alternating Tread or Space Saving Stairs
In some situations where it is not possible to add a staircase for a loft conversion that fully satisfies the regulations in terms of width, pitch or other specifications this type of stairs can be used instead. There are some conditions however in that the access can only be for one room and bathroom or toilet (not being the only bathroom or toilet in the property).
Essentially for this type of stairs, each tread only has a full width section on one side meaning that when using it, you move upwards by treading on the full width area (as seen in the image below). It must also feature a hand rail on both sides.
They must also comply with the following points (please also reference Approved Document K for full specifications):
Alternate steps should be uniform with any nosing parallel to itself
All treads to be coated with an anti-slip coating
Headroom should be at least 2 metres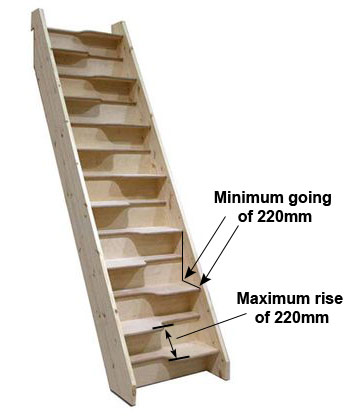 Protection from Open Windows, Ventilation Ducts and Skylights
Most buildings and properties, regardless of their use, will have at least one ground floor window and in most cases this will open outwards. If the said window opens outwards more than 100mm or is lower than 2 metres off the ground then a suitable guard must be fitted below it to ensure that no one can inadvertently walk into it while it is open.
When it comes to the opening of windows, ventilators or skylights, the regulations also state that the means of doing so should be safe for for anyone (this also includes opening adjustment and closing).
When large panes of glass are involved e.g. screen doors, patio doors etc…. they should be suitably marked to indicate that they are actually there. I'm sure you may have seen YouTube clips or scenes from shows such as You've Been Framed where some one is racing around and all of a sudden they run slap-bang into a patio door, well these rules are here to help prevent that from happening.
Additionally, when doors of this nature are involved, the glass within them should:
Break in such a manner to prevent serious injury (should comply with section 4 BS EN 12600 and also clause 5.3 in BS 6206)
Resist the impact all together and not break
Be completely protected from any chance of impact
Trapping Injury from Doors
Although this section is mainly geared towards industrial situations, the principles should also be acknowledged within domestic situations as, at the end of the day, no one wants to be hit by a door of any kind.
The regs state that where a door is upward-openeing (this also includes sliding), steps should be taken to ensure that it does not fall on anyone using it. Powered doors and gates are also covered here and it should also be ensured that they are not allowed to trap anyone when under power any in the event of a powercut, it should be possible to open them.
Doors within walkways (where users may be traveling to and from a given place) also have a few rules. It should be possible for anyone walking up to a door to see if there is another person about to open it. The visibility should be provided through a vision panel located around the doors leading edge (where you will push to open it). Further details on these rules can be seen in Approved Document K that can be downloaded on the link above.
Summarising Approved Document K
The UK building regulations as a whole can be quite a job to fully understand, especially to the leyman that is not involved with them on a daily basis.
Even professionals such as architects struggle, as in some cases the rules can be interpreted in different ways depending on who is viewing them and their particulat outlook. Coupled with the fact that even some local authorities view them slightly differently, this can lead to huge amount of confusion between what it allowed and what is not.
To these ends it is hugely important that you liaise closely with your local building control departement and that they have a full understanding of the aims and objectives of your plans, especially if you are undertaking the planning and approval stage of a project yourself, without the help of an architect.
If you are, in the truest sense of DIY, "Doing It Yourself" you may find the following book helpful:
Please also note, the above information is meant as a guide to the current Approved Document K building regulations and with this in mind, you should always download and view a copy of the latest regulations from Planning Portal website.