Anyone that has undertaken a fairly major DIY project of home improvement job will be quite familiar with the building regulations. Whether this is from a personal point of view i.e. you dealt with it yourself or whether an architect took care of these details, he/she should have made you aware of what they are and why they exist.
To anyone who is not aware of what the UK building regulations are they are a set of rules that have been issued and approved by the Secretary of State that outline certain do's and don'ts for the construction industry.
The reg's themselves are mainly geared around aspects of health and safety and they ensure that anyone living in or using a building can do so safely without getting electrocuted, walking into an open door or falling off of a first floor landing. For some areas (especially in recent years), energy conservation is also a large part.
Approved Document D in its current form is based on the 1992 edition of the rules but incorporates several amendments created in 2002 and 2010. The document and the rules within it outline the use of toxic materials used during building works, namely the use of certain materials used for cavity insulation.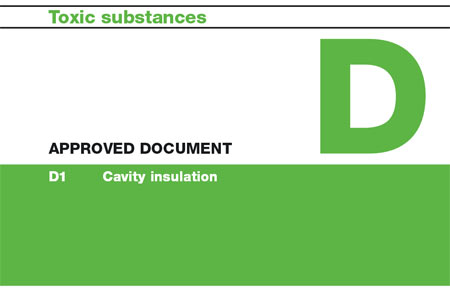 The document lays out certain points that need to be satisfied when cavities are to be filled with UF insulation: When insulation is to be used to insulate a cavity within a cavity wall, you should ensure that any toxic fumes that may be given off by the insulating material are prevented from travelling into any part of the building structure that is occupied by people that could cause a health risk.
As there are quite a few different types of cavity fill insulation, we need to clarify that these particular regulations refer to ″Urea Formaldehyde Foams″ or UF Insulation Foam. Any Formaldehyde-based insulation that can give off fumes of this nature should be contained with a continuous barrier and prevent any fumes from entering the given property where they can build up to dangerous levels and cause a health risk.
When working with this type of insulation, the following points will need to be adhered to if a cavity wall is to be insulated with UF insulation:
The Inside leaf of the cavity wall must be constructed of bricks or blocks
The wall and cavity area itself must be inspected first to confirm that it is suitable for insulating inline with the guidelines stated in BS8208-1:1985
The contractor carrying out the work must hold a current and valid Certificate of Registration of Assessed Capability
The actual materials that are being used must conform with BS5617:1985 and the specifications set out in these guidelines to ensure that it is suitable for use within a cavity wall
The insulating materials are installed following the guidelines stated in BS5618:1985
As with all approved building regulation documents, before you reference any document it is critical that you make sure that you have the very latest copy. From time to time the regulations are changed and updated and if you are referencing an out of date document then this could cause all sorts of issues with your project. Download the latest copy of Approved Document D from the link at the top of this page.
Additionally, this guide only outlines and explains the particular rules set out in this document and should not be taken as fact. Always refer to an original, up to date copy of document D downloaded from the Planning Portal website on the above link.