Why are There Rules for Fire Doors?
A fire can start in any room in a house, or office building. The introduction of fire door and fire exit safety regulations is to primarily be able to contain the fire, and the smoke from that fire, in the room where it started for as long as possible.
In most domestic situations 30 minutes is deemed long enough to clear a room and contain the fire while all the buildings occupants get out of the property. Fire door rules, along with many other rules which discuss fire in the home are covered by Approved Document B of the Building Regulations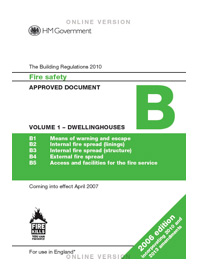 What are the Regulations
Approved Document B is published in two parts. Only part one deals with fire safety in the home or in "dwelling houses". A distinction should be made at this point between an internal fire door, allowing passage from one room to another or to hallways, corridors etc, and a fire exit which allows passage to outside air.
The rules are different for both and the Building Regulations should be read and understood when dealing with either. There are also different rooms for different levels of properties and basements or loft conversions should not be constructed without particular reference to the regulations covering such constructions.
What is the Requirement?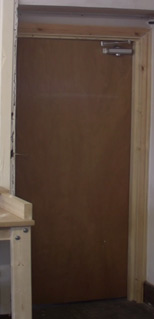 Too many people get hung up on the term "Fire Door" believing it to be OK just to stick a fire door in an existing opening and use the original hinges and lock etc from the original door.
When the regulations talk about fire doors, they are really talking about fire sets. A fire set includes the door, the frame and or door linings, the architrave, the hinges, the door stops, the ceiling surrounding the door in a corridor and the lock and latch set.
It would be useless to have a door which would hold fire back for 30 minutes if the lock or hinges melted in 5 minutes and smoke was billowing through gaps in the frame after 10. All materials and products used in the instalation of fire doors and fire sets should be Certfire approved and where approprite, CE marked.
What is Certfire
Certfire is a third party, independent certification scheme ensuring quality, performance, reliability and safety of all products use in surrounding where fire could be a hazard. It is Internationally respected and recognised in the approved regulations.

What is CE Marked?
CE marking is an Internationally recognised marking which stands for Conformité Européene or European Conformity. A CE marking on a product used for the installation of a fire door means that the product complies with the essential requirements of the appropriate European heath and safety legislation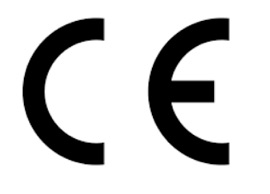 Appendix B of Approved Document B: Fire Doors
The table below is taken from the Building Regulations and shows the fire door (FD) minimum time that it must maintain it's integrity. FD 30 is therefore 30 minutes.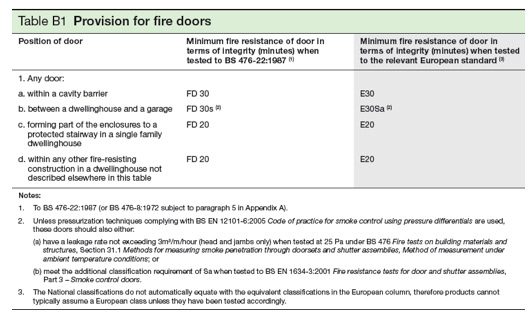 Choosing the materials for walls and ceilings will affect the rate of spread of the fire greatly however unlikely it is that they are the first things to be ignited. Plasterboard (at least 12.5mm plasterboard) is a great material as it allows a 30 minute fire protection and is fitted in most homes to the ceilings and very often, the walls too.
Fire Door Rules in Simplistic Terms
Fire doors are a very important safety feature of any home. In  the event of a fire, the door, frame, hinges, locks etc……. must withstand heat, fire and smoke for at least 30 minutes.
In some places, namely loft conversions, basements and between houses and integral garages, there must also be a door closer so that the door closer closes the door automatically and most importantly returns the latch into the keep so that any drafts will not open the door again.
This could be after a loft conversion has been approved, a new build over 2 floors, or an existing domestic dwelling over 2 floors has been approved for rental as a house of multiple occupancy.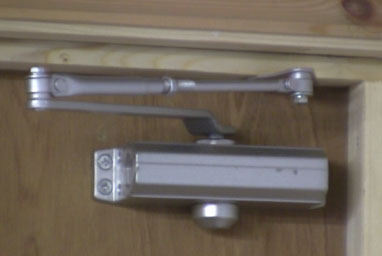 Definition of Fire Door
The definition of a fire door is a door assembly, or door set, which has been designed to hold back fire and smoke for a designated period. It is quite simply a door, frame, lock and hinges designed to prevent the spread of fire and smoke, giving you a chance to get out.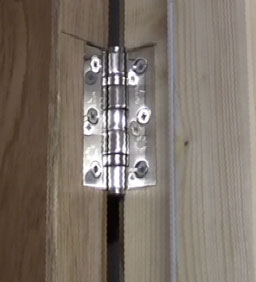 Certfire Certificates and Door Labels
Fire doors are clearly labelled with a Certfire label when bought and the label, or sticker must not be removed. They are clearly labelled to make it obvious which one to use when specified.
An FD30 will hold fire back for 30 minutes, known as having 30 minutes integrity. An FD60 has 60 minutes integrity.
FRG30 or 60 means the door has 30 or 60 minute resistance using fire resistant glazing. Fire doors must meet British Standard 476.

Fire Door Hinges
All fire resisting doors should be a close fit to the frame with a maximum gap of 5mm. They must be hung on metal hinges (minimum 3 hinges per door) with a melting point of not less than 800 degrees Centigrade.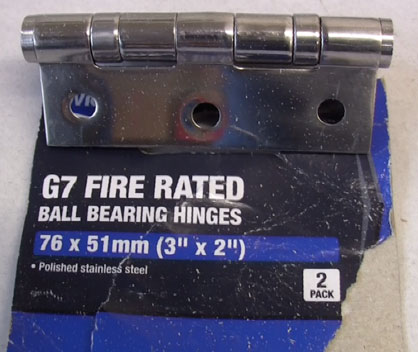 Fire Door Closers
Prior to Aril 2007 all fire doors should have been fitted with an effective self-closing device capable of closing the door tight against the frame and not allowing resistance from any latch or lock.
This regulation was relaxed in April 2007 as the door closers were deemed to be a "nuisance" in the running of everyday lives in the home.
The authorities deemed that while they should give sensible guidance on the management and escape from home fires, the installation of door closers should be a decision made by the home-owner.
Door closers must be fitted to all and any room above the 2nd floor of a building and to any door between the home and the garage.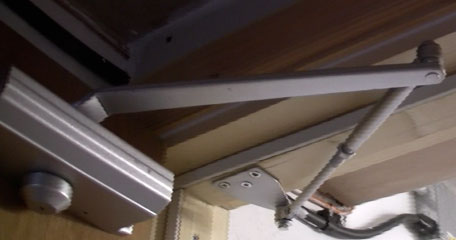 Intumescent Strips and Escaping Smoke From Fire Doors
Intumescent is an adjective which, when applied to a coating or sealant, means that it swells up when it is heated. All fire doors providing 30 minutes or more resistance will be fitted with intumescent seals or fire door strips.
These seals expand when hot to seal the gap between door and frame. This stops and smoke escaping through the door. When new doors and frames are fitted to a building the intumescent strip should be 15mm wide, if the frame is an existing frame, a 10mm wide strip can be fitted.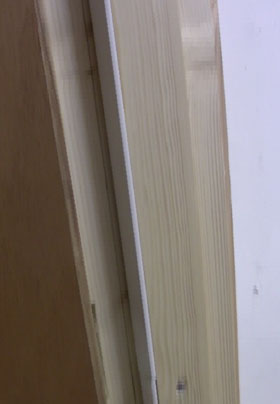 Many frames have intumescent strips rebated into them but it is permissible to add the stips to the frame or door afterwards.
To this end, many manufacturers are now producing stick-on door strips, both 10mm and 15mm wide. These are simply stuck to the door or frame.
A pack of strips, 5m long (enough for one door) will come in either brown or white and can be bought from most builders merchants and larger DIY shed.

Fire Door Locks and Latches
Ironmongery on a door, or door furniture as it is known, which is required to withstand the heat from a fire, is called essential ironmongery.
Door knobs, door locks and latches used on fire doors which have a locking mechanism which is integral to the lock itself must be CE marked. Mortice or tubular latches must comply with BS EN 12209.
Letterboxes can be used with fire doors but the letter plate or letter box must be CE marked and you should check on the manufacturers instructions that the door you are using is compliant with having a letter box or letter plate installed.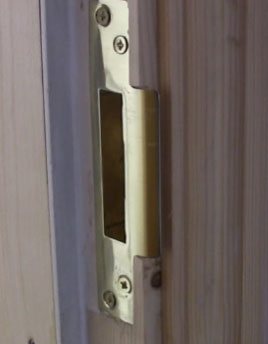 Hanging a Fire Door
Fire doors are hung in the same way as other doors but care should be taken as fire doors are solid timber and very heavy. They also need 3 hinges per door. To find out how to hang a door see our hanging a door project here.
It is important to remember that a fire door should be kept shut. Yes, door closers are a nuisance but the building regulations are there to keep us safe and a little inconvenience is really not much compared to putting life in danger. Please be careful when fitting fire doors.