Getting a quote from a builder or tradesman is not as easy as you might think. There are a number of reasons why it can be difficult to get a builder to quote for your job and here follows, are the most common.
Getting Quotes for Small Jobs
Sometimes, despite adverts saying "No job too small" the job you want doing is just not worth the builders time. Builders can usually see at a glance how long a job will take and how much the materials will cost.
Travelling time is also a consideration – your house might take 30 minutes to get to, and 30 minutes back. The materials have to be ordered and picked up so that's another hour. The builder now has to cover those two hours.
The job you have planned may only take an hour but he has to charge you for 3 hours, not including fuel, insurance, tool costs and profit (which he does need to make to stay in business).
A one hour job is going to cost you as much as a 6 hour job. The builder knows you are going to say no, because, in most cases, they will know you are not going to pay this, why would you or anyone else for that fact. Result – You don't get a quote!
This example is not as extreme as it may sound. A builder with one van, working on his own, has to own, carry, or have access to, (in 2014) about £2000 worth of tools. He also has to account for replacing these tools (regularly if he is busy).
A handy point to remember is, if the builder tells you his hourly rate…. he will actually end up with only about 50% of this once all of his overheads have been paid. If he is charging you less than 3x the minimum wage then there is a good chance he has not made proper allowances for his overheads and this could spell trouble later in the project if the builder runs out of money.
If you approach the situation differently and indicate to the builder that while you know its a small job, you are still aware that it costs him the same to come and go as if it would, were he there all day, he will realise you are a realist and be far more likely to come and do the little jobs for you.
Just like the rest of us, builders hate to be told that their time is not valuable and while you are innocently trying to protect yourself by suggesting that his quote is a little over the top on such a small job; what is actually happening is that he feels insulted. Sounds very "deep" we know, but put yourself in the builders position, what would you think in this situation?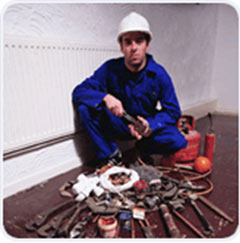 Preparation for Getting Your Quote
Before you even get to the point of getting quotes there is a lot of work that you have to do. You need to be prepared and know, as best you can, what the work is that you want done. You must, at the very least, be able to explain to the builder what your desired outcome is.
It will almost certainly be a steep learning curve for you, but it is important that you do as much home work as possible. There are several reasons for this:
You need to describe exactly what you want from the builder. If possible, a detailed specification with appropriate drawings is the best way to do this. If you don't he might be quoting for something he thinks that you want but isn't actually the case
If you aren't clear in your mind, it is likely the "specifications" that you give to other builders who prepare quotations for you will vary and then it will be very difficult to compare the various quotations on a like for like basis
Good builders and tradesmen will pick their customers as much as you are picking them. It is not uncommon for a really good and popular builder to be booked up months in advance, if not years. This is the builder that you will probably want, and in order to get them to work for you, you will need to convince them that you are a good client who is well prepared, organised and pragmatic
You need to have a very clear picture in your head of what you would like to end up with. Of course you are not going to know exactly how it will be achieved but once you have explained your desired outcome to the builders, get them to tell you how it will be done. This way you can make notes and compare the builders suggested method to others who may be quoting.
Make sure you then have a list of everything you want the builder to do, including tidying up, and ask them to provide a quote based on that list.
We titled the subject of this section "Preparation for Getting Your Quote", but this is perpetration that you should be doing anyway. It will help you immensely when it comes to the point of requesting a number of tradesmen to give you a quote. It is a cliche, but it is also very true when it comes to working with tradesman:
To fail to prepare is to prepare to fail!
Why Get Quotes?
You might have a perfectly good builder who is happy to give you a quote for the work that you require at a price that you are happy with. They might come highly recommended and you may personally like them and trust them. Why waste time getting quotations from other builders or tradesmen?
There is nothing to say you have you have to get quotes at all. The building trade is unregulated and it is your home (probably the most expensive thing you will ever purchase), so it is worth a little shopping around to make sure you have made the right decision.
Scare tactics aside, why we think that getting a range quotes is a great idea is because:
You can validate the price you have against the market rate – you will find out what other firms of tradesmen are charging for the same work
You will be exposed to professionals who have worked in the industry and will know all about completing projects like yours. From them, you will learn about the process and get ideas that you might not have through about
It will give you a chance to build a relationship with firms or tradesmen and see how they are going to work. It is not just about the actual project, but also about your relationship with the tradesman and how the firm plans to work with you. There has to be a good fit
You get to ask some of the important and awkward questions that need to be asked. These can be difficult with a builder you know, and as you get confidence and experience you will get better at handling these issues and how to address them
There will be many more benefits to preparing for meeting your builders, particularly for specialist projects. Far too many to cover exhaustively here! Suffice to say, we feel that the benefits far outweigh the time it will take and effort that you will put in will pay dividends in the long run.
Clearly there is a judgement call to be made about the number of quotations that you get. This will depend on the size of the job (we have already discussed small jobs) and whether you are comfortable with the builder or tradesman and the quotation they produce.
In general, the larger or more complex the work, the more quotes that you should get. You should try and get a minimum of 3 if possible as this will give you enough exposure to get a good understanding of the differences and what you are being charged.
Most importantly it is not just the amount of money involved that you need to know – It is what the builders are going to do for that money and, just as importantly,what they are not going to do!

How to Get Quotes from Builders and Tradesman
Once you are ready to go out and get quotes, you have done all you preparations and are clear in your mind what it is that you want you can then follow this simple process:
Identify suitable Firms or Tradesman: These should be local to the work being carried out so that they can get to site easily. They also need to have the skills and experience of completing the kind of work that you need to get done. Have a look at our find a tradesman page to help you find builders, contractors and tradesman in your area
Build your Shortlist: You will need to ensure that the firm or individual is available for the full duration of the project you are planning. It is a good idea to check the references at this point and do any background checks that you need to do
Ask for your Quotation: Meet with the preferred tradesman on your short list. Ensure that you and they are willing to work together on this project. Try to work out if this firm or tradesman will be a good fit in terms of your requirements
Once you have asked for a quotation, your builder or tradesman will either be able to give you a figure then and there, or will go away and price up the job. Which route will depend on the type of job being asked to quote for and its complexity.
There are merits for both approaches so don't be alarmed at either, but whichever way the builders quote you need to know what they are quoting for and, as already mentioned, what they are not quoting for.
Do not get carried along by slick sales tactics. You need to make a carefully considered decision so give yourself time to think it over.
More Information about Working with Tradesman and Builders
This project covers some of the things that you should consider about getting quotes from tradesman. We have a lot more information available about working with tradesman and builders:
Make sure you have a contract in place which covers all of the work. A basic building contract can be downloaded from a few places on the web, but obviously we think ours in the best! You can download our free Desired Outcome Contract here.
There are many companies who offer a "Find a Tradesman" service on the web. However vetted a website says they have been, it is still really important to check out references. Do not rely on others to take responsibility for the trades-people you employ. Find out more about how tradesmen get introduced to work online at our project about lead generation.