Home automation is somewhat of a new concept and essentially has been born out of the meteoric rise of the internet. Essentially it allows you to control electronic items in your home that are connected to the Internet by an app.
To find out all you need to about this fantastic concept, read on below.
Why do you Want a Smart Home?
It is hardly the most pressing DIY job on the list to get all your electronic devises to be controlled at the press of a button, or from your smart phone. Perhaps not, but there are some considerable benefits that you could enjoy, which might enhance your quality of life or security and even save you money.
The major benefit of smart home technology is that fact that it gives you the ability to adjust the settings of devices in your home connected to the internet when you're not even there!
For example, if you have set the heating to come on at a certain time and you're now not going to be there, you can quickly hop on the app and adjust the time it starts up, saving you money by not heating an empty house.
Similarly, if your lighting and perhaps curtains/blinds are also automated then if you're going to be home later than expected you can close them and illuminate your home giving the impression someone is there to help ward off any would-be burglars.
This is only scratching the surface, so if you don't know much about Smart Homes and Home Automation we will try to open your eyes to the latest DIY trend that has really gathering momentum in recent years.
What is Home Automation?
Home Automation is connecting devices in your home so that they can be controlled easily and more efficiently. This is how Wikipedia describes it:
Home automation or smart home (also known as domotics or domotica) is the residential extension of building automation and involves the control and automation of lighting, heating (such as smart thermostats), ventilation, air conditioning (HVAC), and security, as well as home appliances such as washer/dryers, ovens or refrigerators/freezers that use WiFi for remote monitoring. Source: Wikipedia
While it can be as complicated at this definition sounds, it can also be very simple. The idea of Home Automation is to allow you to control, either remotely, directly or with sensors and timers devices so that they switch on or off when you need them and only then. For example, you could switch on a few lights remotely.
Essentially Home Automation is a means to control things in your home remotely and automatically. As such, your old TV with its remote control is a basic form of Home Automation!
What is all the fuss about Smart Homes, Home Automation and the Internet of Things right now? To a degree these are all one and the same thing.
With the development of some low cost wireless technologies, having a Smart Home is firstly, much cheaper and secondly, possible to retrofit as miles of cabling does not need to be laid all over your home. In fact, designing and fitting a Smart Home system is a perfect DIY task, even though it might take one past the traditionally perceived remit of DIY!
How Does a Smart Home System Work?
Before we explain what you can use a home automation system for, we will describe how they work. While this might seem the wrong way around, knowing how Home Automation systems work will help you understand the possibilities better, and why you might consider starting to build up your own Smart Home system.
All too often experts say that a Smart Home system "can be anything you want it to be", which while it is probably true, it is totally overwhelming, unless you understand how it works. This is why we start with the "How" and then the "what it can do" as this will hopefully make a little more sense.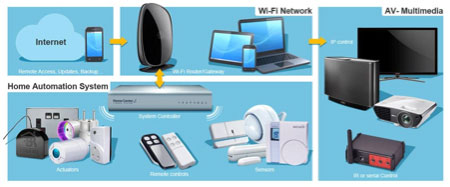 Every Smart Home System will be made up of some or all of the devices seen in the above image. The number and type will vary depending on what you want to achieve and how advanced you would like to get. Here are the key components you will need:
Actuators
These are the things that are turned on and off by your system. This is what the home automation controls. It could be anything from lights to the heating or even your home appliances. In a simple system it could be a single actuator to more complex systems with a wide range of actuators. There are some of the most common types that people use:
Switches – Sometimes referred to as relays, these are used to switch on or off lights or appliances
Wall Plugs – These fit into the wall socket and then can be used to switch on or off the appliance or light plugged into the socket. They can also be used to monitor power that is used
Dimmers – A switch that can also control the brightness
Wall Sockets – These take the place of an existing socket, but are controlled wirelessly. Currently these are only on LightwaveRF – see below for more details
Door Lock – These allow you to control access at the door(s) through your home automation system
Alarm or Siren – This is the alarm sound that is triggered by the home automation system when needed
Boiler Receiver – This is a device that is wired into your boiler which then gives your home automation system control of the boiler. This works in conjunction with wireless thermostats usually
TRVs or Radiators – These allow control to individual radiators based on the room temperature
Cameras – these allow you to record and remotely view what is happening in or around your home
Sensors
These are the devices that monitor and detect the things that will be used by your system to trigger the Actuators. They feed information in to your Home Automation system so that it can "decide" what to do, or simply inform you. Common Sensors include:
Motion Sensors – These trigger an alert when they detect motion using a PIR sensor
Door or Window Sensors – These monitor when a door/window has been opened or closed
Smoke Sensor – These are triggered by smoke or excess heat is detected
Flood Sensor – This is a water detector
Temperature Sensor – These monitor the temperature so that the system can act on changes in the temperature or when thresholds are reached
Energy Monitoring – These are sensors that measure how much energy is being consumed by appliances individually or in a group. The whole house energy consumption can also be measured
Remote Controllers
These are devices that are used to control the system. The systems can also be controlled from the Control Unit (see below), smart phone or Tablet. There are a few types of controller:
Handheld – These are similar to your TV remote
Wireless Wall Switch – These are wall mounted version of a handheld remote
Key-Fob – As the name suggest, these are remotes that are designed for your key ring
System Controller:
The System Controller is also referred to as a Hub of Gateway. It is the "brains" of your Smart Home. It responds to inputs from sensors and it activates the Actuators. Devices are "added" to the System Controller so that they are controlled automatically based on the way that you would like them to be.
The System has it connected in a number of ways:
Wireless – The System controller "talks" to the sensors and actuators using a wireless technology. This is very similar to the Wi-Fi most people have in their homes for getting access to the internet but dedicated to your Home Automation system. There are several common technologies or protocols to choose from
Internet – The System Controller also needs to be connected to the internet, so it is plugged into your WiFi router using an Ethernet cable. This allows you to access it from anywhere via the internet, but also it means that it can get updates, back up the system and get the right time
These are the key building blocks of any Smart Home System. Beyond this, you simply add more of these devices together to more clever automatic things to make life easier, safer and more efficient or cheaper.
Having said this, there are a number of additional devices that are commonly added to a Home Automation system, which are not strictly part of the core system.
A lot of people want to connect their AV (Audio Visual) and Multimedia systems to their home automation system. For example, these are TV, Stereo or sound systems. Typically these cannot be connected directly via the home automation systems wireless technology so they need to be connected in a slightly different way:
IR (InfraRed) – The majority of TV's and AV equipment are controlled with IR, such as your remote control. It is possible to connect them to the home automation system using an adapter (ITach IR adapter). This allows the System Controller to send commands through the adaptor which then makes the changes required (on, off, sound up or down, etc.) on the device, be it the TV or another IR device
IP Controlled Equipment – A lot of the modern electronic devices can be connected to the internet, such and Smart TV, Sonos, AV Receivers. This is done either with your home Wi-Fi network or physically wired with an Ethernet cable. Because your System controller is also connected to your home Wi-Fi network through the router, it can 'talk' to many of these devices through your Wi-Fi network
Smart Home Technology/Protocol Choices
When we refer to the Smart Home or Home Automation technology or protocol, we mean the low power radio frequency that can be used. There are a number of these, but some are more prevalent at the moment. Each has its own pros and cons, which you can read our more detailed comparison of each technology here. Here's a brief description of each technology:
Z-Wave: This is a mesh network, which means that the signal is repeated automatically by devices on the network so that there should no black spots in the system. You can check the status of all the devices on the system. You can find out more about Z-wave from their website. Z-wave Plus is the 'next generation' version which works with the latest hardware. It is backwards compatible. Z-Wave is probably the market leader in DIY smart home solutions
LightwaveRF: This is the cheaper alternative which is ideal for lighting and power controls. It can do more as new devices are being introduced all the time. Follow this link for more about LightwaveRF on their own website. LightwaveRF is very UK centric and the devices are manufactured by the company for their own proprietary protocol
X10: This is the old man of the home automation world, having been invented in 1975. It is beginning to show it's age when compared to newer technologies, but it is cheap so might be considered as a starter option if you're new to home automation
Zigbee: "ZigBee is the wireless language that everyday devices use to connect to one another" and is controlled by the Zigbee Alliance. It is open source and backed by a large number of global electronics manufacturers. This is another market leading protocol
EnOcean: This is a German protocol that is again an open source and also back by a large number of leading electronics manufacturers. There is more information on the EnOcean website, but their key difference is that they have sensors that can send information using very low energy allowing them to "harvest" from differences in temperature and light
Insteon: This is a duel band network meaning that it works over a wireless protocol and also over the power lines in your home making it much more reliable. It is also a mesh network so all the devices in use send as well as receiving message to that messages are repeated ensuring reliability
Bluetooth Smart: Also known as Bluetooth Low Energy (often seen as Bluetooth LE or BLE). It has a lower energy draw and is a more reliable version of the Bluetooth that you are used to using on your phone. You can use it for all home automation applications and can be handy as most homes now will have at least one Bluetooth Smart phone or table to get started with
Wi-Fi and Ethernet: Wi-Fi with the existing protocol that most homes already have and you use to connect to the internet. Many manufactures of smart home devices are beginning to realise that they can use this protocol for their devices to connect and "talk". Likewise, Ethernet, which is the type of cable that connect computers and routers or modems, is a good way to connect devices, particularly when a wired connection is need to total robustness of signal is required
There are more technologies and protocols that are used. Some manufacturers of devices have their own protocols over which their devices communicate. Some devices are enabled to use more than one protocol to improve their functionality and compatibility.
Irrespective of the technology or protocol that you chose to use, the key components that make up your Smart Home system will be the same; A System Controller with Sensors and Actuators. Compatibility between systems and devices can be an issue so you need to check this before purchasing anything.
What is Home Automation and What Can a Smart Home Do?
Home Automation is a means of controlling devices within your home remotely. The system will control these devices and keep you informed about what is going on in your home.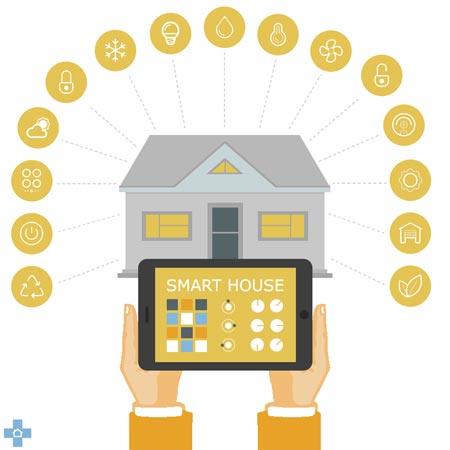 The possibilities are huge, but it is best to start small with the areas that you really need and then expand as you see the potential and get comfortable with the technology. As you get more comfortable with it, you can then make changes (over the internet if you're not at home!) and ensure that you have control.
To a degree most of us have already dabbled with early iterations of Home Automation, without being conscious of it; PIR security lights which come on with movement after dark, remote key fobs to open garage doors and wireless heating controls or thermostats. The difference is simply that all these devices can be now simply and cheaply connected and controlled with a single system which you can access remotely over the internet if required.
Here are some of the most common uses, which are good starting places for a home automation system:
Security
Making sure that our home is safe when we are not there is one of our biggest fears. Alarm contracts can be very expensive, and you don't know if have closed all the doors and windows. Here are a few ways that Home Automation has been used to proved home security:
See if the house is secure with the touch of a button, or which windows or doors are open
Remotely open or close doors to allow people in or lock them out even when you're miles away
Use cameras to check that the house is secure and see if it was the cat or an intruder who tripped the alarm before alerting help – even when you're on holiday
Due to even more recent technological developments and the fact that much of the technology has seen huge development which has driven costs down, a few companies have come to light over the last few years that have really pushed this field forward.
Companies like SimpliSafe and also other security companies like Verisure can supply you with a wireless security system that you can control and view yourself over the internet for as little as a few hundred pounds!
Additionally, whereas early iterations of such systems involved quite in-depth setups and required configuration from trained employees, these newer systems can be up and running in a few minutes and easily setup be even the greenest of technophobes.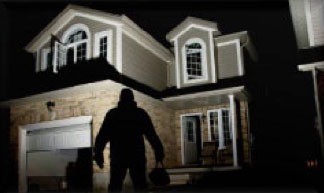 Lighting Controls
Lighting is one of the most common smart home measures that are used. They are simple to set up and make life much easier. Here are a few suggestions about what can be done:
Automate lights to come on and off when anyone enters a room, saving money and saves fumbling around in the dark
Set the brightness to suit your mood with automatic dimmer and colour controls. Even control the blinds to ensure the right lighting
Time your lighting so that it's on when you return home, and make any changes as you need to over the internet
Again, due to the huge leaps forward in technology in this field, automating your lighting can now be easily done and you have quite a few options too that range from a simple system by Philips called Hue that allows you to adjust the colours of a given bulb via Bluetooth to the more in-depth Google Home and Amazon Alexa systems that allows a great deal more control.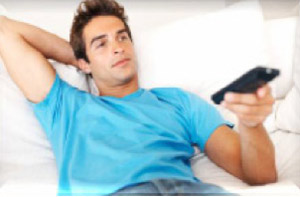 Heating Control
Controlling your heating effectively is one of the best ways to save you money. This is where home automation is really coming into its own. Here are a few suggestions about what can be done:
Remotely control heating to reduce your energy bill by ensuring you are only using your heating when and where you need it
Monitor you heating to avoid nasty surprises and check what appliances are consuming so you can reduce wastage
Improve comfort by ensuring you home is the temperature that you want it, only when you need it
Heating control is probably one of the better known home automation systems as there are several systems now that allow you to fully control your boiler and heating system via an app from pretty much anywhere. The most well known of these systems is the Google Nest system.
Again, due to the massive leaps forward in development in this area the cost of such systems have plummeted making them accessible for pretty much anyone.
Smart Speakers and Voice Services
This area probably represents the greatest advancements in home automation and as you will probably know has pretty much been carried to where it currently is by probably the 3 biggest technology companies out there; Google, Apple and Amazon.
The emergence and subsequent meteoric rise of voice assistants such as Apple's Siri, Amazon's Alexa and Google's Voice Assistant have all help spur on the advancements in smart speaker technology to the point where Star Trek levels of technology where you simply as a digital assistant to do something for you are now an actual reality!
As anyone that has used such services knows they are now hooked into pretty much every possible automation system available on the market and by simply saying "Hey Siri" or "Hey Alexa"…. "can you tell me what the weather is like outside" to your phone or smart speaker a voice will reply with the latest weather information for your area!
Also as such assistants can be coupled to pretty much all automation systems, once you have the correct appliances and they have been integrated, if you need to raise the heating by 5°, turn the upstairs lights off or even order a loaf of bread for delivery, all you have to do is ask your chosen voice assistant and it's done!
As with the other systems, due to the huge and rapid development of these systems the cost of the technology is practically peanuts today, with a basic Amazon Alexa Echo or similar being available for less that £50!
With all of the above also now being integrated into cars, buildings, fridges, cookers and everything else this is by far and away the area to be watching when it comes to home automation.
Now that it is possible to use wireless technologies, such as Z-wave an LightwaveRF and the more common place voice assistants, the cost of setting up and installing a Smart Home system is essentially now available to all. With the added benefit that home automation is now very much a DIY job rather than a specialist skill, anyone is capable of automating their home.