Your choice of outdoor lighting will depend on what you wish to light, for example do you need light to illuminate a potential burglar, or do you need occasional lighting when going through dark areas, such as to go to a shed at the end of the garden?
You may only require mood lighting, where with the use of coloured bulbs you may wish to light up areas of the garden such as a patio or path – or indeed plants, trees or a pond. You may alternatively wish to use low voltage lighting including LED lights, which only use a fraction of the current necessary to illuminate a conventional bulb.
Other factors may include distance, a super bright 500W halogen flood light will shine a considerable distance. This type of halogen light is typically combined with a passive infra-red (PIR) switching sensor that when triggered will automatically switch on the unit on detection of motion.
Some PIR sensors can be adjusted with day/night setting, angle of detection and a timer delay or overrun, which will switch the light off after a set amount of time, to avoid nuisance and also to conserve energy, as you don't want it coming on every time a car goes past.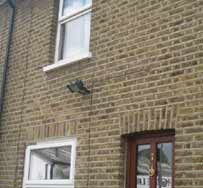 Exterior lights combining Dusk to Dawn Sensor is a variation to the PIR, which as the name suggests, operates from dusk until dawn These lights can be lanterns or bulkhead lights, where lighting is necessary for safety and security. Once installed, they require very little maintenance, save for changing the bulb when required.
It is important not only to select the right type of fitting to achieve the effect(s) required, but most importantly that your lighting will operate safely. All lights need to be positioned carefully so that you do not look directly at them. This can be very dangerous to the eyes.
Consider exactly where you intend people to sit or stand and make sure that any glare can be avoided. Also those living in neighbouring properties will not be happy if your light shines into their rooms.
Another form of exterior lighting is the welcome light to your front entrance door. The most popular is the four or six-sided lantern type combined with a PIR sensor, that uses a 60W ES screw bulb. These enable you to light up a step for safety reasons and security, as well an enabling you to find the correct front door key(s).
The power to this type of exterior light can often be supplied by the hall light, from the switch, through the wall to the back of the light fitting itself. Following the manufacturer's instructions, a simple terminal block is provided with these fittings.
With the 2 wire connection for the plastic casings and double insulated types and with the additional earth wire required where the unit is made from metal. See our project: Wiring an Exterior Wall Light and if in any doubt, consult a qualified electrician before proceeding.
All electrical work must conform to the current IEE Wiring Regulations: BS 7671 and Part P of the Building Regulations 17th edition (see DIY Doctor Project on this).
Many fittings, bulbs and transformers can become very hot during use, so it is important to make sure they are not placed near any combustible surfaces and never use a more powerful bulb than the size recommended by the manufacturer and shown on the packaging or instructions for installation provided with the fitting.
Unless you have low voltage lighting where you can run cable to the light protected by plastic conduit, you should run cable of the steel wired armoured (SWA) type to exterior lights, with connecting glands. Please refer to our project on installing an outdoor socket for further details. However, the cable need only be the 1.0mm2 type, with an approximate exterior diameter of 11mm, 2 core, where the wires protecting the inner cable can be used as the earth connection.
You should also consider utilising a residual current device (RCD) for additional safety. The RCD should be rated for 30mA. If not already part of your main consumer unit, the RCD could be placed next to it, or elsewhere convenient in the run, marrying up through an adaptable box, where the SWA gland will allow connection to the RCD, as explained in the Exterior Socket Installation Project.
Depending on the power rating of the light, you could connect the exterior light to the lighting ring with a 5 amp fuse or 6 amp breaker (MCB). For higher wattage flood lights, e.g. 500W halogen, it is probably best to connect the cable run to draw power from one of the ring main circuits, so as not to overload the lighting circuit(s).
Again, if in any doubt whatsoever, consult a qualified electrician before proceeding with the work. Please note that you may find it difficult to sell your home if it is discovered that you have the new coloured wiring i.e. blue/brown running from the consumer unit to an appliance or fitting and you do not have a certificate from a duly competent person or company authorised to issue such certificates.
Make sure that any fittings you select are suitable for outdoor use and have been tested to the European Standard for light fittings, BS EN 60598 and also have a CE mark. All exterior light fittings should have a minimum IP rating of 44 (which means spray or rain proof) or higher, depending on where they are to be sighted.
Bear in mind that all outdoor lighting fittings will require a degree of maintenance, so select the materials your fitting is made from with this in mind.
For example if your property is near the sea and corrosion could occur, choose a marine grade stainless steel or plastic construction to avoid this possibility and always check the care instructions provided by the manufacturer and keep them for future reference.
For full instructions on how to fix the light unit to the exterior wall, please see our projects on Wiring an Exterior Wall Light and Fixing Items to Masonry.