Marble and granite worktops, in fact all stone worktops, are the up to date "must have" kitchen item of the day. The advantages of a stone worktop are many but sometimes these advantages are outweighed by the cost of installing a kitchen full of stone.
The polished finish of a stone surface gives every contemporary kitchen the ultimate finish. There are a huge range of granite or stone worktops for every kitchen. They are extremely hard-wearing and virtually scratch resistant.
They are heat resisting to a much greater degree than timber worktops. They are easy to maintain and a dream surface (especially marble) for rolling out pastry. In short, as mentioned above, the advantages of a granite, marble or stone worktop are huge but sometimes the cost is prohibitive.
At DIY Doctor we are always on the look out for innovation and in a kitchen we recently fitted we needed a worktop length of 3.2m to complete the side of the kitchen. The worktop the customer had chosen came only in lengths of 3 m which meant another joint (we try and keep joints to a minimum) and the purchase of a 3m section of worktop just to use 200mm !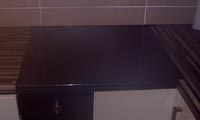 We suggested to the customer that we look at getting a stone section cut to put into the worktop. Yes it would be slightly (£42.00 + VAT) more expensive than buying a full timber worktop but pointed out all of the advantages above. She agreed, chose a beautiful marble section and we fitted it.
We used a masons mitre for the join to the timber worktop return (see our related projects on the left of the page) and produced a template out of a piece of hardboard to give to the marble mason to cut the marble.
Now we have the absolute uniqueness of the fantastic Zebra worktop she chose plus a lovely polished marble insert for putting hot pans onto, rolling pastry and generally adding a touch of elegance. Both timber worktops and stone worktops can be excellent finishes, why not try them both at once!?
whichever option you choose, ensure the worktop is sealed and cleaned regularly to keep it in top condition.