The worktops or countertops that form the work surfaces in your kitchen are pretty much the most important areas when it comes to a variety of tasks, including food preparation and cooking.
Both of these tasks involve potentially hot objects (pots, pans etc) and also sharp items such as knives, peelers etc and unfortunately, laminate worktops don't get on too well with either as hot items can easily melt them and sharp items can score them.
controversially, some lower quality stone and granite worktops are susceptible to heat and can easily be tarnished if a hot pan is placed onto them.
Traditionally the best way to avoid any such incidents from occuring is to have a pot rest or chopping board to hand so that hot pans can be placed safely and food can be chopped and prepared without the risk of direct damage to your work surfaces.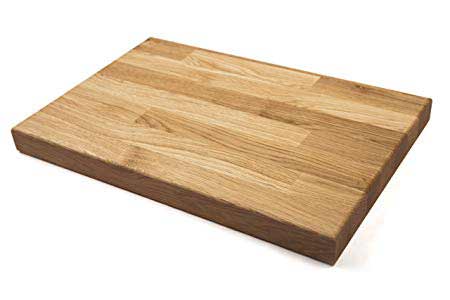 A good solid wooden chopping board can cover both of these bases, providing a safe surface to chop on plus use as a resting place for hot items.
What is a Countertop Cutting Board Insert?
Pretty much all kitchens will have a chopping board in order to chop up and prepare veg and other ingredients. The board itself, in most cases, will be made of timber but they can also be glass, slate or plastic.
The great advantage of the traditional chopping board is that it can easily be moved anywhere in the kitchen where it's required to be.
This can be both a blessing and a curse in that if you are used to it being in one place all of the time and through force of habit, go to place a hot pan on it, but someone has moved it, chances are you are going to cause some damage to your work surface.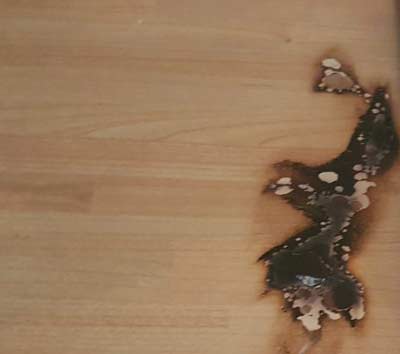 The cutting board insert (or insert chopping board as they are also known) is a real advantage in this instance.
Essentially the cutting board insert is a chopping board that is fixed in one location permanently, normally somewhere near or between your sink and cooker.
This then provides an ideal location for you to wash and prepare your vegetables or other ingredients and then once ready, get them to the stove for cooking with the minimum of hassle.
When it comes to what your inserted board can be made of, generally the best to go for is an end-grain timber (normally sourced from common hornbeam) such as those used to construct butchers blocks and good quality chopping boards or another good quality hardwood.
It's also possible to use granite or marble as it can then be used as a pastry board, but just make sure they are of good quality.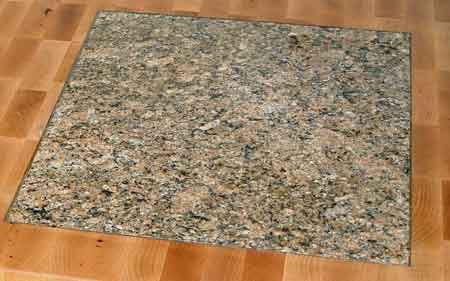 You may be thinking; What advantage would a chopping board insert give me? Well in answer to this there are a few.
Firstly, a fixed board does away with any kind of movement at all, so the board won't be slipping around your work surface while you're trying to chop up your carrots.
Secondly this is a great solution for hiding any damage. If at any point you have inadvertently put a hot pan on your worktop and it's melted or while you were cutting veg, your knife slipped and you scored a chunk out of it, cutting this damage away and fitting a nice smart cutting board is a great way of avoiding the cost of replacing all of your worktops!
What Other Cutting Board Options are There?
Cutting out a portion of your worktop is a fairly big job if you are quite new to DIY. You will have to use the correct tools as to not cause any damage to the actual laminated surface, all of your cuts will need to be super accurate and you will need to ensure it's flat and level once installed.
So, before you grab the saw and start chopping holes in your work surface, it's worth just taking a quick look at what other chopping board options there are available:
Cooker top Chopping Board
As you may have guessed from the name, this type of cutting surface sits on top of your cooker hobs or rings, allowing you to utilise them as an additional working surface.
If you have quite a small kitchen and space is limited, these are an excellent solution that allow you to claim space that would otherwise go to waste.
They are available in a range of different materials such as marble, granite, hardened glass and timber.
One point to note though is that if you do buy one, make sure it's fire resistant. If you have electric rings or hobs then it's very easy to knock a knob as you're passing and accidentally turn a ring on.
If your board is resting on the hob at the time and it's not fireproof, it can easily catch fire!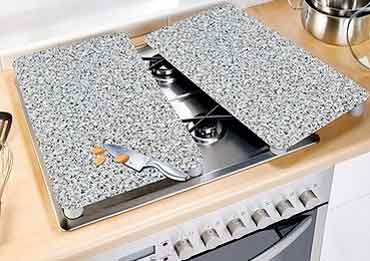 Sink Top Chopping Board
As with the cooker top board, I'm sure you can guess where this type of board is placed.
Sink top chopping boards are specifically designed to fit over either the draining board area or the sink itself.
They are available in standard sizes that will fit most sink and draining board units or as an additional extra supplied by the manufacturer if you have a more contemporary or bespoke setup.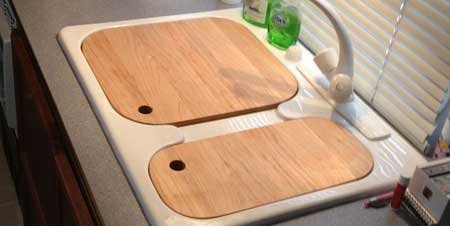 Portable Island With Butchers Block
If you don't have a kitchen the size of a small tennis court then the addition of an island that can be partly or fully devoted to chopping and food prep probably isn't an option.
Fortunately, there is a great range of portable/movable islands available that feature a decent chopping surface on top.
If purchased as a chopping surface, the surface itself will normally be a butchers block (as mentioned above). This is a solid block of specialist timber that can cope with the volumes of cutting and chopping that's associated with the preparation of food.
If of good quality they can last for a great many years.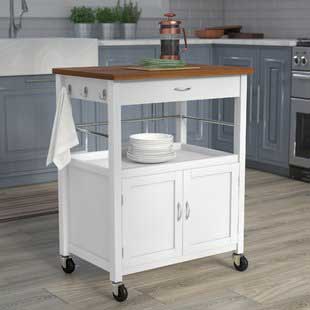 Standard Chopping Board
Last but not least is the good old traditional chopping board.
Unless you already have one of the dedicated cutting surfaces mentioned above, you will most probably have a chopping board.
As we have briefly outlined above, they come in a huge range of materials, styles and colours to suit pretty much any and all designs of kitchen.
How to Fit a Timber, Granite or Marble Cutting Block
If after reading the above you have decided that installing an insert chopping block is the way to go then the next step is to actually get one installed.
There are several ways that this can be done, but for the purposes of this project we are going to go the full hog and cut out a section of worktop so that the board can be dropped down in.
What Type of Worktop do you Have?
In most cases, your existing worktop is going to be the standard laminated type so we are going to be working on this basis.
If you are unfamiliar with the various types of worktop, the laminated type is normally between an inch and 2 inches thick.
If you can access the underside you will also notice that beneath the laminated surface, the core is constructed of a type of chipboard.
If you also run your fingers over the top surface it will slightly "plasticy" to the touch. Also, tapping your knuckles on it will produce quite a dull "thud" sound.
If however you have a granite or marble work surface it will feel much more solid to the touch, or tap.
Cutting a granite or marble worktop is quite a specialist job and requires the correct tools and quite a high level of skill so we would advise that you get a professionals in if this is the case.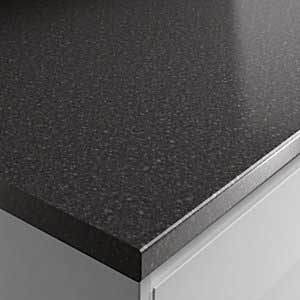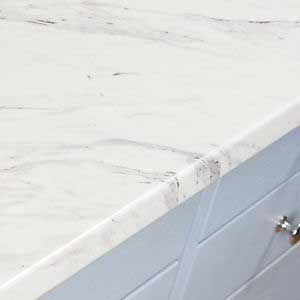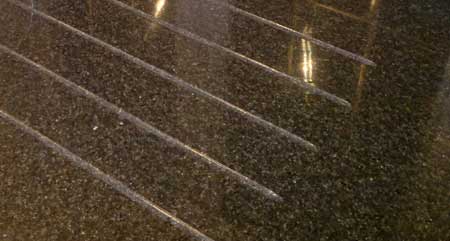 What Sort of Chopping Board Should I use?
Unless you are going to go for a granite or marble chopping board, the best type to go for as we have mentioned above, is a timber "butchers block" type.
The best way to go is to purchase a good quality chopping board and then cut your worktop to fit it as opposed to the other way around.
In most cases you will be able to source an off-the-shelf board of a standard size that will be more than suitable, but if you are looking for something of a non-standard size or unique shape, then you may need to get this specially made.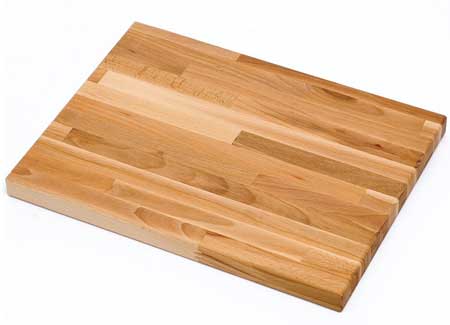 Where Should I Install my Cutting Board Insert?
As we are going to be cutting the worktop where it's sat e.g. already installed on top of your units, just take a look at the underside of the work surface and make sure there is nothing in the way such as the side walls of your units, braces etc as you don't want to go chopping through these.
If you do find that there are things in the way then you may need to rethink where your board is going to go!
Ultimately, cutting a worktop is best done if it's not already fitted in place, so if it's an easy job to remove it, do so once you have completed your marking up.
Mark out the Worktop
Once you have your cutting board to hand you can then measure it up to get the exact size hole you need to cut in the worktop for it to fit.
Once you have measured the length and width you will now need to transfer these measurements onto the worktop so that you have a clear template to cut around.
In terms of your cutting template, the main objective is to ensure that it is square. In order to do this you are going to have to measure off of a reference point.
We would always suggest that you use the front edge of the worktop for this and not the wall behind as they are rarely square.
You will also have to decide where your cutting surface is going to sit within the worktop. Is it going to be near the front, or in the middle, near the sink or near the cooker?
Once you've settled on this, it's time to get marking. We are going to start with the front left corner.
Note: When drawing your cutting lines, make sure that they are exactly on your measurement marks, this is very important! We will explain why shortly.
Using an engineers square, place it on the edge of the worktop so that the stock (the thicker side) is facing downwards and the outer edge of the blade is sitting on the work surface pointing upwards towards the ceiling. Make sure the stock is sat square to the front edge of the worktop also.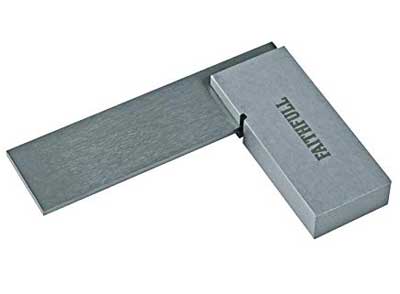 This will give you a square edge to measure off as in most cases the front edge will be bull nosed so there won't be an acute angle to work with.
Move the square along the front edge until it is pretty much in position, marking the bottom left corner of where the chopping board is going to sit.
Using a tape measure, pull the blade out 300mm or so and then lock it off with the thumb lock. Next, push the hook end up to the stock of the square and then measure and mark the location of front left corner of your board.
Now, move the square to the right 80mm or so and repeat this. You should now have 2 horizontal marks.
Using a straight edge, draw a line between these 2 points and you should now have a line that is totally square to the front of your worktop.
Using a carpenters square (or steel square), place it down flat on the worktop so that the body is inline with your horizontal line and the tongue is flush with the front left corner mark.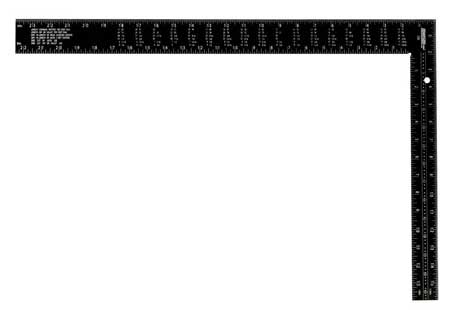 Next, using the measurement marks on the tongue of the square, mark the point of the rear left corner of your board and then run a pencil mark from the front left point to the rear. You have now marked out the left edge of your cut.
Now, move the square so that the body edge is flush with the horizontal line you marked earlier and measure and mark the location of the bottom right corner. Extend the line out to this point.
Take your square and flip it over so that the tongue edge is on the right and then position the heel point (or corner) just a little to the left (1/2mm or so) to compensate for the width of the pencil nib.
Using the rule marks on the tongue, measure up the height of your board and mark and as before, joint the 2 points together with a pencil line.
If all is totally square so far, the 2 rear left and right points that have not yet been jointed together should be the exact width apart as the width of your chopping board. If not you are going to need to re-measure and find out what's out of square and then mark it out again.
If all is well, use your square to joint the rear left and right marks. Once done, you should be left with a nice square that defines the exact size of your cutting board.
Coming back to our above comment concerning getting your lines exactly on point with your corner marks – by doing so, you should now have marked the exact size of your chopping board out.
When you come to actually chop the area away, if you ensure that you cut precisely along outer edge of each pencil line so that there are no marks left after you finish, this will ensure that your board slots exactly down in the space giving a nice snug fit.
Cut out the Chopping Board Hole
With everything marked out and ready, you can now set yourself up to start cutting.
In terms of how we're going to make our cut e.g. what tools we're going to use, you do have a few choices.
You can do it manually using a hand saw, but tihs isn't recommended. No matter how good and straight a cut you make, it's never 100% straight and it will be noticeable. If you do decide to go down this route, make sure you use a sharp saw.
It is also possible to use a circular saw, but again we wouldn't necessarily recommend this unless you have removed the work top as you will have to cut it from underneath e.g. turn it upside down and make out on the underside.
This is because circular saw blades cut on the up stroke and if you cut from the top with the laminate facing upwards there's a high chance of breakout as the teeth on the blade can easily chip the laminate.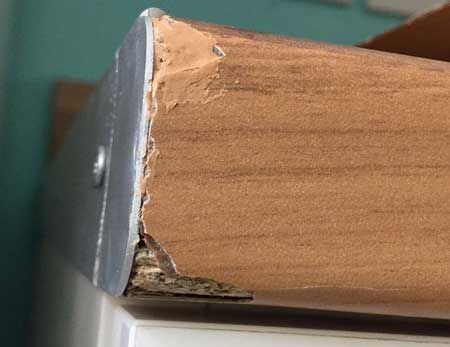 In respect to what you should use, we would recommend using a jigsaw with a downward cutting blade as this will avoid any chipping and breakout.
As we are not cutting from an edge we are going to have to get the blade down into the worktop itself. To do this we will need to drill a 10mm hole in each corner. This will allow enough room to insert the blade so that you can then cut along each line.
Before you do any cutting, it's a good idea to score each of your cut lines. This will help further reduce breakout and also provide a a bit of guidance for the blade.
Using a straight edge or spirit level, place the edge against your line and use a sharp blade such as a Stanley knife and run it down your line. Be very careful that it doesn't strike out as you can easily damage the laminate surface if the blade slips.
If you have a slight lip on the front edge of your top or any points that you can clamp your straight edge of level down to use as a guide for your saw, do this as it will ensure a straight cut.
Insert the saw blade down into your drill hole and line the blade up with your cut line. With everything ready, start the saw and gentle push it forwards until the blade engages with the line mark.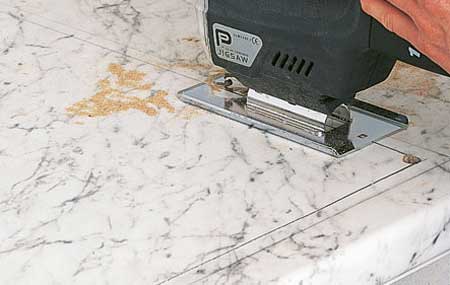 Follow your line along letting the blade do the cutting work, don't force it. Also ensure that the sole plate (base of the jigsaw) stays flat on the worktop surface. This will prevent the blade from screwing. Above all, take your time!
Once you have cut along each line you should then be able to gently tap the section out. Be very careful as you tap as if you haven't fully cut to each end of all these lines then you can easily chip the laminate.
The final job is to have a tidy up. If all your cuts are accurate then everything should be pretty much spot on, but if you do need to do any fine adjustments then you can use a fine grade file, just be careful with and don't get carried away and take off too much.
Install the Chopping Board and Seal it up
With everything tidied up you're now ready to fit your board in place.
If you have measured and cut accurately then your board should just drop straight in and you should be left with about a 1mm gap all the way around.
Before fixing permanently in place, do a test fit. Drop your board down into the hole. Whether you have chosen to use timber, granite or marble, it's going to be fairly heavy so it's a good idea to borrow a second pair of hands to support it from beneath while you drop it in.
Once you have confirmed all is fitting nicely, remove the board and put it to one side.
The penultimate job is to get your fixings in place that will hold and support the chopping board, preventing it from falling through the hole.
You have several choices for this – you can use 3 or 4 25mm x 38mm timber battens or around 75mm flat mending plates.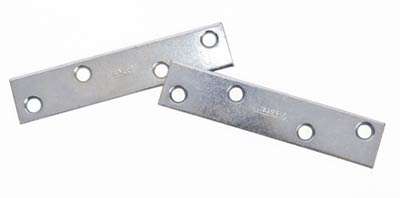 If using battens, cut 3 – 4 battens to the width of the height of your hole (e.g. the vertical span) and add 100mm on each end. This will allow fixing into the underside of your worktop. Once fixed in place, you can then drop your chosen chopping board down.
Once the board is in place, screw through the battens into the board in several places to hold if firmly in place.
If using mending plates it's best to fix 2 plates per side spaced appropriately to provide an even spread of support all around the perimeter.
Make sure you use the appropriate size screws when fixing so that when you screw up from below the screw does not burst through the laminate worktop surface or indeed through the surface of the board.
Once Secured in place, the final job is to run a thin bead of silicone all the way around the edge to seal the gap between the board and the hole. This will prevent any food waste or moisture from getting down and penetrating into the core of the work surface.
Once this has been done, you're all finished!!
Cutting a chopping board insert into a worktop is not really a job for the faint hearted. Essentially if you don't get it totally right, you can potentially ruin your work surface, but if you work carefully and take your time you can end up with a great looking and useful kitchen feature.
Marble and granite worktops, in fact all stone worktops, are the up to date "must have" kitchen item of the day. The advantages of a stone worktop are many but sometimes these advantages are outweighed by the cost of installing a kitchen full of stone.
The polished finish of a stone surface gives every contemporary kitchen the ultimate finish. There are a huge range of granite or stone worktops for every kitchen. They are extremely hard-wearing and virtually scratch resistant.
They are heat resisting to a much greater degree than timber worktops. They are easy to maintain and a dream surface (especially marble) for rolling out pastry. In short, as mentioned above, the advantages of a granite, marble or stone worktop are huge but sometimes the cost is prohibitive.
At DIY Doctor we are always on the look out for innovation and in a kitchen we recently fitted we needed a worktop length of 3.2m to complete the side of the kitchen. The worktop the customer had chosen came only in lengths of 3 m which meant another joint (we try and keep joints to a minimum) and the purchase of a 3m section of worktop just to use 200mm !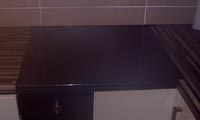 We suggested to the customer that we look at getting a stone section cut to put into the worktop. Yes it would be slightly (£42.00 + VAT) more expensive than buying a full timber worktop but pointed out all of the advantages above. She agreed, chose a beautiful marble section and we fitted it.
We used a masons mitre for the join to the timber worktop return (see our related projects on the left of the page) and produced a template out of a piece of hardboard to give to the marble mason to cut the marble.
Now we have the absolute uniqueness of the fantastic Zebra worktop she chose plus a lovely polished marble insert for putting hot pans onto, rolling pastry and generally adding a touch of elegance. Both timber worktops and stone worktops can be excellent finishes, why not try them both at once!?
whichever option you choose, ensure the worktop is sealed and cleaned regularly to keep it in top condition.