Scribing Timber to Surfaces or Cutting Around a Difficult Shape
Cutting timber, tiles, carpet etc around difficult shapes is a process known in the building trade as "scribing". It is one of those jobs which needs some practice to perfect, and the easiest, least expensive way of practicing is with a cardboard template or an old off-cut of timber.
Especially useful when fitting shelves to "wayward" walls and ceilings, it can give great satisfaction when buckets of filler go unopened!
When walls and ceilings are not straight, hold the timber to the surface you need to cut to and using a pair of compasses, or a flat piece of timber with a point cut on one end and a hole for your pencil in the other, mark the shape of the wall on the board.
When you cut, you should match the surface exactly. Make sure the timber is held well and it may pay to temporarily fix it, also trace the line for its complete length to see if you may be able to get it as close to the edge of your board as possible to save timber.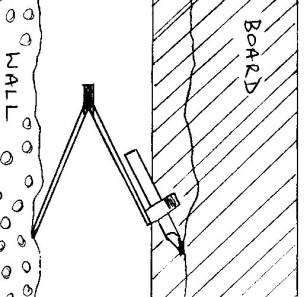 For a practical demonstration of this handy carpentry tip go to our video section on irregular surfaces.