A beautiful lawn is quintessentially British, and perhaps one of our most iconic exports. Just think, Centre Court at Wimbledon, Lords, the famous quads in Oxford, Croquet… The list goes on!
So is it wrong to betray our heritage and get a fake lawn?
For the purists, you should probably stop reading here and look at our section on lawn care which covers all kinds of lawn maintenance, including how to sow a new real lawn. For those that are a little more daring, read on! We'll quickly cover the benefits of artificial turf before we get onto how you can actually lay it yourself.
The Benefits of an Artificial Grass Lawn
There are numerous benefits for having a synthetic grass lawn, the most significant being the low maintenance lawn aspect. The only real disadvantage is that it is just not a real lawn.
Clearly there are times where is it not practical or cost effective to replace a real lawn with Astrotruf or any other type of artificial grass, but this is as much about scale as anything else – it is not worth laying artificial turf over acres of lawn.
Here are the main benefits to having artificial turf over the real stuff:
Low maintenance lawn: Once laid an artificial lawn will need very little care or attention; no mowing, no watering (more about this below) and no edging, feeding or weeding. As our lives get busier and busier, this is one less thing to have to stress about and find time for
Hard wearing and clean: This might sound a betrayal of all the reasons for having a garden in the first place, but it is so much easier if your kids/grandkids/pets don't traipse mud and grass into the house. Or destroy the lawn you've so lovingly tended all year with a few energetic games of football or similar
Aesthetics: A fake lawn can look better for longer than a real lawn. It won't turn brown in the summer drought and as we already mentioned won't get torn up by the pets or other over excited users. There are very realistic artificial turfs available, with UV protection so that the colour won't fade. It will always be flat and weed free – with no effort
Save Water: No longer do you need to water the lawn to keep in looking good – or even alive. We won't go as far as extolling fake turf's environmental credentials, but you will not need to use chemicals such as fertilisers and herbicides to keep it looking great
Where the grass doesn't grow: Using artificial turf can be an excellent idea in areas where it is hard for real grass to grow. Areas that are heavily shaded, such as smaller town gardens that are over shadowed, or grass that experiences heavy traffic tend to struggle to have a nice looking and "usable" lawn. This is where some fake turf can really help
Price: When compared to other solutions, such as paving, an artificial lawn will compare very favourably. When compared to real grass, this will depend on how you value your time and how much you plan to spend to make your lawn look just the way you like it
Surprising areas: There are some areas that fake grass it just better than the real thing! For example, if you have a dog run or catio an artificial lawn cannot be dug up and is permeable so the urine will wash through. It is also ideal for around swimming pools where real grass can get saturated and then mud will be carried back into the pool. On a temporary basis, it can be ideal for protecting real grass when you have a party. Artificial turf makes a great low maintenance "green roof" too
Holidays and Landlords: If you go away a lot then you don't need to worry about your lawn. It doesn't need cutting, watering, feeding or weeding. This can lift the burden of having to organise someone to keep on top of this while you are not there
A synthetic turf lawn is a great idea if you have a small area of grass that experiences high traffic or is overshadowed so doesn't receive enough sunlight to grow vigorously. Particularly if you have children or pets that are prone to digging up or traipsing mud and grass back into the house.
If you are short of time or aren't interested in lawn care, then it is a great idea to consider getting fake grass.
What Types of Synthetic or Artificial Turf Should You Use?
We have been using the terms artificial, synthetic and fake grass, turf or lawn interchangeably. We have even used the term Astroturf, which was one of the earliest makes that pioneered the use of artificial grass on sports pitches and has become synonymous with artificial turf for the uninitiated.
They are all the same thing, however there are lots of different types of artificial turf (or synthetic grass, or whichever term you want to use!).
You probably will not need to know this level of details, as the sale brochures and websites will organise the types of synthetic turf into those that are best for your "usage" with having to go into the technical details. Therefore we'll be brief:
The turf is made up of a carpet of millions of synthetic blades of grass. What and how these blades of grass are made will determine the characteristics of the artificial turf.
The length of the grass (or pile) will vary from 4-10 cm (approx 2-4 inches) and this will affect the look and feel of the final grass.
Most types will have the blades coated with a fine coating of silicon which softens the texture.
The main types of synthetic grass are:
Nylon: A Nylon pile artificial turf is very durable and stiff. It is extremely hardwearing, enduring high traffic levels, however it is expensive and will not have the same feel as natural grass although it will look quite realistic
Polyethylene: This is a softer and cheaper material which is ideal for domestic grass but will not be as hardwearing as the more expensive nylon
Polypropylene: This is the softest of the materials used to make synthetic grass. It is cheap and soft, but this means that it is less durable, particularly at high temperatures. It is typically a lighter weight so easier to work with
Manufacturers will combine the materials to get the optimum texture and durability for the usages that you need. And there are newly invented materials being added all the time to create the perfect characteristics needed.
Not only is the material important, another key difference is how the artificial grass carpet is "dressed". The artificial turf can be dressed in a number of ways:
Sand Filled Turf: To maintain the surface and support the synthetic blades, sand is used. This type of artificial turf is the original type and requires more sand and maintenance to maintain a level surface
Sand Dressed Turf: This uses less sand only filling to about two thirds of the pile height. This provides an easier to maintain flatter surface and is preferred for sports pitches
Water Based Artificial Turf: These as the name suggests use water rather than sand. The big benefit is that they are much less abrasive should you fall on them, which makes them ideal for sports pitches
Rubber Crumb Infill Turf: These are designed to provide cushioning for sports people and are filled with a mix of sand and rubber crumb. These can even be used for playing rugby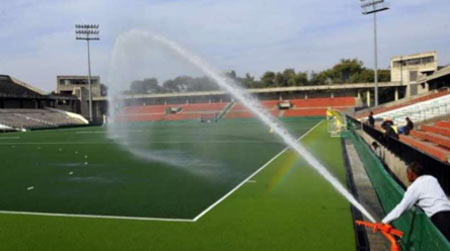 The cutting edge of artificial grass technology is directed to making the most realistic and effective playing surfaces for sports, hence these types will have very little impact on your choice of your domestic lawn.
You are most likely going to use a sand dressed of filled turf with a mix of materials depending on the usage that your synthetic lawn will expect to get.
Most artificial turf sellers will be able to offer turf designed for a range of domestic uses from hardwearing to aesthetically focused – some even have &lsduo;mowing" stripes. Some will be designed for pets or use on roof terraces and balconies.  There are even solutions for temporary grass and indoor lawns.
Now you have chosen your artificial turf you need to lay it. Here's how.
How to Lay Artificial Turf to Make the Perfect Synthetic Lawn
You will either be laying your artificial turf on an existing hard surface or on a loose, unbound surface. If you already have a hard surface, this makes it easier as you can stick the fake grass on to it, however you need to ensure that it does drain.
We will cover laying artificial turf to existing hard surface below, but first we'll tackle how to prepare and lay it to an unbound surface such as an existing real lawn.
Before you start ensure that the area is free draining. If it is not, adding a synthetic lawn will make no difference and the area will still not drain well. Have a look at our drainage section for more information about how you can do this.
Here are the steps you should take to lay your artificial turf:
Excavate the Ground
You will need to excavate the area that you are going to turf artificially up to a depth of between 50-100 mm (2-4 inches).
The depth will depend on the amount of hardcore you will need, which will depend on the soil; you need a solid sub-base but one which is still free draining.
You are unlikely to go wrong with 75mm (3 inches). Smooth out the bottom roughly so it is flat.
Mark out the Edges
At this point it is useful to mark out the edges if there is not already a curd or hard surface which the lawn will butt up to. There are two ways we like to do this:
Using Wooden Batons: Use 4"x1" (100x25mm) tantalised wood to make the edges. These should be at the level that the fake grass will be laid at; you will fix the grass to these batons, either directly with screws on nails, burying the end under the soil beyond or edging stones, or you can wrap the fake grass around the baton for a tight finish. For curved edges, cut notches into the baton and then bend and hold in place with 300mm (1 foot) stakes
Using Concrete Blocks: Around the edge you should lay concrete blocks – find out how here. In much the same way the fake grass can be fixed to the blocks when the time comes, although it is probably best to stick it down rather than using screws or nails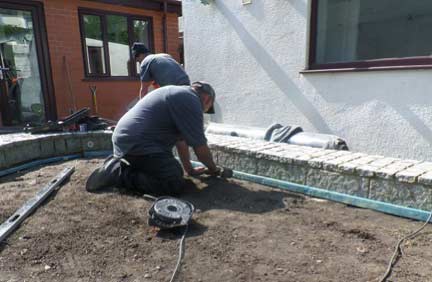 Weed Protection
At this point is it worth spraying for weeds and then laying a weed fabric across the area. This will also help to stabilise the sub-base you are about to put down.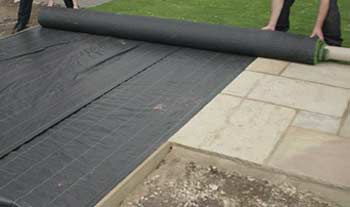 Put Down the Sub-Base
Now lay the sub-base. We'll use approximate depths as they might vary depending on your satiation.
There are two elements:
Hardcore – You should spread out and level 50mm (2 inches) of type 1 hardcore, also known as course crushed aggregate. This should be compacted with a heavy roller or wacker plate
Sand – On top of the compacted hardcore, add layer of builders sharp sand to a depth on approximately 25mm (1 inch). Don't be tempted to add more sand as too much can then move under the artificial grass and create bumps and lumps. Level and compact this layer also
Roll Out your Artificial Lawn
At this stage you are ready to lay the grass, however to make life easier we recommend laying a layer of weed fabric which you can fix to your edging or with U-pins. This will stop you disturbing your flattened and level base, and make it easier to drag your fake grass into place.
TIP: At this point you might want to put a shock absorbent material under the grass to add a little extra cushioning. Simply lay this out and then cut to size with a utility knife.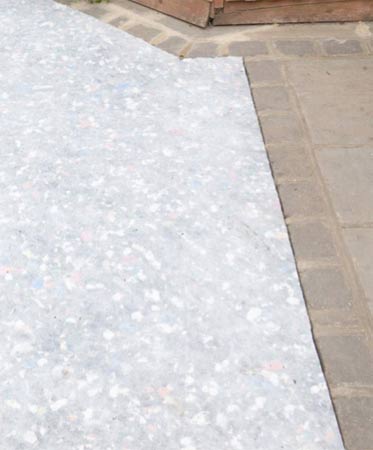 Roll out the grass and position over the area you are "grassing". Leave it there for 24 hours or until all the creases have fallen out – this will save you having to try and pull them out when you're fixing it.
TIP:: That this opportunity to decide which way you want the pile to lie. There should be arrows on the back to show this, but you will see it; there is a different colour effect from different angles. Make sure that you're happy with the way it is going to be laid.
Think about the joins too. It is important that the pile is running the same way each side of the join, otherwise the join will be very obvious and ruin your realistic lawn effect. More about how to make joins below.
Cut the Artificial Grass
Once the grass has settled, you can cut the grass to shape. Before doing so make sure that the pile direction is all in the same way and you're happy with it. There's no going back after you've cut!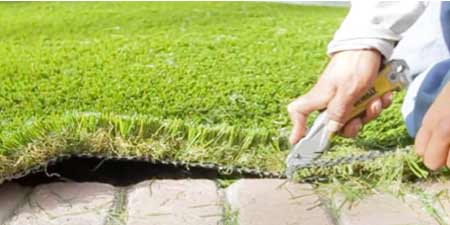 Using a sharp trimming knife and you will need several blades as the cut will not be clean once your blade becomes blunt.
Cut to the edge so that the grass meets edging stone or curb without a gap. If you are edging up to a baton or block you can leave the excess to be buried or wrapped around the baton.
Joining Pieces of Artificial Grass
At this point you might need to make a join between two roles of grass. You will get the appropriate joining tape and adhesive from your artificial turf supplier; make sure you get enough as it doesn't go far.
This is the process for making a join:
Lay the two sides of grass to be joined next to each other with the grass pile facing up to you. Line them up as they should join. Ensure the pile is running in the same direction.
Fold back each side and cut the edge, cutting down the middle of two rows of the tufts
Offer up the two sides and check that there is a good fit; if there is a gap then there will be one when glued so make sure you are absolutely happy
Fold back both edges again and lay the jointing tape in the gap (make sure you follow the instructions so that the joining tape is the right way up)
Apply the adhesive to the jointing tape. Depending on the adhesive you might need to use a spreader to spread the adhesive out evenly

Making a join between two pieces of artificial grass – Image courtesy of Artificial Lawn Company

Fold back the sides of grass being joined, one at a time. Ensure that they line up without any gaps
Apply pressure on the joint until the adhesive has cured. Ensure that any glue that gets on to the grass is wiped off immediately
TIP: The right amount of adhesive is critical – too little and it will only reach the stitching rather than the carpet and not make a good join. Too much and the glue will seep through the carpet and stick down the synthetic grass blades, which will look dreadful.
Fixing the Artificial Turf
When it is laid out and cut to size you need to fix it. You can use galvanised screws or grip nails when fixing to the batons but elsewhere you should use U-pins that we have already mentioned above.
The fixings should be every 50cm (20 inches), but add more if necessary.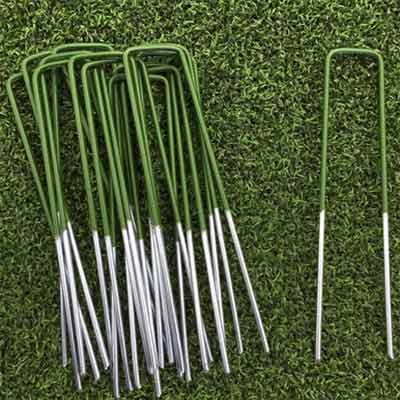 Where the fake grass is being stuck down with adhesive, follow the manufacturer's  guidelines. There are proprietary adhesives that are available especially for sticking down grass, which you can find on Amazon and other places.
Finishing and Dressing
Having fixed the turf down, all that is needed is to dressing if this is required.
Most artificial turfs that are used in a domestic setting will need a little dressing, which means adding and brushing in some sand.
Not all synthetic grasses need this so don't worry if you don't have to do this. Typically if there is going to be more traffic over it the more likely that you will need to, as this helps the grass stand up a little.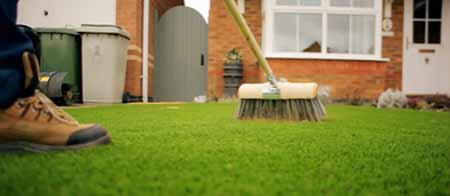 The type of dressing sand will be specified, but it is likely to be a kiln dried silica sand at around 5-8Kg per square metre. Spread it and then brush it in with a stiff broom or clean yard brush.
And now you're done! Relax and enjoy.
How to Lay Artificial Turf Over a Hard Surface
We did promised that we would explain how to lay artificial turf on to a hard surface. It is much the same so we can be brief.
As we have mentioned the surface should drain. Ideally with at least a 1:200 slope. There is no restriction on the type of surface; artificial turf can be fixed to concrete, tarmac or a patio for example.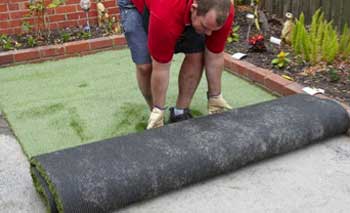 TIP If the underlying surface in not totally flat, the impression of the bumps and lumps will show through the fake grass. You can get over this by using an underlay (such as some shock absorbent material ) or marine ply fixed to the hard surface which the grass will then be stuck to.
Here are the steps for laying your fake grass on a hard surface:
Remove any debris and sweep the surface down. You are going to stick directly to this surface so it needs to be clean. Note the tip above about what to do if the surface is not flat
Lay out your artificial turf as described above, leaving sufficient time for the creases to fall out
Stretch out the grass and cut to size. It might be easier to stick then cut, but this is up to you
Stick the synthetic grass carpet to the hard surface by applying the adhesive (as recommended by the manufacturer) to the hard surface. In small areas it is sufficient to stick the perimeter, but for larger areas you should apply adhesive across the whole area
Apply pressure on the adhesive until it cures with a roller or weight. Ensure that you use the right amount of adhesive to get a good fix, but not too much so that it seeps through the turf carpet and sticks the ldquo;grass" pile down
Dress and finish as described above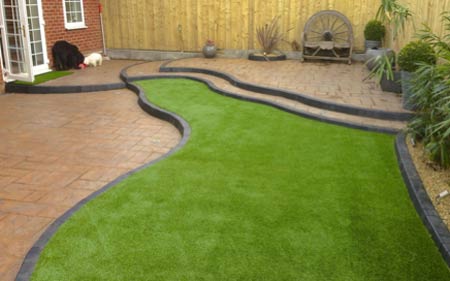 As you can see it is actually a little easier to lay an artificial lawn on a hard surface as you don't need to prepare the sub-base.
Despite it being fake, artificial turf is actually a great solution, and a project that you can certainly do as a DIY enthusiast.
OK, so i's not real grass, but there are definite advantages to something that does not die, never needs watering and only limited tending. In this busy world artificial turf is a fantastic home improvement project.