A lush and beautiful lawn is an attractive way to complete a garden. There are other benefits for a natural lawn as it increases biodiversity in the garden, providing a habitat fro may insects and invertebrates which in turn encourage and support bird species.
A lawn will also absorb excess water rather than dumping rainwater into the drains which can increase risks of local flooding. It also absorbs CO2 and impurities in the air such as dust, which is good for the environment, our health and our wellbeing.
The quickest way to get a beautiful lawn is to lay turf. The alternative, which is cheaper but takes longer and can be more problematic, see seeding a lawn from scratch which we cover in this project here.
Laying turf is a relatively easy DIY Project, although it is heavy so you might need some assistance, particularly if it is a large area you are working on. In this project we will cover the three essential stages to getting your new lawn established:
Preparation – Making sure that the ground is ready for the turf to be rolled out and that it will get the best possible start
Laying New Turf – How to get the turf rolled out so that it will grow quickly and have strong new growth
Ongoing Maintenance – Looking after the new turf once it has been laid until it is fully established
If you already have a lawn but it is in need of some repair work then you should see our project on repairing a damaged lawn here.
When to Lay a Lawn with Turf?
Before you begin you do need to think about the best time to lay the new turf, as this will help to get the lawn established most quickly and easily.
Turfing a new lawn can be done at any time of the year, but spring and autumn are best because there is less chance of the new turf drying out.
If you are laying turf in the summer you will need to be careful to ensure that the new lawn does not dry out, which will inhibit new growth and may even kill the grass in the new turf.
If you are laying turf in the winter, you must ensure you avoid any prolonged cold spells, especially if the ground might freeze or there is going to be a frost.
Grasses are pretty tough and forgiving to a wide range of conditions so we tend to forget they are plants like any others in our gardens, but considering their needs will ensure you get a healthy-looking lawn in as quick a timescale as possible.
Like any plant, grass needs to have water, nutrients, air and light to grow.
To get a lawn to grow well you need to ensure that the turf you are laying has as close to the optimum amount of all of these as possible.
This tends to be in spring and autumn as this is when it is warmer, wetter and lighter. We will cover how to ensure that the grass gets enough nutrients next.
Preparation of the Soil Ready for Turf
It is very important to fully prepare the ground where the turf is to be laid. A good bed of soil will allow the turf to root more easily, which will help with drought resistance.
You should have 4-6" (100-150mm) of good quality soil, loosely turned over and raked level so that it is free of stones, weeds and large lumps. You are basically laying a surface that makes it as easy as possible for the turf to send down roots into it.
Get the soil prepared before you order the turf, as it is best to lay it as soon as possible after it arrives, but more on that below.
It is possible to purchase specialist topsoil for laying turf onto, but this is not necessary if you ensure that the ground is well-prepared and a suitable fertiliser is added in the correct quantity (more is not better and can lead to "burning" new roots) so follow the instructions on the fertiliser packet for quantities and distribution.
There are specialist lawn fertilisers but one with an even ratio of Nitrogen (N), Phosphorus (P) and Potassium (K), also called NPK fertiliser, will work equally well.
Don't use a high Nitrogen fertiliser as although this will boost growth it may overstimulate growth which makes it more susceptible to disease and other environmental stresses.
Pick a day when the earth is not wet and it is not going to rain because this makes it easier to work the soil and it helps to avoid the soil and fertiliser clumping together. You want to achieve a "friable" crumbly surface that is level and as smooth as possible, and this is much harder to do with wet soil.
Mix the new topsoil (if using) with your existing soil and fertiliser, combining it to improve the quality of the soil overall.
You must ensure that the ground is level and free of lumps and bumps, as the lawn will only be as flat as the surface you are laying the turf on – it will take on any bumps or dips in the ground. After turning over the soil, lightly compact it by gently treading over the whole area.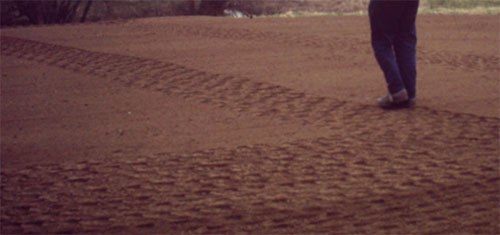 You can then rake it over to ensure it is completely level.
Once the soil has been prepared you should water it so that it is damp to a depth of at least 3 inches (75mm). Ideally, this ought to be done two or three days before the turf arrives and is laid.
Then raking it again just before the turf is laid. Watering will help the soil to settle and provide water for the turf roots.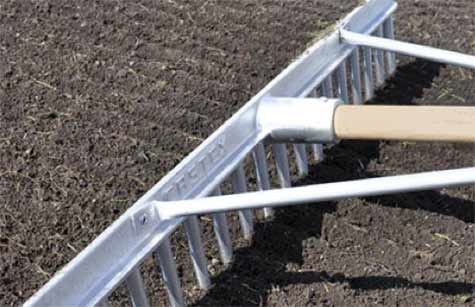 Keep an eye on the weather forecast once you have the soil ready as you only want to order the turf when you know that there is some rain coming as this will save time watering and give the lawn a much better chance of taking well.
Calculate How Much Turf is Required
First of all you need to calculate how much turf you will need. Measure the width and length of the area to be turfed, and multiply one figure by the other to find the area. This will give you an amount of ground that you need in square metres/square feet.
It's a good idea to add on an extra 5% to the total to account for shaping. As you will see below, you should not try to stretch the new turf to cover a larger area as this is likely to damage it, make it more susceptible to drying out and potentially kill it.
Use our Turf Calculator above to work out how much you need:
Once you have worked out the right amount of turf that you need you need to order some. This is easily done on the internet or over the phone with most suppliers delivering to most areas of the country.
The issue is that there are lots of different kinds of grass to choose from and you also want to ensure that you are getting good quality turf.
The leading suppliers tend to be members of the Turfgrass Growers Association (TGA) which should provide a measure of quality.
The turf that you buy should be less than 12 months old as beyond this it will not be as vigorous, so will take longer to root properly.
The turf should be damp, not dry and ideally around 9mm thick which indicates that it is not too dry and ideal for taking root on your soil.
When choosing the type of grass you need you will need to consider what the lawn will be used for. Will the kids be knocking a football around on it or will it be ornamental? How much maintenance you want to do including how much cutting is a factor. Most suppliers will have their own brand names for different types of grass so you can talk through your needs with them before purchasing.
Most turfs will have a blend of grasses, such a dwarf rye grass, meadow grass or common bent, each which will have preferences and attributes which make it more suited to different uses, climatic conditions and maintenance regimes. You supplier will be able to advise you in detail.
You will probably need to give your supplier 4-5 days' notice for delivery.
Laying the Turf
Turf should be laid as soon as possible after it is delivered or collected, because when it is rolled up it can't get any sunlight which will weaken it.
If the weather is hot and dry then you should lay the immediately on arrival and water it thoroughly, but if it is cooler and more humid then you can leave it for up to 24 hours before you lay it.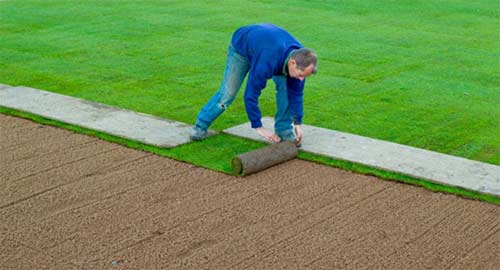 You will need:
plank(s) of wood
a garden fork
a rake
a brush or broom
a long knife or cutting spade
wheelbarrow to carry the turf
and a supply of fine topsoil or compost
Try to start laying against a straight edge to ensure your lawn is "square" this is important even if you have an irregular-shaped lawn because it helps to avoid gaps between the turves.
Start to lay the turf, leaving a slight hump at the edge of the piece of turf as you lay it against the previous one, then push down the hump you left at the edge to make it lay flat against its neighbour, pressing them together to ensure there are no gaps.
Press down each turf to ensure the roots make good contact with the soil underneath.
Once you have done the first row, lay your wooden plank on top of it and move on to the next row.
Offset each row like brickwork, so that the joints are staggered instead of in line.
Continue laying each piece of turf with the slight hump as before, and use a garden fork to nudge each piece hard against its neighbour lengthways, ensuring there are no gaps. Press down the turf so that all the roots make good contact with the raked soil below.
If your garden has sloping areas always roll the turf out across a slope rather than down it; this will reduce the runoff of rainwater and help ensure your turf remains moist.
If you need to cut the turf around an edge, path or feature, this can be easily done using a long knife, cutting spade or hand-saw.
Simply lay it in the same way as above and then cut away the area you need to. You can use the cut off pieces of turf if they are big enough to use but don't skimp on any areas – they need to be well packed together to thrive.
Continue to lay the turf, staggering the joints on each row and ensuring there are no gaps anywhere.
Where there are exposed edges of the lawn turf, these should be covered so they don't dry out: Simply pile some soil along the length of the exposed edge to keep it moist.
Sprinkle fine soil along all the joints, and then brush over the whole lawn with a broom. Don't be afraid of walking on the new lawn while you work on it – it helps to ensure the new turf is in contact with the soil beneath.
If you soil is quite "heavy" i.e. contains a lot of clay, or if the conditions are quite wet then make sure you put boards down on the turf before you walk on it as this will distribute your weight and help to avoid compacting the turf. Compacting the turf makes it harder for roots to grow and for water to penetrate.
Finally water the new turf thoroughly when you have finished, ensuring that the water seeps all the way through to the ground below.
After Care for Your New Turf Lawn
It can take up to 3-4 weeks for the lawn to establish itself, during which time you will need to look after it carefully.
If it dies, or patches die, then your time, money and efforts will be wasted. Having said that all is not lost if you have problems you can check out our project on How to repair a lawn here.
Continue to water your fresh turf daily until the lawn is well-established (hence choosing a time when rain is likely).
Avoid watering in the middle of the day when the sun is strong, as this may scorch the grass. Early morning or evening is the best time to water, as less water is lost to evaporation at these times.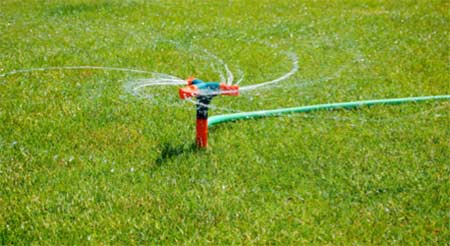 Once the turf is laid and watered avoid walking on it at all for a week or so, and then avoid walking on it unnecessarily until it is fully established.
It should be ready for full traffic within six months or by the next season. It is more robust that you think so it can cope with light traffic almost immediately, but avoid it unless you have to so that your new lawn gets the best start.
Don't put off mowing the new lawn as this encourages new growth. Give the grass a light mow on the highest cutting setting, to top it off after 2-3 days.
This encourages the grass to push down roots rather than use all its energy to grow upwards.
Watch out for areas which are lifted or disturbed as these can be easily "scaled" or ripped up by the lawn mower blades.
Push any areas like this back down firmly with a generous watering. As a rule of thumb don't cut more than one third of the grass's length and an absolute maximum of a quarter, for the first few cuts.
If there are only light clippings left by mowing then these can be left in the grass, but if they start to get to the point that they will stop light getting to the grass then they should be removed.
Try to mow in different directions each time you cut to get a vigorous and healthy lawn growing.
Feeding Your New Lawn
Once the lawn becomes established it will need food, as the fertiliser that you raked into the topsoil will have been used up.
If your new lawn was laid in spring and you did add fertiliser to the soil before you laid you turf then you should start feeding after week six of laying the new lawn. If you didn't add fertiliser to the soil then start feeding in week four of laying the lawn.
There is no real need to feed a new lawn that was laid in autumn until the spring which is when new growth starts in earnest, providing you did use fertiliser in the soil before you laid the turf.
If you didn't you can feed the lawn in week four to six, but ensure it is a winter feed which will be low in nitrogen. You are just aiming to feed the roots at this time of year.
Over-stimulating leaf growth at this time of year will weaken the grass and make it more likely to be damaged by frost and disease.
New lawns laid in summer will need feeding in week five or six after laying because you will be watering regularly and washing nutrients out through the turf.
If you laid your new lawn in winter then it won't need any feeding until the weather warms up in March or April.
Once the daytime temperature is above 5 or 6 degrees Celsius (centigrade) the grass will start growing more vigorously and will require feeding every 4-6 weeks until temperatures drop below that again in September or October.
Spring is the time you can use a fertiliser with a higher Nitrogen content which will stimulate the growth and make the grass greener and healthier looking.
Granular lawn feed is the easiest to apply, but do not use weed and feed products on a new lawn, give them at least a year to bed in before you start using such a harsh product.
Better still why not avoid chemical weed killers, and embrace the biodiversity of a lawn with a few added uninvited species in it – they can add interest for you and the wildlife, and help with drought tolerance.
You can always dig out any very persistent weeds such as dandelions with a gardening knife. In any case feeding the grasses in your lawn and regular mowing will help keep down weeds and promote healthy grass growth.
Remember that you will need to keep watering the lawn in its first year, especially during dry spells.
fter the first 12 months lawns will usually have put down sufficient root growth to withstand summer droughts and will not die out, even if they turn yellow in the summer heat.
Consider the environmental impact of watering a lawn against the visual one. The cooler, wetter autumn season will see your lawn turn green again with no detriment to the plants.
If you cannot bear to let your lawn turn colour in the summer heat, then consider conserving rainwater in harvesting systems – you can use a pump to run a sprinkler or irrigation system from a water butt or tank to water summer lawns. Find out how to install a water butt in this project.
Continue feeding your lawn every year from March to September every four to six weeks depending on your soil and the type of grass used. Light sandy soils will lose the nutrients quicker than heavy clay soils do.
Make sure that lawn feed is spread uniformly across the grass – there are lawn feed dispensers to help you achieve this. Check out watering and feeding products and equipment in our online toolstore.
We have a lots of projects about maintaining your lawn in our section on Lawns and Hedges where you can find more information. If you find the whole idea of laying and maintaining a real grass lawn too much we also have a project about how you can lay artificial grass.
Using turf to get an instant lawn is a hugely satisfying project and with a little preparation and planning it is relatively easy, as I hope that we have shown. Hopefully you have the confidence to lay your own turf lawn now.