If you have solar panels on your property then a key piece of kit that will enable you to use the power they generate in your home and also send any excess back to the grid is an inverter.
Essentially the job of a solar inverter is to convert the DC (direct current) power the solar panels generate into AC (alternating current) so that it can be used in your home.
Almost all appliances in your home will operate on AC current as does the national grid and trying to use the DC current generated by the panels directly in your home will only damage these appliances hence the need to convert to AC.
So as you can see from the above an inverter is a key component to a solar energy system so read on below to find out more about them and how they work.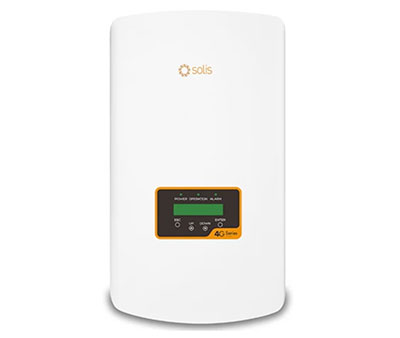 What Different Types of Solar Inverter are There?
Now that we know exactly what an inverter does it's time to take a look at the different types of inverter there are that includes string, hybrid, microinverters, central inverters etc and how each balances and converts solar-generated electricity.
String Inverters
The string inverter is arguably the most common type of inverter and have been around a good long while and due to this is the one that is most commonly used in domestic and smaller industrial solar installs.
The string inverter gets its name from the way in which solar panels are "strung" together. In most solar installs solar panels are laid out horizontally across a roof space in rows of up to 14 panels, these rows are commonly referred to as strings.
Most standard string inverters can handle up to 12 separate parallel strings and if more are needed then it is possible to use additional string inverters.
As good and solid as string inverters are they do have a few downsides in that if even one panel on a single string has a slight bit of shading reducing its output for a part of a day, the remaining panels on that string will all be brought down to the same level, not ideal.
Similarly if all the panels on a given string are not all pointing in the same direction this can negatively affect the output of all panels on that string.
However there is a solution to this in the form of the "power optimiser" (similar to a micro-optimiser, more on this below). These are handy little devices that are fitted to each solar panel and resolve any shading and directional issues by conditioning the charge from each panel before it reaches the inverter.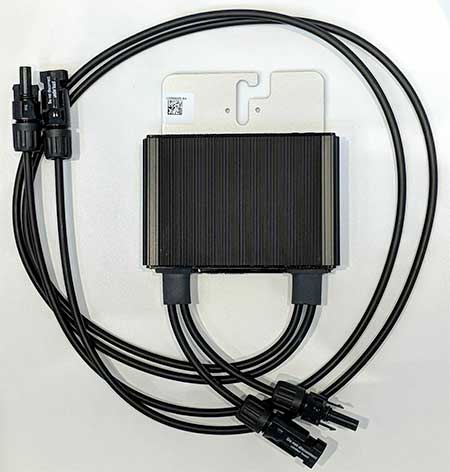 This in turn then raises the efficiency of the system as a whole and ensures that it doesn't suffer because one panel isn't generating as much as it should be.
Some solar panel manufacturers integrate power optimisers into their solar panels as an all-in-one unit and these are known as "Smart Modules".
Advantages
Long standing tried and tested technology
One of the cheapest inverters available
Compatible with power optimisers
Handle up to 14 solar panels on a single string
Disadvantages
Not to be used where solar panels suffer from shading
Don't work well when solar panels face different directions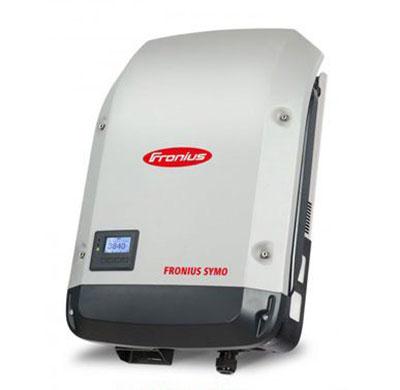 Hybrid Inverters
The hybrid invert is a clever piece of kit and one that fits into a solar panel system that also features battery storage and essentially plays the part of 2 separate inverters.
With most standard inverters they are only one-way inverters, converting DC electricity from solar panels in to AC electricity to be used in a domestic situation.
Hybrid or multi-mode inverters are 2 way inverters, converting power from DC into AC for use in the home and then AC back to DC to be stored in a battery.
The added bonus with hybrid inverters is that they can also draw AC power from the grid and convert it to DC power to recharge a battery.
However if you are thinking that you can only feature battery storage in a system that has a hybrid inverter this isn't true, you can indeed add battery storage to a system using a string inverter the only issue os that is then has to go through another conversion stage to convert it from AC back to DC as the battery would sit after the initial conversion from DC to AC.
Unfortunately every conversion process results in "conversion loss", so some of that energy will be lost making this a less efficient method.
Hybrid inverters also come bundled with a clever technology called MPPT (more about this below) but on a basic level this technology senses exactly how much space and then matches and optimises the electrical supply to the battery.
Advantages
Two inverters in one unit
Two-way conversion system
Great for battery storage solutions
Can pull from and fed back to the national grid
Features MPPT technology
Disadvantages
Can be fairly expensive
Can be less efficient depending on how they are connected up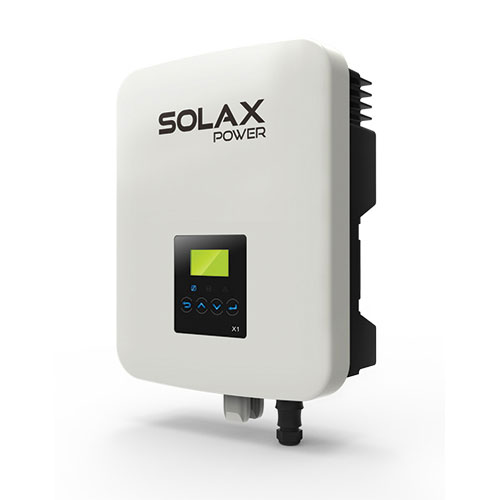 Micro-Inverters
Micro inverters work in a slightly similar way to the power optimisers mentioned above, however they are fairly different.
With power optimisers the DC current is regulated and sent to a central inverter for conversion from DC to AC.
Micro-inverters take this one step further in that each solar panel is fitted or connected to its own module-level micro-inverter and the inverter optimises the power for it's own solar panel ensuring each panel always operates at peak efficiency. It also performs the DC to AC conversion for that individual panel.
What all this means is that regardless of whether 1, 2 or 3 panels are suffering from some shading on a given string this will have no impact at all on the other panels in that string so each panel will be always be reaching its optimum efficiency level.
Typically micro-inverters have always been fairlry expensive and due to this, string inverters have always been the go-to choice, however in recent years as the technology has been refined they have dropped in price making them an option worth considering.
In a similar way that some manufacturers provide solar panels with power optimisers already installed, this is also the case for micro-inverters but these panel-inverter bundles are known as "AC modules" as opposed to Smart Modules.
Advantages
Ensure each individual solar panel operates at peak efficiency all the time
Converts DC to AC directly at the panel
Disadvantages
Can be more expensive than other inverters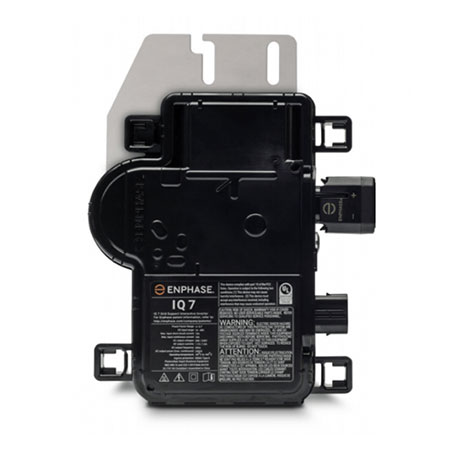 Central Inverters
A central inverter is essentially the same as a string inverter only on a much bigger scale with some being up to around 4MW (megawatts). As they operate on a larger scale they are not really suited to domestic and small industrial levels and are more suited to large scale solar farms or large buildings with many panels.
One advantage of the central inverter and its size is that it can handle many more strings of solar panels than other types of inverter, again making it suited to large scale installations.
In terms of how they work, a series of string combiners combine panel strings together which in turn combine themselves and then run into a central inverter.
With this architecture is possible to use numbers of string inverters to do the same job as the central inverter but often it's cheaper to use one central inverter as opposed to many smaller string inverters.
Advantages
Ideal for large buildings and larger scale solar farms
Cheaper to use than many individual string inverters
Can handle large numbers of solar strings
Disadvantages
Not suitable for domestic installs
Very large and bulky
On Grid and Off Grid Solar Inverters
In some situations you may hear the terms on-grid and off-grid solar. These both have to do with the way in which the inverter in the system interacts with the national grid, or not in the latter case.
On-Grid Solar Inverters
An on-grid solar inverter typically doesn't feature any battery storage. The electricity generated by the solar panels is fed into the inverter which in turn is either fed into the national grid or into the property for consumption.
This system is mainly geared towards utilising the power generated by the solar panels throughout the day when the panels are producing power and then feeding any excess back into the grid, and then when they are not producing power, electricity is drawn from the grid.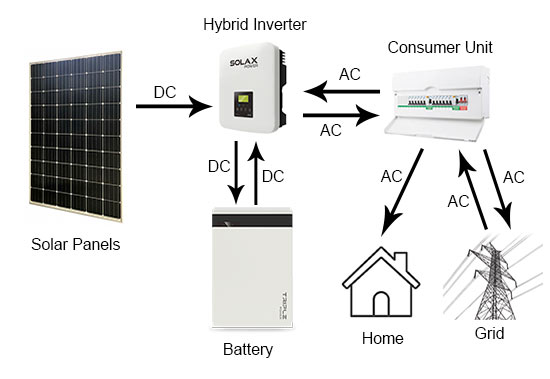 Off Grid Solar Inverters
An off-grid solar inverter is one that does not connect to the grid at all. The solar panels send electrical energy through to a charge controller which in turn charges a series of batteries (the charge controller ensures that the correct voltage is sent to the batteries and when they are at capacity the feed is cut to prevent over charging).
The power is then fed into the inverter which coverts the DC current to AC and then on into the property for consumption.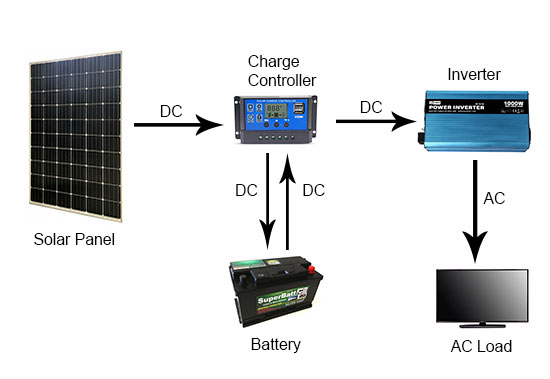 In terms of the hybrid inverter we have looked at above, it's name is essentially derived from the fact that it is a hybrid of both on-grid and off-grid inverters, having the benefits of both.
What Does PWM and MPPT Mean?
As we briefly touched on above and said we would expand on later, we now need to fully understand what the acronym "MPPT" means.
The term actually means "Maximum Power Point Tracking" and has to do with the voltage that is produced by the solar array or grid and any batteries.
Essentially MPPT looks at the voltage being produced by the solar panels and then converts that voltage to one that is best suited to the batteries being used to ensure that the best possible current is being fed into the batteries and at the same time ensuring the solar panels are operating at peak efficiency and not being reduced to match battery voltage.
MPPT is a fairly new idea that has been developed over the past few years to replace the less efficient PWM in charge controllers and inverters.
In terms of PWM this acronym stands for "Pulse Width Modulation". In a solar system that uses a PWM-based change controller, the solar panels are connected to the batteries via a PWM charge controller.
Unlike MPPT-based charge controllers and inverters that monitor and adjust the incoming electrical energy, PMW controllers use a rapidly opening and closing switch to control the electricity being sent to the battery.
The switch remains open until it senses that the battery is fully up to absorption voltage, normally around the 80% full mark, where it then starts to open and close rapidly to reduce the charge and maintain the correct voltage.
When selecting charge controllers and inverters it's important to look for one that features MPPT technology as it will be much more efficient.
The inverter within a solar array setup is really the heart of the system and ensures that the DC power generated by the solar panels is correctly converted to AC so that it can be used safely within the property it is attached to.