There are a variety of reasons why a timber beam or joist may no longer be suitable for the purpose it was installed for. A barn conversion for example, may include a "mezzanine" floor suitable, at its time of construction, for supporting only light goods, but with the conversion it is now required to carry a piano, a bed and other furniture.
There are many many occasions where it is considerably cheaper and far more practical to strengthening beams and joists by upgrading rather than to replace them and in a lot of conservation work, keeping the integrity of the original building materials can suit both the owner and the preservation and heritage agencies.
Property Repair Systems, who are experts in designing repairs for beam strengthening upgrades with structural calculations, are happy to provide a free telephone help line: 01626 872 650, for all queries regarding timber beam improvements and repair. Click through or call them if you cannot find your answer here.
There are many problems which can be solved by repairing and strengthening timber beams and joists, the most common technique involves cutting a slot, or slots, along the length of the timber to within about 30-40mm of the base and bonding in a high tensile steel reinforcing bars bonded in with structural epoxy pouring grout.
This is known as a 'modified flitch' design and approximately doubles the bending stiffness of a typical timber. This process can be seen in more detail by clicking here.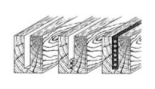 Problems with Timber Beam Strength
Excessive Bending, Bowing and Warping – These issues are normally caused by overloading and time. Such issues are normally quite visible and also normally occur in older beams and properties, but can also occur in newer beams if they are excessively overloaded or the beams themselves are not up to the job
Undersize Timber Sections – Timber beams and joists may have been included in floors and roofs which are simply not strong enough for the job. Replacing these timbers can sometimes cost thousands of pounds, where strengthening can be a fraction of that cost
Change in Building Regulations – Building regulations have changed considerably over the years and when it comes to older beams and properties it may be the case that building regulations didn't even exist! To effect a refurbishment to current regulations may involve upgrading timber beams or joists. This can in some cases be a bit of a grey area as obviously the property existed before the regulations were put in place but any alterations to the property after the date that any regulations were put in place may require that any present beams or joists are upgraded
Alterations and Refurbishments – When it comes to loft conversions, extensions, stairways, alterations and refurbishments older and larger beams can cause issues in terms of maximum head heights. Regulations state that there should be a minimum head height at certain points within a property such as at the top of stairs, between head height and ceilings etc….. In some situations these can be gained or improved by using smaller, strengthened timbers rather than the specifics shown in the regulations or existing timbers. Structural loading calculations are required to alter the size of the timbers involved and these calculations can be done for you by clicking here
Breaks, Cracks and Splits – A timber beam or joist can simply break, crack or split due to time, overloading and decay; this too can be repaired and strengthened using beam strengthening techniques. More information and help on strengthening techniques can be found here
Breakage Across the Timber Gain – partial or complete failure, usually across a defect like a knot, often caused by overloading or decay
Methods of Increasing Beam Strength
Upgrading and Repair of a Beam or Joist
Cut a slot or slots if required along the top of the beam that needs strengthening. Ensure that the depth of the cut does not exceed 30-40mm of the base
Select the appropriate length high tensile bar. Ensure that this conforms to the BS4449 standard. More information on BS standards can be found here
Pour structural epoxy grout into the slot and over the bar. Allow the epoxy to cure correctly according to the manufacturers guidelines
A modification of the timbers of this nature can in most cases double the stiffness of the timber in terms of bending strength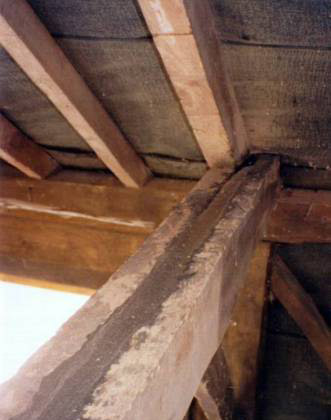 As stated above, if you have any further questions or require more clarity on beam or joist strengthening or repair call Property Repair Systems on 01626 872 650.