If you need any help with any type of Damp proof injection or other damp problems Property Repair Systems staff will be pleased to give you completely free, (with no obligation), unbiased technical and practical advice on 01626 336180. The information you need may be in the project below. If not, call them for FREE HELP.
Until recently the cost of inserting many metres of Damp Proof Course has been prohibitive for large projects, or thick walls, because of the technical difficulties of high pressure injection. The injection equipment is expensive, the technique is hit and miss, with even the 'professionals' struggling with blow backs, loss of fluid via fissures and the difficulty of getting a seal in crumbling masonry. The only option was to pay for a Damp Proofing Company to carry out the work, including expensive replastering.
Now the second generation DPC Creams have appeared and for the first time private individuals and developers, builders and DIY enthusiasts can reliably and cheaply inject their own chemical DPC. Large jobs are no problem – the small, hand pumped pressure pot dispenses the cream via a 10mm diameter aluminium tube, complete with on/off tap. Nothing could be easier.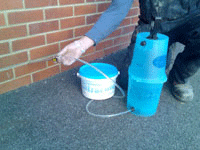 MAIN FEATURES OF CREAM DPC
You may also find a Damp Meter useful, for checking the location, extent and pattern of dampness. These factors can affect the remedial work that is necessary – with your own Meter and some Technical Advice you can minimise your costs.Click on the images below to purchase.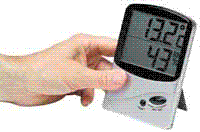 The Hygrometer shows the air temperature and the percentage of moisture in the air (Relative Humidity), essential information if dealing with Condensation and Black Spot Mould problems.
Property Repair Systems can supply the drill and drill bits required for this job. A masonry bit, 12mm in diameter, is required, the length depending on the thickness of the wall. Click on the image below.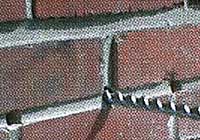 To obtain immediate help with calculating the cost of your job, however large (or small) contact Property Repair Systems by Email on: help@propertyrepairsystems.co.uk or telephone them on 01626 336180. You can discuss your Project in detail with qualified experts without obligation to purchase.
You might like to check out our video sections relating to damp proof injection and rising damp to watch videos on "damp proof cream installation" and "treating rising damp".