Great Ideas for Making Wooden Table Lamps Yourself that Will Really Impress Everyone!
Making a light or lamp yourself can be a very satisfying DIY challenge, and it can be as easy or hard as you would like to make it. Most people will have the tools require in their toolbox already, so all you really need is a little time and imagination!
Here are some of the amazing lighting ideas that we have come across, all of which we think that you could have a go at yourself:
A wonderful Wooden Table Lamp You Can Make Yourself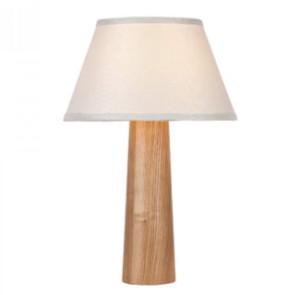 Making a table lamp base can be relatively simple. You need to find a type of wood that you like cut to the size and shape you want, and can work with; don't pick a hard wood if you are inexperienced. You will need to fit the flex and light bulb holder to the top of your base, having drilled the hole for the flex. There are a huge range of light bulb holders or light bulb sockets to choose from – start by searching Ebay or somewhere similar.
Then you can choose your own lamp shade which will match your base. You can buy these readymade or make your own; there is no shortage of lamp shade making kits out on the internet if you search.
Make You Own Wooden Angle Poise Lamp
If you are feeling a little more confident it is possible to make an angle poise lamp. This will require a little more skill, but it is still a very achievable DIY task.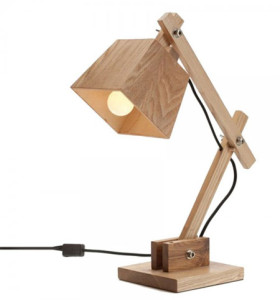 You will need to select the wood that you would like to use – a course-grained wood works really well and this adds texture to your lamp. You will need the flex, switch and light bulb socket as before, however you will need some bolts with wing nuts for the joints of the lamp arm. It is advisable to use some dowels to strengthen the arm joints.
It is also possible to make your own shade, as in this example, or you can experiment with the size and shape of the base. Your lamp can be painted, varnished or waxed and polished, depending on the finish that you would like.
Contemporary Design Wooden Table Lamp
Working with wood, it is possible to create a very contemporary design for your table lamp. Sometimes the contemporary designs as easier to make as they can be designed to be easier to construct.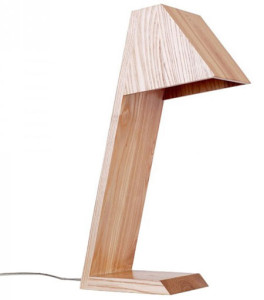 Contemporary Table Lamps with LED lights
With new LED lighting it is possible to put lighting strips into places that would never have been possible in the past. This means that you can be considerably more adventurous with your design.
Here's a really simple example of what can be achieved with relative ease. We like this because the design is clean and simple – the light shade can fold away into the upright. Here a metal base has been used, but a wooden one would work equally well, and be easier to create.
Design It Yourself Lamps
If you don't want the hassle of making your own light, but still would like some 'creative input' or simple want to get someone else to make it for you, we have found just the answer.
There is a fantastic service from Parrot Uncle where they will help you through the process of designing your own lamp, and then they will make it for you! You get something totally unique and custom made for you.
Whether you just design your own, or actually make it yourself too, you will find the process very rewarding and you will be able to admire your handy work for years to come.