This section hopefully covers all the tasks you might need to know about when designing and installing a kitchen, everything from choosing appliances to picking worktop, grouting tiles to plumbing. In fact, it covers everything including the kitchen sink (sorry couldn't resist!)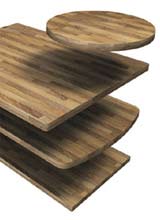 Fitting kitchens can be broken down into various Do It Yourself tasks that we talk you through with a variety of video tutorials and how to guides. The only items that must be left to the experts in the UK are Plumbing for Gas and we also have a cautionary note about electrical installation.
We have included information about planning a kitchen, fitting worktops and cupboards, tiling for splashbacks and floors, choosing and fitting taps. These include instructions on mitre joints and painting over kitchen cupboards and tiles.
Kitchen plumbing can include fitting taps, fitting sinks and wastes, moving a stopcock and boxing in pipes.
Kitchen repairs include DIY projects such as repairing a tap, problems with your dishwasher, unblocking drains, spotting and treating water leaks, damp, and condensation. We also explain about adequate ventilation and different choices of fans and extraction.
The atmosphere of any room can be completely altered by choosing the right lighting. While you are cooking you need higher levels of broad spectrum lighting that gives a wash of light – avoiding shadows and patches of light. However if you are eating in the kitchen or you have an open plan kitchen and living area you will want to be able to adjust the lighting to alter the mood of the room when it is used for other activities.
Before you start laying tiles and flooring you need to be sure that you have a good surface to fix them to and so we tell you how to level a floor and
If you are not going to Do It Yourself you need to know how to find a tradesman, compare quotes and use a building contract, you can visit our Home Improver Protection Solution for more help with this.
A well designed kitchen can make your cooking experience so much easier, it can also enhance the value of you house, so it is worth getting right.