In this section we focus on the controls that are commonly used for domestic heating and hot water systems. By having better control on your heating you can ensure that the rooms that you are using are heated to the temperature that you want or need, while other are not or all the rooms are not heated while you are not there or using them regularly.
Controlling your heating more effectively will save you money and increase the comfort of your home. Getting the right heating controls for you situation is vital, and here we cover what you need to know.

For information about heating systems (rather than their controls) please see our section on Central Heating Systems. We also have information on projects covering radiators and other heat emitters or elements in another section.
If you are considering open fires, wood burners and solid fuel heating systems or any form of renewable energy system we cover these in separate section also.
What are the Different Types of Heating Controls?
Broadly speaking there are only 5 different types of heating controls that you can have in your home:
Timer – This is the simplest control and it will turn you boiler on and off at preset times

A typical central heating timer unit

Room Thermostat – (or Roomstat) This is usually sited in the hall of most homes (if there is only one and the home does not have zoned heating). This senses the temperature of the room and then turns the boiler on or off depending if this temperature is over or under a pre-set threshold

A simple room thermostat

Programmer – This allows you to set both the times and temperatures that the boiler will be turned on and off at. Generally this will be done on a 7 day basis, so you can set different times for each day of the week depending on your regular schedule

Time and temperature programmer

Smart Thermostats – These are heating controls that can be set up as a programmer but also can be accessed remotely, from your smart phone for example, so that you can control or make adjustments to the heating when you are not even home

A smart thermostat controlled by a phone (Image: Hive by British Gas)

TRV's – Thermostatic Radiator Valves or TRV's are heating controls that are on each radiator and will turn the radiator on or off according to the temperature of the room (not the radiator, which is a common misunderstanding)

A TRV or Thermostatic Radiator Valves controls the temperature of a single radiator
Which Type of Heating Controls Should be Used With Combi or Other Boilers?
Ideally all types of heating system should have a room thermostat and TRV's on the radiators.
Remember that there is no need to have a TRV on the radiator in the same room where the roomstat is positioned. If all the radiators had TRV's and they were set below the roomstat temperature the boiler would fire but none of the radiators would be allowed to come on, which would be a waste of energy. This arrangement is not allowed in the current building regulations (See Part L).
Other features which should be fitted to all types of boiler are a boiler interlock, which prevents the boiler from firing up when there is no demand for heat from the roomstat. An automatic bypass should also be fitted so that the is always the minimum required flow through the boiler when the roomstat is calling for heat, but the TRV's are not requiring or possibly stopping the flow.
For separate hot water systems (as opposed to a Combi) you should have a thermostat on your hot water cylinder and a hot water timer.
The Best Place to Site You Heating Controls
If you understand how your heating controls work, then you will understand more about the best place to put them in your home:
Positioning your Roomstat or Room Thermostat
These measure the air temperature around them and will then call the heating to come on when the temperature falls below the set value. There is usually one roomstat in each house, making it a single zone home, so it controls the heating for the whole home.
If you site your roomstat in the coldest room in the house, it will continually call for the heating to come on. You should choose a room that you use regularly, and is likely to be a warmer room in the home, such as your living room. Traditionally they were found in the hall as this was a central part of the house.
It relies on the air temperature around it to sense the room temperature, therefore ensure that there is a free flow of air around it and it is not covered with curtains or positioned behind furniture.
It is important not to position it next to heaters, electrical appliances or lights or it is likely to sense the heat from these and think that the room is warmer than it actually is and then turn off your heating when you really want it.
Optimum TRV Position
You are restricted to where the radiators are to site your TRV's but like the room thermostat they sense the air temperature so that you should try not to position furniture in front of them or let curtains hang over them.
Obviously covering the TRV will restrict your access to them and will reduce the effectiveness of the radiator if it is also covered, so should be avoided for that reason also.
Zoned Controlled Heating
Zone controlled heating heat different sections of a home to different temperatures. This will require a different room thermostat for each zone and also different pipe loops.
Zoned heating is ideal for larger homes where different temperatures will be needed in different areas, or homes with different heat emitters operating from the same boiler, such as radiators and under floor heating. Under floor heating tends to need to be set at lower temperatures for longer periods as it takes longer to warm the slab, where as radiators provide a more instant and intense heat.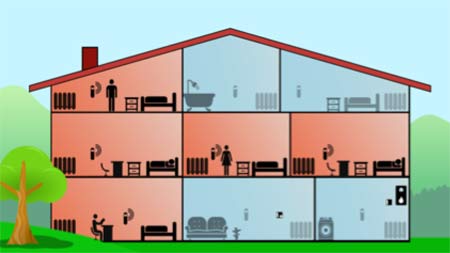 Advanced Heating Controls
We have already briefly mentioned Smart Thermostats, and this is there the area of Home Automation encroaches (and improves!) the world of domestic heating. By connecting your heating controls to the outside world using the internet there are a range of extra benefits:
Control – You can control your heating from anywhere, be it your sofa or on the bus in the way home if you're coming home earlier than expected and what the house warm for your arrival
Learning – Smart heating controls can learn about your habits and routines so that they can ensure that there is always enough hot waters and the house is warm for you, but only in the areas that you are using
Cost Savings – with the extra control, not only do you get extra comfort from having the heating on when you want it, but also you should make savings from having the heating off when you don't want it
Weather Response – some of the most advance systems can detect the local weather and respond accordingly, so you are not caught out by a cold snap or your heat is turned down automatically in a mild spell
The range of different heating controls can seem overwhelming. Here we have tried to simplify the options for you a little but if you are looking for more detailed information on each option you can look at the projects listed above as they will provide detailed information on each type of heating control.