Electrical Regulations in the Bathroom
Aside from adding a radiator in your bathroom as part of a central heating system, the general choice of heaters involves using electricity. It is important to note that legally, electrical installations in a bathroom and a kitchen have to be certified by a qualified person in accordance with the 17dition Zones Within a Bathroomth edition of Part P (Electrical safety) of the Building Regulations, which came into force on 1st January 2005. This means that all new installations or modifications to the electrical wiring within bathrooms or shower rooms must be carried out by certified individuals or companies.
To save money, it is worth trying to negotiate a deal with a qualified electrician, so that you do the installation of the appliance and wiring to it, but the final connection of the wiring to the consumer unit is done by this qualified person, to comply with the regulations, with the professional in question obviously checking your work before signing it off.
Take a look at our project on electrical safety. You may find it difficult to sell your home if it is discovered that you have new wiring i.e. blue, brown, green/yellow, with no certificate of installation.
Generally electric bathroom heaters fall into categories such as infrared/quartz heaters, fan heaters and electric panel radiators. Other forms of bathroom heating include towel radiators, more elaborate is an under floor heating system. Naturally these choices will be subject to your budget and preferences for automated heating, rather than manual on demand.
Types of bathroom heating:
Infrared or Quartz heaters
Fan heaters
Electric panel heaters
Towel radiators
Underfloor heating
Since 2008 an amendment to the electrical regulations as aforementioned, stipulated zones within a bathroom where heating, particularly electrical heating can be positioned. These are defined as zones, 0, 1 and 2. See also DIY Doctor Forum on this subject.
Electrical Zones Within a Bathroom
When choosing the position of the heater one should refer to the data about the zones:
Zone 0 – the interior of the bath or shower which can hold water
Zone 1 – the area directly above zone 0, limited vertically to 2.25m above the bottom of the bath or shower, also 1.2m horizontally from the centre of a shower outlet to the height of the outlet, or 2.25m whichever is the higher
Zone 2 – the area beyond zones 0 and 1, 0.6m horizontally and up to 2.25m vertically. Zone 2 also includes any recessed window with a sill next to the bath
Note: if the space under the bath cannot be accessed without using tools (screwdriver etc), that space is considered to be 'out of scope'.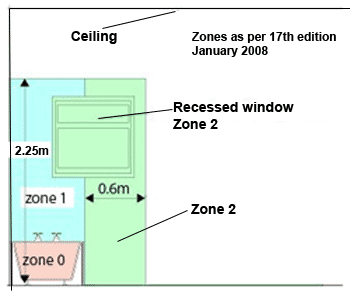 This is a quick summary on the bathroom electrical zones, however if you are not familiar with them we recommend that you read our project all about them. It covers where each zone is in details and explains exactly what type of electrical device is allowed in each zone. Find our bathroom electrical zone project here.
Down Flow Fan Bathroom Heaters
The cheapest form of quick heating is the down flow fan heater, most usually operated by a pull cord switch within the heater.
A typical rating of this type of heater is 2,000 watts and will need 2.5 mm2 cable TWE (twin and earth). Another variant is an air curtain heater, which could be positioned above the bathroom door, especially if there is no door between the bedroom and the en suite bathroom.
As a minimum, the cable should run from the heater to a 13 amp single gang fused spur. From the fused spur to the consumer unit can be via the ring main but discuss this with your qualified electrician before starting the work. Generally all heaters should be run into a fused spur, no matter what the type.
The down flow fan heater will provide a very quick warm up within an average bathroom, containing bath, basin and toilet. The disadvantage is the noise it makes. The noise of the heater will encourage you to turn it off as soon as possible. It is less likely that family members will leave a fan heater on, as opposed to the quieter types, which they may do!
Your electrician could also wire your bathroom heater through a time delay switch and a contactor, which will cut off the supply after a short time.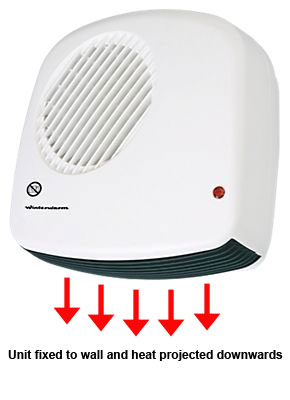 Infrared Bathroom Heaters
Infrared heaters are often around 1500/1800 watts with three settings of 500/600 watts each, switching to the different settings with a pull cord, adjusting from 0 to 1, 2 and 3 to power up the different elements.
Heaters of this type are rapid, with the elements glowing red, placed at high level on the wall.
The disadvantage of this type of heater is that it is silent and so easy to neglect and leave on.
They also get dusty and can be difficult to reach to keep clean.
When the heater is turned on after some time of not being used, the dust accumulated on top of the unit and the elements burns and makes an unpleasant smell.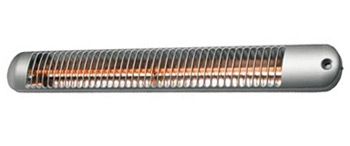 Sealed Panel Radiators
This type of panel radiator is sometimes known as slim line, are fixed to the wall at low level and the convected heated air rises upwards.
This sealed type of heater is usually rated between 750 watts to 2,000 watts, depending on model.
These units are sometimes filled with oil, with an integral thermostat. Typically, these types of heater are left on and depending on style, can double up as a towel warmer.
The disadvantage is with the rising cost of energy it can work out quite expensive to run. You could, however put it on a time switch, which would reduce the running cost.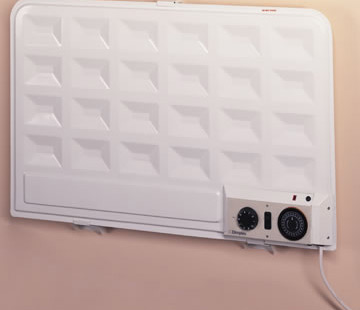 Bathroom Towel Radiators
A similar product in principle to the above is the dedicated towel radiator.
Electric towel radiators are usually fixed to the wall and can be flat or curved, which allows more room for draping the towels over.
Curved radiators tend to be more expensive, but are the most practical.
Towel radiators can also be purchased as the type that can be plumbed in as part of a central heating circuit. However in the summer, it is unlikely that you would have the central heating on.
If you have this type of radiator already fitted, it can be converted to electric by fitting a heating element, usually 130 watts to 400 watts, with blanking plugs for the openings, with a pressure relief blanking plug on one of the two upper most holes.
This is then filled with mineral oil and sealed.
Electric towel radiators vary in shape and size from an "S" bend type, to a more traditional ladder type with 2 or 3 rungs, which can be mounted on the floor or the wall.
Also available are contemporary horizontal or vertical slab heaters, which can have a full length mirror attached, but these can only be used as part of a central heating system, thus have the disadvantage of the central heating having to be switched on.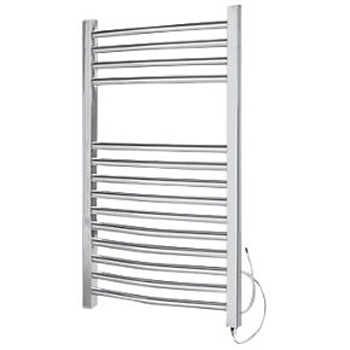 Bathroom Under Floor Heating
As this subject is rather indepth we would really do it an injustice to discuss it as part of this project.
For under floor heating systems, see our projects on Underfloor Heating (Water) and Underfloor Heating (Electrical).