This is the section where we cover information about tiling and tiles that are not ceramic. The majority of tiles that are used are ceramic or porcelain but there are a number, such as stone tiles, cork tiles and even vinyl tiles which can be used to amazing effect in your home.
We describe how you can lay and maintain them, but we also describe how to remove them should you want to get rid of them. We also have a project on the different types of tile and their relative merits if you are still trying to choose them. Below we go into further detail about the different types of adhesive that you should use with the different types of tiles.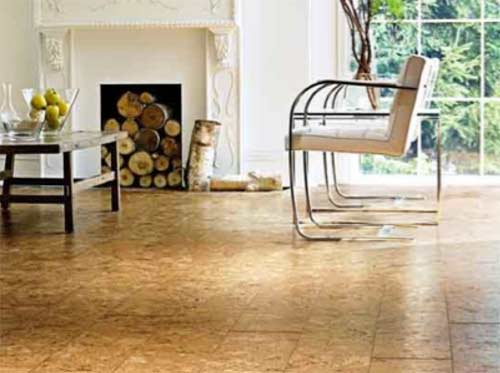 As we mentioned, the majority of tiles that are used in our homes are a type of ceramic tile. There is a huge range of tiles in the ceramic family from porcelain tiles right the way down to quarry tiles. We cover these differences and a range of projects for working with ceramic wall and floor tiles in our Ceramic Tiling Section.
Once you have laid your tiles the next job will be to apply grout, although not in the case of vinyl or cork tiles, of course. Go to our dedicated section for more information all about Grout and Grouting.
If you are specifically interested in information and ideas about floors we have a section that is all about Floors and Floor Coverings which will give you even more practical information beyond just tiling solutions for your floors.
We have a section that is all about Painting Decorating and Finishing where we cover essential information about interior design, and other options that you might consider for beyond tiles.
Types of Tile Adhesive
This is a quick guide to the different types of adhesive that you should use with the various tiles that you might use. The aim is to give you the principles so that you can choose the exact brand and type you want; there are so many we'd never be able to cover them all!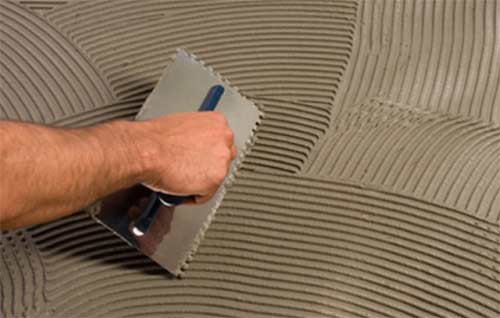 While this section of the website is not about ceramic tiles, for completeness we will include adhesives for them also.
Adhesives for Ceramic Tiles
Adhesives for ceramic tiles are governed by a specific British Standard BS EN 12004-1:2017 which ensures that all adhesives sold in the UK conform to a set of predefined characteristics. It is heavy going and expensive, so we'd recommend giving it a miss!
The characteristics that you should look out for in a ceramic tile adhesive are:
Water resistant (proof) – If you are tiling where there is likely to be large amounts of water on the tiles, then use a water resistant (sometimes described as water proof) adhesive
Non-slip – These fast setting adhesives have more immediate grip so the tile is less likely to slip. They should be used on a wall, but this is not really necessary on a floor as gravity will hold the tile for you while the adhesive goes off
Therefore for a shower wall, you would choose a water resistant, non-slip adhesive. For a kitchen floor you wouldn't need either water resistant or non-slip.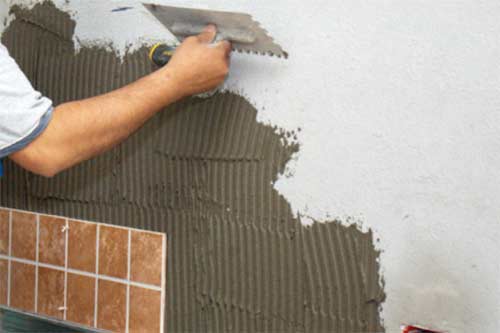 Which Adhesives for Floor and Wall Tiles
There are adhesives that are designed for both floor and for wall tiles, and then there are adhesives that are specially designed for floors and those that are just for walls.
Floor tiles need an adhesive with more compressive strength to withstand the traffic that will walk over them. As a result, there are a few rules that you should stick to when choosing an adhesive for your floor tiles:
Never use a wall tile adhesive on the floor unless manufacturer's instructions allow it
Ensure that there is a high cement content to give the compression strength
Use a Code C adhesive ("C" for Cement); the code will look something like this "EN 12004 2001 D2E" (do not use this on a floor; it is a "D" code!). See below for a fuller explanation
Stick to a powdered adhesive that you mix yourself
It is possible to use a floor tile adhesive for fixing a wall tiles, but since floor tile adhesive is typically more expensive we don't see why you would. By selecting an adhesive that is specifically designed for wall tiles you will find it easier to work with also.
Top Tip for Mosaic Tiles: When tiling with mosaic tiles use a thinner layer of adhesive. Typically mosaic tiles come on a mesh, and we would recommend getting them on a mesh if you are tiling yourself. This makes it easier and much quicker to lay the mosaics, but you don't want too much adhesive because when you press the sheet of mosaics on to the wall, the adhesive will squeeze through the mesh and into the grout lines. It is a boring job cleaning this out before you can start grouting.
Adhesives for Stone Tiles
Stone tiles include all the variations of stone tiles that we use in our homes, from marble to limestone or travertine. There is a huge range of stone types but the key things to consider are the weight and porosity of the stone.
The "Rules" are exactly the same as for laying ceramic type tiles, except with the additional proviso that you should always use a powered adhesive that you mix yourself. This allows you to ensure that you can control the mix and get it just right for the stone that you are working with.
When you purchase your stone tiles, make sure you remember to ask them to recommend the right type of adhesive for the stone that you will be working with. You are not bound to buy this adhesive, but make sure that you get it's classification number – it should be displayed prominently.
Tiles Characteristic Classification
As we briefly touched on above, the classification is the important thing – it doesn't matter (much – some tillers are fiercely loyal to certain brands!) which make that you use.
The classification will look something like this: EN 12004 2001 D2E
The important part is the "D2E". The "D" is for Dispersion (premixed), the "2" is for improved dispersion and the "E" is for extended open time (ie, slow setting). This adhesive is not suitable for floor or most stone tiling.
Here are all the classification codes: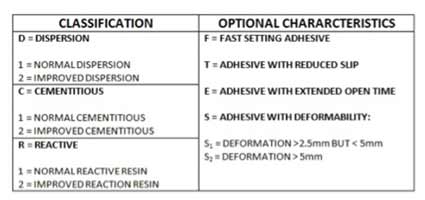 The final three characters is part of the classification code is very often included in the product title, as retailers know that is what people are looking for. See this example of an adhesive that it ideal for stone tiles:
Adhesives for Cork and Vinyl Tiles:
In some cases you will be able to purchase self-adhesive vinyl tiles which will make things much easier! It is simply a case of peeling the paper off the back and then sticking the tile on the prepared surface; make sure that it is clean, and if it is very porous you should use a primer to seal it.
For both cork and vinyl tiles the surface preparation is very important. Clean the surface and then apply a primer, particularly if the surface is a porous concrete.
When the primer is dry you can then use a good contact adhesive to stick down the tiles. There are adhesives that are designed for use with vinyl which will be most suitable. Spread the glue with a finely notched trowel or spreader and allow it to go tacky and then lay the tiles quick – it goes off quite fast. Start with a small area and get a feel for the speed that you will need to work.
We advise not using PVA glue as this is not the right adhesive; it is designed to set with contact to air so an impermeable surface like vinyl will not allow it to work properly. That said, we know people that have used successfully it in certain circumstances.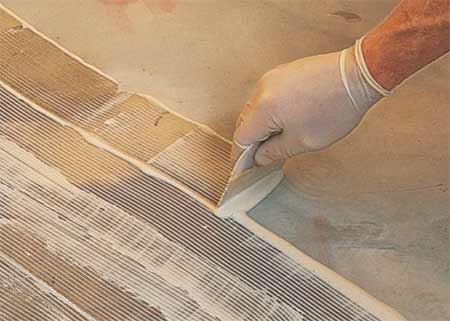 When it comes to laying Cork Tiles you might consider PVA as they are more permeable, although there are adhesives that are specifically designed for cork tiles. If you use PVA you will need to keep the tile fixed in place while the glue dries, possibly over night. The advantage of using PVA is that it is a little easier to remove the tiles should you need to, while it will still holding the tiles firmly through their "working life".