The projects above explain all about selecting, mixing and applying the right grout for either your floor or wall tiles. They also cover cleaning, or removing and replacing the old grout when it gets a little tired.
We have a separate section all about Tiling, which you should look at first if you haven't completed your tiling.
For specific projects about Bathrooms or Kitchens we have separate sections for all the projects you might want to do in these.
Here we'll summarise some of the best grouting tools that you can use, for either applying it or removing it.
The Best Tools for Applying Grout
These are the tools that you need to get the grout in between the tiles. You could use different ones but these are the ones that we recommend and will give you a really professional finish – see the grouting project for how to use them in detail.
The tools will vary slightly for the type of tiles that you are working with. Large floor tiles will require larger tools because you are covering a larger area typically. Pick the right size tools for the job but the principle remains the same; you need the best tools for stuffing as much grout as you can git into the joint as you possibly can.
Mixing Tools: What you need will depend on the area you are grouting and therefore the amount of grout that you need to mix. If it is a small area of walls tiles then you can get away with a (clean!) stick and a handy tub or small bucket. For larger areas you will need a builder's bucket and mixing paddle.
A Rubber Grout Flout or Grouter: This is to get a large amount of grout into the joints quickly. It needs to have a little "give" so that it can be used to push the grout in and will not damage the tiles. Anything can be use such as a Squeegee so long as it gets the grout in there without damaging the tiles. There no need to spend a fortune here, just use what works for you

A rubber grouter or grout float

Sponge: Use this with your index finger to push as much grout into the joint as you possibly can. Use your finger so you can feel that the joint is full. There are specialist sponges for grouting. It doesn't really matter what sponge that you use at all. The specialist sponges will probably last a little longer, but don't spend a fortune here either. Buy a couple as it useful to have a clean sponge at the ready to give the tiles a quick first clean once you have added the grout

A sponge for Grouting

Other useful things: Make sure that you have lots of water! Washing off the excess grout is easier when it is still wet. Dust sheets to cover areas that you don't want to get the grout on can save a lot of time. Don't forget the grout – find out more in the grouting project
To make it a little easier we have create a bundle of all the tools that you might need when tiling. Simply select the one that you need (or remove those that you already have) and then you can check out easily.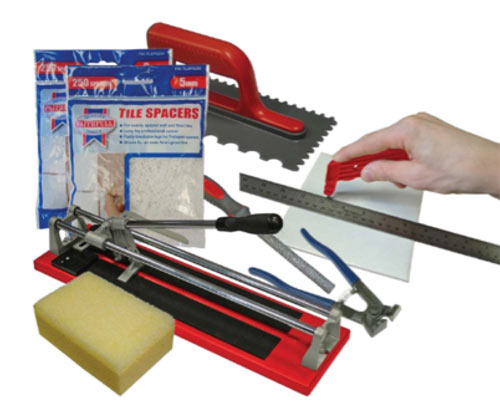 The Best Tools for Removing Grout
Removing grout is never a pleasant job, so if there is anything you can do to avoid it then we'd recommend it! This is why we cover the options for reviving and touching up your old grout quite so extensively in the project on how to remove grout. If you have to remove the grout because it has cracked or is beyond recovering then here are the tools to do it.
The choice will depend on the area that you have to remove. Ideally you should remove the grout by hand so as not to damage the tiles, but if you have a large area to cover then power tools are the best or quickest way.
Grout Rake: Grout Rakes are hand tools that have special (diamond) blades which you run up and down the join betweens the tiles to grind away the grout. If it only a small area you don't need to worry too much, but if you are re-grouting a larger area then pick a grout rake with a sturdy and comfortable handle and replaceable blades

Heavy Duty Grout Rake

Specialist Grout Removal Tools: There are a number of specialist grout removal tools with blades that oscillate and vibrate so they dislodge or grind out the grout

Vitrex Grout Removal Tool 230v Grout Out

MultiTools: A very popular choice is to use a multi-tool to remove the grout. These are relatively new inventions and a very versatile power tools, as the name suggests. The can come with a range of attachments some of which are specifically designed for removing grout. The nice thing about these is that you will be able to use it for many other projects, but you do have to be very careful not to damage the tiles. You can see our range of multi-tools in our store

A multi function tool removing grout
As with everything DIY, having the right tools really helps to get a job done well. The tools for applying grout are much cheaper and easier to use than for when you decide to remove it.