Popular Wall and Floor Tiling Questions for Tiling Over old or Existing Tiles
Can you tile over tiles?
Yes it is possible to tile over an existing tiled wall or surface with new tiles providing that the existing tiles form a solid and stable surface to tile on.
If there are any loose, proud or uneven tiles present on the surface then this can cause your new tiles to become loose and ultimately fall off.
Do I need to prepare the existing tiles first?
Yes you do. This project will show you that scratching, scoring or marking the existing tiles in any way is completely unnecessary.
What do I do when I get to a corner or a window (or door) reveal?
Our tutorial offers you guidance on setting out your walls to ensure you have no unsightly cuts and offers advice on how to make the most of your corners and reveals to complete a professionally tiled wall.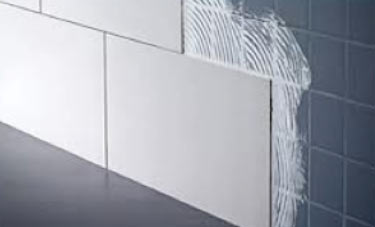 What are my First Steps to Tiling Over Tiles?
The very first thing you should do is make absolutely sure your existing tiles are stuck firmly to the wall! If they are loose, it will not matter one bit how good your new tiling is, it will still fall off along with the old tiles.
Go around the walls with a sharp scraper and dig it into the grouted joints. Try and lever the old tiles off. If they move, or come off, do not tile over them. Strip them all off and start again, it simply is not worth the risk.
Your new tiling job will only be as good as the old tiles they are stuck to. If the old tiles are loose then it won't be long before your new tiles go the same way!
If you only have one or two loose tiles, or a broken or cracked tile, you might consider just replacing it or them before you tile over. This page will help you replace broken or cracked tiles.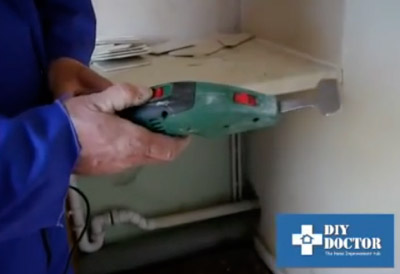 Choosing Your Tiles
Many people make the mistake of going to a home store or tile shop and just picking the tiles they like without any thought as to the walls they are going on to. These walls make a huge difference!
If your walls are perfectly flat, you can pretty much use whichever tiles you like, but if you live in an older property, just put a straight edge, such as a spirit level, on the walls to see how much they undulate.
If they are really wavy, you will need to use small tiles to follow the contours of the walls to make sure every part of each tile is actually stuck to the wall. There is a lot more information on choosing your wall tiles on this page.
Preparing the Wall for new Tiles Over old
The old walls must be thoroughly cleaned down and it most certainly would not hurt to get as much of the old grout out as possible. It is in the grout joints that mould spores collect and if allowed to stay warm and wet, these spores can grow regardless of what you place over them. See our page on replacing grout but when you have raked it out, there is no need to replace the old grout with new. It will not affect the effectiveness of your new tiled wall.
Next you must clean down the old tiles. This is best done with some white spirit on a rag.
Bathroom tiles get greasy as a result of the soap suds, shampoo and shower gel. It is not uncommon for paint to be splashed onto bathroom and kitchen wall tiles and this needs to come off too.
For this we recommend using some wire or steel wool and please remember to open any windows when using white spirit to help remove any fumes. Also it's a good idea to wear gloves when rubbing down with wire wool.
Use coarse wire wool as shown in the images, there is no advantage, or indeed point, in using medium or fine grades.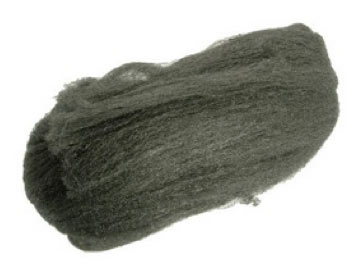 Wire or steel wool can now be bought in sanding sheet pads to make life really easy. Just use as you would a normal sanding sheet. You can click on the images to be taken to our toolstore to buy your wire wool in one form or another.
A fantastic tip from Rob Tester, a tiler from Surrey is to mix a little sand with PVA adhesive (see our project on PVA to buy cheaply) and simply paint it on the wall. When dry this creates a very coarse surface which any tile adhesive will have no problems sticking to.
Click on this link, or on the image, to buy your PVA.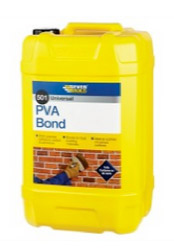 Using Sugar Soap to Clean Bathroom and Kitchen Walls
You can also use Sugar Soap to clean the walls down. Apply as per the instructions and then wipe off after the time stated. You will need to rinse the wall and let it dry. Sugar soap is best used with warm water. You can buy the sugar soap and a sponge from our tools area at the base of the page.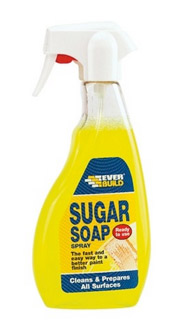 Choose Your Tile Adhesive
Once you have chosen your tiles and your loose joints are raked out properly you can look to start tiling.
Choose your tile adhesive carefully. The pre-mixed adhesives are great for tiling on top of tiles, especially the instant grab, or non slip adhesives.
Do not worry about the adhesive being "water resistant" or "weather proof" if you have tiled and grouted properly, as you will learn from this page and our other tiling pages, the bathroom water will never get behind the tiles.
Our preferred adhesive for tiling over tiles is Everbuild's Super Plus Non Slip Tile Adhesive.
Choose Your Ceramic Tiling Tools
DIY Doctor has pieced together a tiling tool kit that covers all eventualities. We have not chosen the most expensive tools as these is not what we use.
The float for example is one of the least expensive you can buy. It has a plastic sole plate with a plastic handle but it is one of the best floats we have ever used and are still using!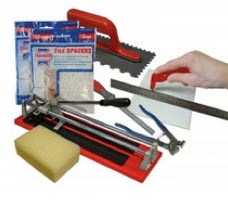 How to Grout Tiles
Grouting tiles properly is even more important than laying them. The tiles themselves are watertight, no doubt about that. The vulnerable place in a tiled wall is the joints. If there is a leak in any bathroom tiles, it is always through the joints.
Take a look at our project page on grouting wall and floor tiles to get the best advice there is, You can also watch a video to see it being done.
The grout in the image below is one we use all the time and we love it. Everbuild Super White tile grout is available in our store here.
It's easy to mix and goes a long way. If you click into our page on grouting tiles you will see that we only use a sponge to grout tiles, so no need for expensive tools for this job!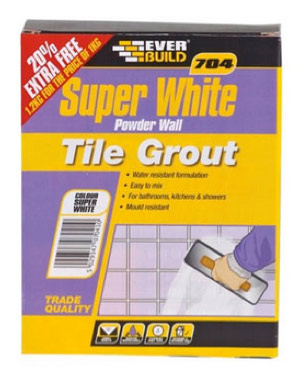 Cutting and Drilling into Tiles for Bathroom Fittings
Drilling into tiles for fixing toilet roll holders, towel rails etc is not as hard as some would have you believe and our page on cutting and  drilling and fixing to tiles will show you how this is done effectively.
We even have a page on how to drill, the hardest tiles of all, porcelain tiles and even these, with the right tools, are easy.
The most common hole to be drilled into tiles for toilet roll holders, soap dishes, towel rails etc is the 7mm hole for a red wall plug and a number 8 screw.
This requires a 6 or 7mm hole and as there are usually quite a few to do in a bathroom it's a good idea to buy a quick change diamond drill bit to do them with.
You can see a 7mm diamond drill bit in the image. If you would like to buy this bit, or other diamond drill bits to make your tiling easier, you can see them in our online store here.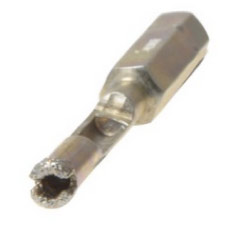 How to set out for Your Tiling and how to lay the Tiles
Setting out walls and finding the right place to start when tiling on old tiles, is no different to tiling on new walls and our page on ceramic tiling will show you exactly what to do to set out your bathroom to minimise cutting and get the best visual effect you can.
An important thing to remember when tiling over existing ceramic tiles is that you must stagger the joints.
All new joints should be over an old one. This tip shows you just how important it is to set out the bathroom tiling before you start.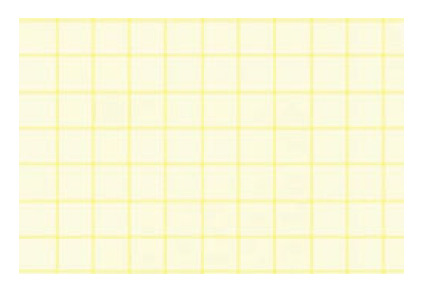 Original tiles on wall – The existing tile joints are in yellow.
New tiles on top of old tiles – The new tile joints are highlighted in red.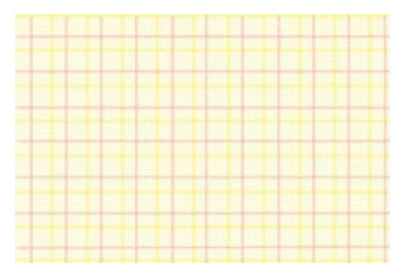 What to do at the Edges Where Double Thickness of Tiles Show
Normal tile trim is ideal for hiding the cut, or unsightly edges of tiles. When you are tiling over tiles, however, you will always have one section of edges that shows. When there is a double thickness of tile, it is much harder to disguise.
At DIY Doctor we use double glazing plastic trim to hide these edges. Plastic trim comes in many different widths, is easy to cut with a hacksaw blade and can be very easily glued to the exposed edges of your tiles with Stixall, all weather adhesive. It sticks to all surfaces, even under water…..Ideal for the bathroom or kitchen!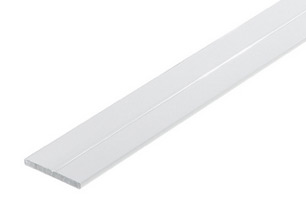 If you would like to purchase Stixall from Evo Stick or find out more about it, it is available in our store here.