Removing and replacing grout or "raking out" as it is known is not a nice job. Care must be taken to avoid damaging the tiles and it is very repetitive, The old grout must be removed to a depth of at least 2mm, preferably 3mm for re-grouting to work properly.
Remove Grout or Salvage It?
Before you start it is well worth seeing if it is possible to salvage the grout and not go have the harder job of removing it. In some cases it can be cleaned with mould killers and "revived" with grout reviving products that are on the market. The success of these really depends on the quality of the product, some are better and more longer lasting than others.
One particular product that we have used and had great results from is the grout revival system from Grout Shield. The pack allows you to clean, recondition, recolour and then colour seal your grout lines for a long lasting clean look.
It is also possible to make your own grout cleaning solution by mixing a few common household items together. There are various recipes available online and as always, they vary in success. Some common recipes are:
1/4 cup of bleach, 3/4 cup of baking soda – Mix up your solution until it forms a paste and then apply it in sections to the grout and allow it to sit for around 10 mins and using an old toothbrush, green scourer or nail brush, give it a good scrub. You may need to repeat this several times depending on the level of mould or staining. Once finished, wash everything down with clean water. NOTE: As you are using bleach, always wear gloves, old clothes and suitable goggles
1/4 cup of hydrogen peroxide, 1/2 cup of baking soda, 5ml of liquid soap – Mix the items together into a paste and then apply it to your grout and leave it for 5-10 mins to start working. Using an old toothbrush, gently work the mixture in and then once done, wash all surfaces down with clean water
On the whole we have found that homemade grout cleaners do work to a certain degree, but in most cases they will never get your grout lines looking like new, but if you are happy with this then give then a try. If you are looking for that "as-new" look, then it's best to go with a specialist product such as the one mentioned above.
If you can clean up the grout and save yourself the effort of removing and replacing it is it well worth investigating these products, but if you are reading this page, it is highly likely that you are past this stage so removal and replacing the grout might be the only option.
Reasons for Removing the Grout between the Tiles
There are a couple of reasons for wanting to re grout a wall. Here are some of the most common:
The colour of the grout that you have needs changing
The grout has badly cracked or is crumbling out of the joints, perhaps because it was not done well in the first place
The Grout is stained, brown or black and mouldy (and it can't be cleaned in the ways mentioned above)
If the grout is mouldy and stained, as we have mentioned before, we would strongly suggest that before you start raking out the grout, you spend some time removing the mould. If the mould is black and it is cleaned properly, there may be a chance you do not need to re grout.
If you have a mould problem, you should attempt to address this also. Cleaning or even removing and replacing the grout might make your bathroom look lovely again, but this will only be for a short time if you do not address the cause of the mould. See our project on the causes of black mould in bathrooms and kitchens and how you can stop it happening.
If the mould is brown it can mean that water is getting in behind the wall tiles somehow and soaking through the joints. In this instance the water generally brings some salts with it from the wall behind the tiles and this tends to leave a brown stain in the joint. If you discover a place where water could be getting in, there is no point re-grouting until you have stopped the leak.
How to Remove Grout By Hand
To remove grout there is only really one effective tool and that is called a grout rake. It is purpose made for this job and normally features replaceable blades that can be swapped as and when existing ones wear out. Using this tool takes a fraction of the time it takes to do the same job with an old nail (historically a nail was the go-to object for this job)!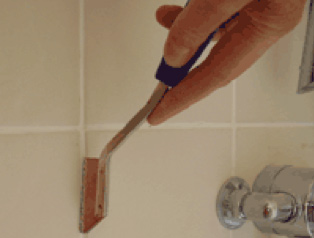 It does not really matter where you start if you are doing an entire kitchen or bathroom buts it best to start in the corner of one wall and work your way around the room.
To begin, place the grout rake in the joint. Move the rake up and down (you will need to push into the joint quite hard) and you will see the grout begin to powder and drop. Grout is tough so this takes some time to get into and through it. In terms of depth, 2mm is the very least you need to remove to allow the new grout to stay in the joints.
Grout rakes are pretty cheap, typically less than £5 and if you are going to be tackling a large area ensure that you get a few spare blades.
Some rakes allow you to fit two blades side-by-side which can be useful if you are working on grout which is in larger gaps between the tiles.
When using a rake, take your time and be careful. It's quite easy to slip and score or mark surrounding tiles and if you accidentally crack one or more tiles, you may also end up replacing these along with your grout.
How to Remove Grout between Tiles with Power Tools
If you are working on larger areas it might not be practical to work by hand with a grout rake, as this could take forever! Also if the gap between the tiles is fairly large it might be more difficult to use a grout rake effectively.
In these circumstances you might consider using a power tool to remove the grout, but this does have its risks. You need to make sure that you don't damage the tiles with whichever power tool you choose to use, so a little practice in an unseen area is strongly advise before you move on to more exposed areas.
There are specific grout removal tools which will have oscillating or vibrating actions that force the tip of the tool into the grout to remove it. Typically most Tradesmen or DIY-ers don't tend to use these tools unless they remove an awful lot of grout day to day.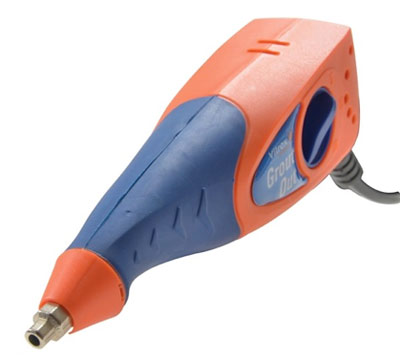 Dedicated grout removal tools are good for the job, but they aren't very flexible, which is why we would tend to use a Multitool. These are a relatively new, but a fantastically versatile invention and can be used for a multitude of jobs, including removing grout from in-between tiles.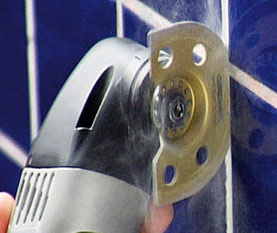 These tools are generally pretty light weight making them easier to use, particularly for long periods on larger projects. They oscillate rather than spin which makes then much easier to control, which is important if you are working between expensive tiles.
Other power tools can be used such as grinders, rotary tools of even a reciprocating saw, but we feel that these aren't as good and are typically quite hard to control.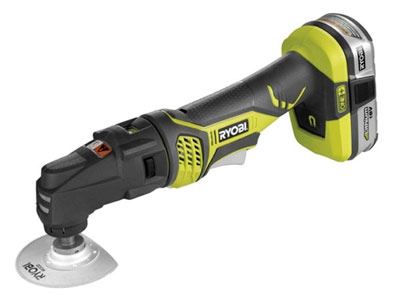 Press the oscillating blade into the gaps between the tile taking care not to chip or damage surrounding tiles. In mosts cases it is also possible to rotate the blade to get into tricky spaces so that you can use the whole of the blade as you move down the grout line.
There are specifically manufactured blades for removing grout in-between the tiles. We recommend that you use these for best results and are generally universal and can be attached to any make of multitool. These blade can be quite expensive, approaching the cost of a basic multitool, but this is money well spend as they will last longer and get the job done quicker.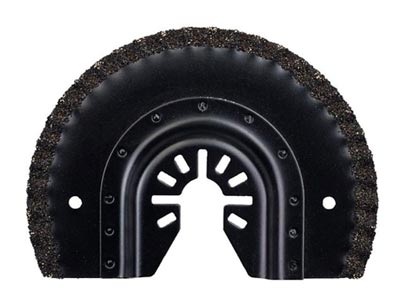 Getting the Last of the Grout Out from Between the Tiles
As we mentioned above, you need to remove about 2-3 mm of existing grout that is between the tiles. You will have to remove more if it is crumbling or powdering. Once you have done this you will need to clean out the joint before you can start to re-apply new grout.
Get a stiff nylon brush and brush out all the loose grout, dust and debris from your joint. Make sure that there is no loose grout left. Then you should get a vacuum cleaner to hoover up all the dust. Now the joints will be grout free and ready to be re-grouted.
See our projects on ceramic tiling and also our project on how to grout wall and floor tiles to finish the job. We also have other tiling projects so if you look to the right, under Related Projects there will be plenty there to help you.